Advanced Topics on Hip Resurfacing NYC May 2010
Overview of the Advanced Topics in Hip Resurfacing Course held at Hospital for Special Surgery (HSS) on May 7 & 8, 2010
in New York.
First my thoughts and Intro
Another exciting course, but this one, I personally felt was one of the best and informative conferences I have attended. The faculty was incredible, it was the who's who of hip resurfacing surgeons and it covered a lot of extremely important topics in a short day and a half. What a shame that more surgeons did not attend this because of the incredible information that was shared. I really have to say that I am very disappointed in the many that I emailed that just could not bother to even reply to me and those that did that said they would not be there, what are they thinking? I seriously hope that in the future more surgeons will take the initiative to better their education for the best interest of their future patients. I was very happy to see Dr. James Rector and Dr. Cynthia Kelly from Colorado both in attendance. I was really impressed at the enthusiasm Dr. Rector showed as well as the very apparent passion he has for this procedure. I heard him arranging a time to fly out to Belgium to observe Koen De Smet in surgery so he can learn more. He will also be attending the Advanced course coming up next month in Belgium. I hope to see more surgeons in the future take the initiative to attend these courses as well as arrange to observe some of these top surgeons in surgery to better their techniques. All patients should ask their surgeons about their training and more importantly what they have done to keep up with resurfacing, like attending any courses or flying out to observe other surgeons doing the procedure. We as patients need to know that our surgeons are as excited about doing this procedure as we are at getting our active lives back. I must say that I have a whole new level of respect for Dr. Rector now. As of the conference he was just approaching 400 resurfacings.
I heard many of the surgeons talking during the breaks about just how incredible they thought this course was. So many things were shared that could prevent a lot of patients from getting malpositioned components and ending up with revision surgeries. So those of you surgeons reading this that did not attend, please evaluate your practice and think about whether or not you really want to continue doing resurfacing. It IS a technically difficult procedure to do, if you continue doing it wrong and have no interest in learning from the best of the best in the world and taking the time to attend these very important courses, then do us patients all a favor and stop resurfacing.
Now, before I start my overview, I want to extend my gratitude and thanks to Dr.Edwin Su for inviting me and allowing me to attend this amazing conference as well as to Jared Manders (fellow surface hippy) who drove over 8 hours to NYC to help video tape my interviews. Being a cameraman is a LOT of work!! I should have snapped some photos of him while he was at work. Jared is truly a pro and I SO appreciate the time and hard work you did for us. I also would like to thank Paul Hamilton in advance for again offering his talented services and countless hours that it will take to edit these videos.
I took a red eye out on Wednesday night and arrived in NYC JFK around 7:30am. To my surprise my sister was on the same flight as me (what are the odds of that!), she was flying out because she had tickets for the Oprah show 10 year anniversary for O Magazine. and since she works for Virgin America, we were both able to get upgraded to the next cabin class. I didn't get much sleep on the plane, so I checked into the hotel and napped on and off most of the day.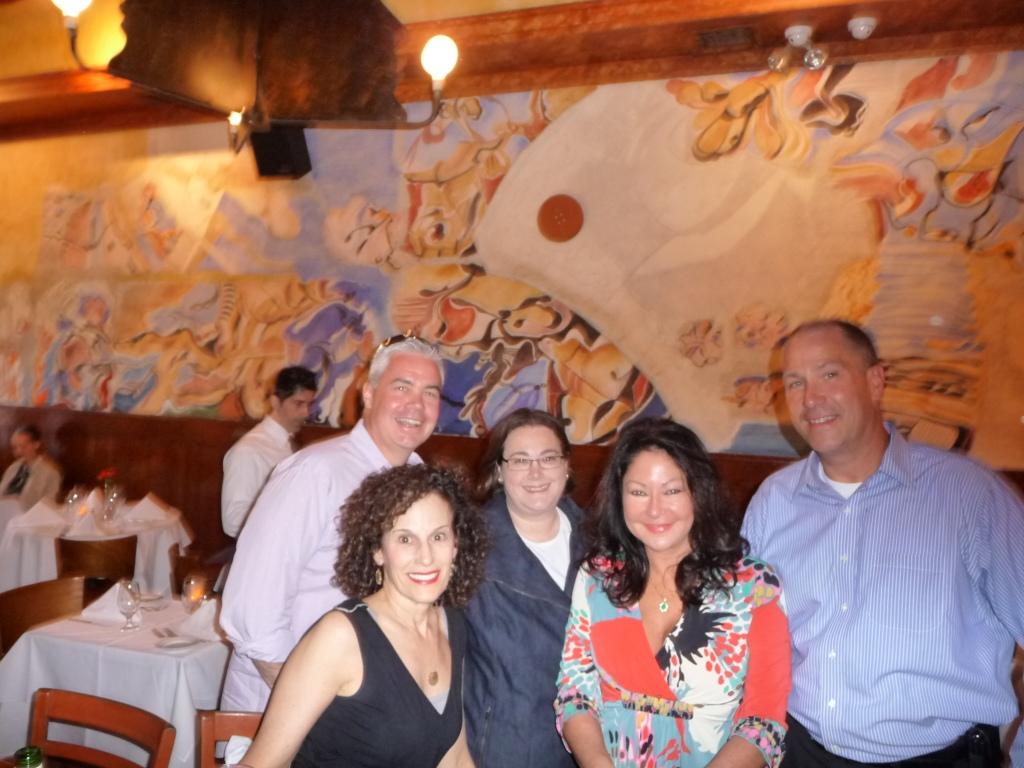 Thursday started off with a Press Announcement from Smith & Nephew, where they had a conference call with the head of S&N, Derek McMinn, Dr. Su and Dr. Scott Marwin. It was a great call and some wonderful information was given out to address all of the negative press. To hear the recording, click here . Now let's hope this is the start of something good for a change. I headed out to a brief stop at a local restaurant to meet some fellow hippies in person then off to a dinner and a presentation by Derek McMinn put on by Smith & Nephew that evening.
The Conference
The conference began with introductions, then a live surgery with Dr. Su on a 27 year old male patient with Osteonecrosis or AVN. Kudos to him for not only performing live surgery in front of all his colleagues, but for picking an extremely difficult case. Derek McMinn was the moderator during the surgery. It was indeed impressive and even Derek McMinn said that Dr. Su did an excellent job.
Dr. Su's anesthesiologist uses what is called, Hypotensive anesthesia. He uses a combination of mild anesthesia and an epidural and his magic potion reduces blood pressure on a patient a lot, to the point that the surgery site is much easier to see. As a matter of fact, Derek McMinn saw this awhile back and was so impressed that he flew his own team out from the UK to betrained by Dr. Sharrock and he says that it changed his practice.
Dr.Su always detaches the gluteus tendon as does Derek, but he also re-attaches itafter the surgery. I believe if you do not detach it, it can affect the sciatica by pressing on it during the procedure.
A point was made that too much trauma to the muscle can lead to HO, so Dr. Su took a lot of care in his surgery.
He also repairs everything at the end so he tags the portions during surgery that he will repair.
Different incision than a THR
Does not elevate minimus with a THR
With THR of course no neck capsule preservation. Cuts capsule in a way to preserve the retinacular vessels on the surface of the neck. He left cup of tissue around the neck. The surgery went very well and it was great to watch.
Harlan Amstutz – Evolution of Hip resurfacing
1972 – 1983 8 designs in 5 countries
Most failure due to PE (polyethylene) wear osteolysis
Fracture incidence low.
72% @10 years with large component size, smaller size 51% survivorship
2nd Generation cementless 1983 – 1993
Femoral fixation critical due to small fixation area. Larger sizes had better survivorship
Conserve Plus made with 170 degree inside and out
26% participate in high impact activity

Amstutz still does everyone, women, etc. To quote Dr. Amstutz: "I have always done the challenging case with risk factors, large cystic degeneration. Small component size and all BMI variables.Technique changes have been very effective at improving durability.
Challenging cases he cements the stem and restricts impact activities
Advantages
Anatomic and Physiologic
Leg length preserved
Bone conservation
Conversion to THR comparable to first THR
Neck fractures preventable
Femoral loosening preventable

Patient Selection (Moderator Dr. Thomas Gross)
Best Patients – Scott Cook
Young males with OA, a BMI <30 & excellent bone mineral density and large well shaped hip devoid of cysts
Age is important
Sex - Revision was significantly associated with female sex and decreasing femoral head size, but size was best predictor of revision

OApatients do well, patients with BMI >30 pose a problem with exposure
Patient selection for HR is best made on the basis of femoral head size rather thansex.
Anatomical and physical contraindications to hip resurfacing (bone, activity, age) – John Keggi
Smaller head size associated with higher failure rate, smaller than 44 head size but women with larger head sizes did well
Obese patients harder to do, not a contraindication
Osteopenia vs osteoporosis be wary but no consensus
AVN generally a contra indication

1/3 of head
Debridement essential
Consider other options
Avoid head deformity
cystic changes
no functional femoral head
Avoid known problems
Avoid cysts, AVN
Female is not and obesity are not by themselves
Head/neck size matters
Medical contraindications to HR – Freiderich (Fritz) Boettner
Main concerns metal ions, and bone stock
Metal due to wear and corrosion, insoluable particles
Women child bearing age, McMinn did 27 patients of child bearing age and checked the umbilical cord level was lower than what was in the mother. Placenta does regulate the metal levels.
Chronic kidney disease CKD - kidney damage has to be suspected, if 1+ or greater value on a urinary dipstick test
Serum creatinine concentration is used clinically as a convenient
Who is at risk of CKD? - Diabetes and HTN and HBP
Serum creatinine > 1.2 mg/dl
Proteinuria (1+) distick
< 7% of patients in Australian Registry > 65 With young resurfacing patients not known if fracture risk is possible later when they age in females

Panel discussions – Contraindications for HR what about THR patients. Depends on what the contraindication is, BMD changed to press fit femoral stem for THR's. How do you know if patients aren't doing less well with THR's with the same contraindications?
Groups that are very young and very active not ideal for THR's
Why are smaller sizes more prone to failures?
Component placement more difficult in smaller patients
Higher Wear is the main reason for smaller sizes failing – Koen De Smet
Amstutz– fracture and loosening greater with smaller surface area
Blood supply to the femoral head – Dr. Su
Important to prevent AVN
Medial Femoral Circumflex Artery (MFCA)
Artery of the ligamentum teres
Prof Ganz paper on Anatomy of the medial femoral head
Histological retrievals have demonstrated viable femoral head
Found an inferior retinacular branch in cadaveric specimens
Ligated the deep branch of MFCA, runs directly overlyingobturator externus
Tendon posteriorly
Then courses anteriorly and pierces capsule between pirifomis….joint tendon
The inferior vincular branch originates from the MFCA
Extensive intra-osseus antastamosis between superior retinacular
Even with deep branch of MFCA ligated, the inferior vincular vessel is able to perfuse the head
Blood supply of femoral head more complicated than they knew
Direct Anterior Approach – John Keggi
Does approach through the front of the hip
Dislocation rate stability, good visibility at all times, sciatic nerve is avoided entirely
AVN true rate unknown
Bilatera lHRA quicker
One revised for pain and impingement – Keggi
Posterior– Koen De Smet
Modified posterior approach
Best exposure, no limping, no damage to abductor mechanism
Damage to Gluteus medius with anterior approach
Presentation given in NYC in 2006 60% due to malpositioned cups back then, today 99 revisions today and again largest reason due to malpositioned cups
Koen De Smet does Maximally invasive surgery, larger exposure Does not cut through the capsule at all. On the femoral head and not the femoral neck, very important to leave the soft tissue cuff on the femur. Never removes the capsule
Koen says direct anterior too difficult with HRA
Modified posterior approach conserves the vascularity
3 fractures in 3400 cases, loosening 1 in 400
Loosening seen within first 2 -3 years
Soft tissue preserving

Results (Moderator –Scott Cook)
Effect of volume on outcomes – Australian experience – William Walter
2001 Registry started
Lower volume surgery centers had higher failure rates
Less than 65 head size > 50mm
My 12 year update – Derek McMinn
Initial purpose of HRA was to provide an interim solution to young people
Mean age 53.7 years
86% 35 -65
12.8 years max follow up 3095 total
total 65 failures
10 Pseudo Tumors - mean of 9 years
US adoption and learning curve – Robert Barrack
99% 5 year 98% 10 years
12½ years 99% men and 97% women 97% success with women over age of 60 and 90% women under age 60
96% overall survivorship at 12.5 years
US Adoption and Learning Curve – Robert Barrack
Initial American results
4 years anniversary of first HRA approval in US
1st 500 procedures collected data
2.7% fractures
8 dislocations
9 nerve palsy
1 year revision rate 3.1%
Total 7.1% overall failure rate
Accept able complication rates
Similar complication rate may occur from this group with THR's
2nd study done to assess resurfacing performed by hip specialists vs registry typedata more typical of ortho literature
Surgeons performing > 100 in initial 15 months
Time in practice 19.6 years
Total 400 joints
2% overall failures
Radiographic learning curve about 75 cases
An update from Western Canada – Don Garbuz
2003 started HRA
He talked about how he googled the word hip resurfacing, today you get about 68,000 hits
back then he got only
1881 Google
655 Pubmed
Study showed only functional benefit of HRA at 2 years
At 8 years 4% (95%)
Risk factors age/gender
Overall 1.8% revision rate of Pseudo tumors
Poor clinical outcomes for revision of Pseudo tumors
50% complication rate for pseudo tumors
Garbuz still considers HRA experimental today
Did only 4 in 2009 and 0 in 2010
Currently he and all the other docs in W. Canada and his group are no longer doing any resurfacings.
McMinn 0.3% revision due to pseudo tumors
Aus. Reg. not accurate on # of pseudo tumors
Amstutz 11 year f/u no pseudo tumors
10.1 to 80.5 degrees inclination of cups in Oxford
7 Consultants 30 trainees did the surgery in Oxford study 631 cases
Garbuz stated that he sees absolutely no advantages of resurfacing over THR. First used BHR's then switched to Zimmer Durom
Special Cases
My experience with Osteonecrosis – Vijay Bose
July 2010 published paper by Dr. Vijay Bose on AVN
More skepticism with bone grafting 'biological' procedures
At 4 yrs follow-up 96 hips
mean age 39
neck thinning in AVN all 6 hips were men
95.4%
Femoral only 98%
2 cases delayed varus
1 slipped cup
5.4 years min. 4 years 98% on the femoral side
attractive option for very young and active patient group
Timing of surgery important
More you wait the more you can take out the necrotic bone.
Early AVN is the problem
The earlier with AVN the less you can distinguish between the good bone and the bad bone
Must have healthy bone at the base to at least height of half the profile cut
Absence of cysts
Importance of retinacular vessel preservation in resurfacing of the hip
NCP or Neck Capsule Preservation
HRA in Dysplasia – Thomas Gross
Believes the reason women have higher failure rate is due to dysplasia. Dysplasia encompasses a wide spectrum of deformities. Gross perform HRA with Crow I and II
Oval socket instead of round
Skeptical regarding pelvic osteotomies due to the oval shape
If 30% uncovered add spikes
4.5% failure rate compared to 1.4% dysplasia vs OA
Dysplasia more common in women
Women also known to have a higher failure rate with stemmed THR
HRA in FAI – Friedrich Boettner
CAM impingement can be a contraindication for HRA, Pincer Impingement is not
Summary
1. Dysplasia is much more common in young women: 77%
2. The higher Resurfacing failure rate for young women is largely due to dysplasia.
3. These same patients are also known to have a higher failure rate with stemmed THA.
3. There is no data to suggest young women with dysplasia would fare better with stemmed THA.
4. Young women with OA enjoy similar success rates as men.
5. Excluding young women from HSR may not be justified.
Dr. Vijay Bose CAVA - Combined Abduction -Valgus Angle
It is increasingly becoming apparent that in any prosthetic hip articulation, it is the combined angle of the bearing couple which determines the outcome andnot absolute values of either component

CAVA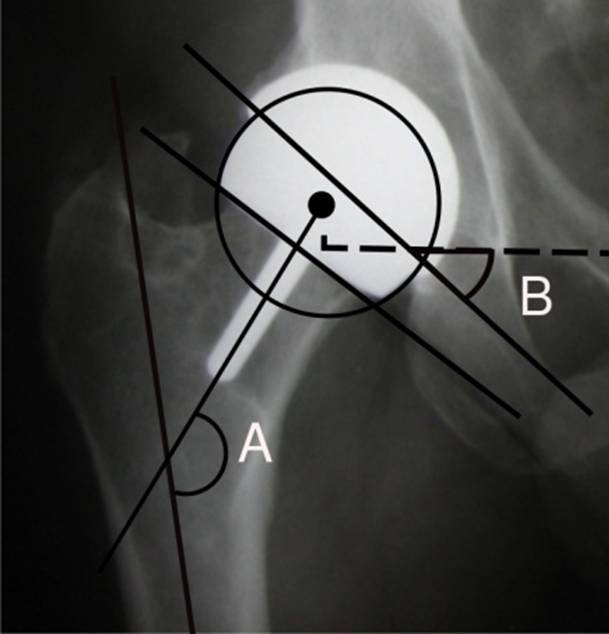 Ideal joint construct – implants are parallel in the coronal plane (AP view)
Parallelism of the component can be influenced by position of the limb
Hence the sum of the numerical values of both sides of the articulation is important = CAVA
Cup Abduction Valgus Angle = Sum of acetabular component abduction angle and the stem shaft angle (valgus orientation of the femoral component)

CAVA helps determines the optimum femoral component placement post acet. implantation
Application of this concept brings about the best balance between edge loading and impingement which are both critical issues especially in hard on hard bearings.
Ideal Component Positioning
Edgeloading vs. Impingement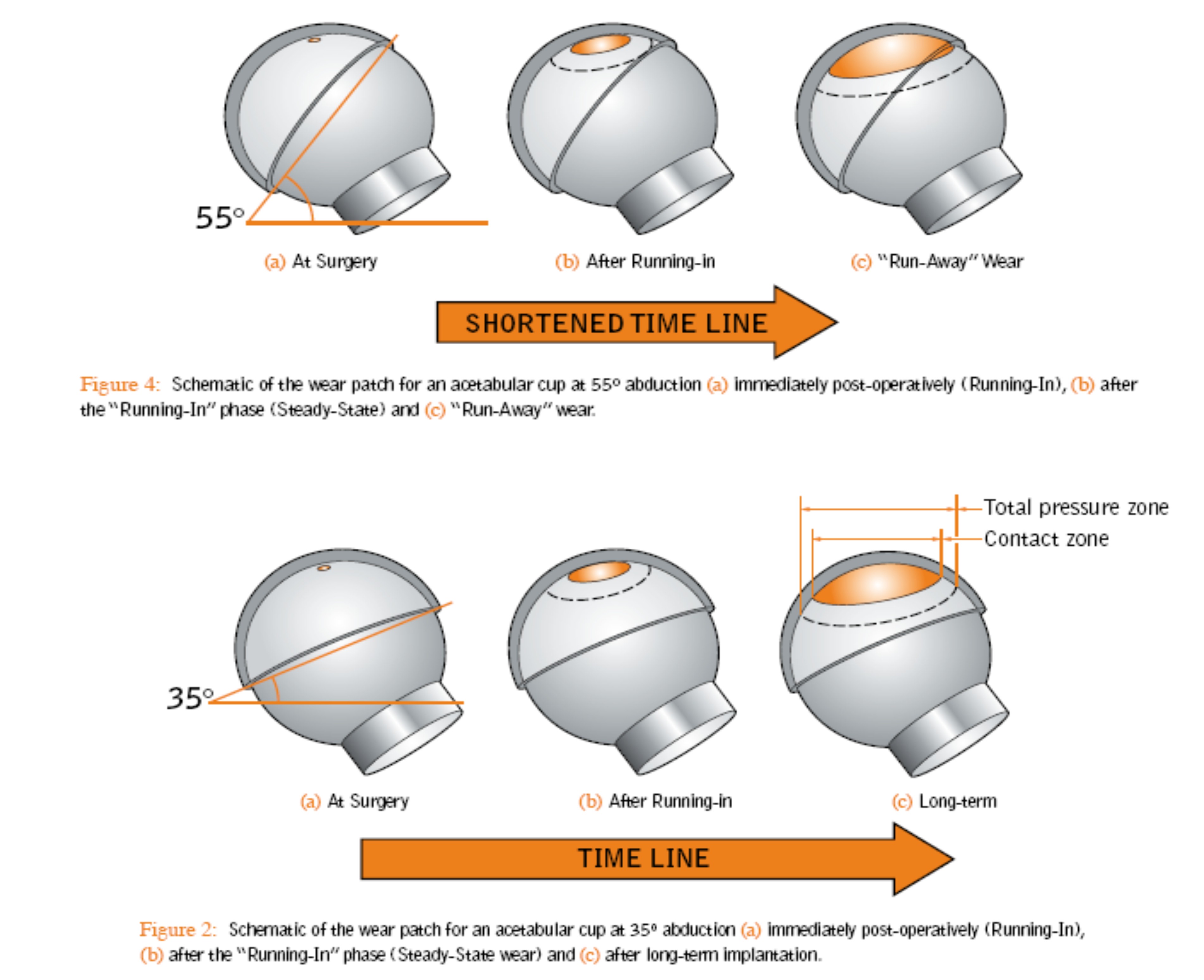 It stands to logic that the more the load bearing vector is towards the mid point the best balance between edge loading and impingement would be obtained.
Pincer Impingement
You control PINCER Impingement with:
Adequate Cup Placement
Avoid Anteversion >20 and <10 degrees
Avoid Abduction angles <30 degrees
Remove all over hanging osteophytes
Don't medialize too much
THR vs Hip Resurfacing
Xray verification necessary to optimize leg length with THR
THR Resurfacing
THR
Resurfacing
Stress Shielding of Proximal Femur
Physiological loading
Leg length issues
No Leg Length Difference
Thigh Pain
No Thigh Pain
Dislocation Higher
Dislocation much lower
Higher activities with less risk
Higher Activities more risk
Longer term known
Long term unknown
Difficult revision
Easy revision
Anatomical and Biomechanical differences
Resurfacing
No Leg Length discrepancy (LLD)
Correct up to ~1.5 cm
Offset normalized
THR
Not Anatomic
Able to correct large LLD
Able to increase or decrease offset but sometimes it is difficult to normalize it
Resurfacing technically more demanding; less margin for error
Learning curve, higher early complication rate for resurfacing
HRA more expensive implant
If no difference in any objective clinical measure can be demonstrated, continued support for HRA procedure difficult to justify

The Best total Arthroplasty is Total Hip Replacement – Douglas Padgett
Data, Logic and reason to prove THR is better
Pain relief
Activities of daily living putting on shoes getting in a car, walking
Greatest good least bad THR
Discussion both members were asked what they would get if they needed a hip. Dr. Padgettsaid at his age 52 would get a THR no MoM device, then he was asked if he wasage 30 which, he said then he would consider a resurfacing. Dr. Amstutz stated he would get hip resurfacing even at his age now.
With any arthroplasty technique is crucial
Activity After Hip Resurfacing (Moderator – Harlan Amstutz)
What I allow my patients to do and when – Vijay Bose
Started off with same restrictions as THR, but with Anatomical sized heads no enforced restrictions no 90 degree rule with neck capsule preservation pain or discomfort was the only limitation.
Need for Elbow Crutches
No fixed duration.
Emphasize the variability amongst patients – depends on
the severity of the hip pathology
Duration of the hip pathology
Fitness level of the patient
sec. compensatory changes & contractures.
Presence of Pre-op wasting of peri –articular muscle groups
No enforced restrictions.
No 90 deg rule
No abduction pillow
Pillowbetween legs while turning / sleeping on side for comfort
No limitation on weight bearing.
OK to return to everything at one year mark
Immediate Post op
Encourage early mobilization
Pain or discomfort is the only limiting factor (stay within comfort zone)
Early transfer to chair / crutches

Standard Physiotherapy Protocols
ROM exercises.
Statics
Strengthening.
Gait training
Balance
Posture correction
Stretching.
Stair climbing in the hospital as soon as possible which usually is the point of discharge

First 6 Weeks – Early Recovery Period
No time bound restriction for day to day activities
Only limiting factor is swelling around ankle or discomfort in the hip
No forcing through pain
(Respect pain as body's valid response)
Permitted to cross legs
Side-bending stretches to balance the pelvis

6 Weeks to Six Month (Functional Recovery
Aggressive rehabilitation can be counter productive
Steady progress encouraged over stuttered recovery pattern due to over zealous activities
Treadmills are discouraged
Swimming encouraged
Encouraged to do functional activity rather that repetitive activity typical of a rehab program

6 Month Mark (low end Sporting activities)
High level sportsmen will need physio reassessment for focused stretching or strengthening programme
Resume non impact sports, yoga, skiing
Core strengthening
plyometrics

1 Year Mark (High end Sporting activities)

High impact activities –
Contact sport
Endurance training and participation

High Performance Arthroplasty – Robert Barrack
Only 43 % of patients were getting expectations met with THR If >95% of THR last >10 years with excellent hip score continued investment in new techniques, technologies cannot be justified
Need for objective measure
Showed slide of randomized clinical trial comparing MoM THR and MoM HRA in patients less than 65 years old
1424 patients in 5 centers
detailed questionnaires
Patient satisfaction level, return to work return to highest activity
Patients perceived LLD, thigh pain and limp when walking more with THR than HRA
A Patient's Perspective – Jared Manders
Yesterday carried around a camera filming Emeril Lagassi
SpecialPresentations – Steven Doyan patient of Dr. Su demonstrates abilities post Hip Resurfacing
Doyan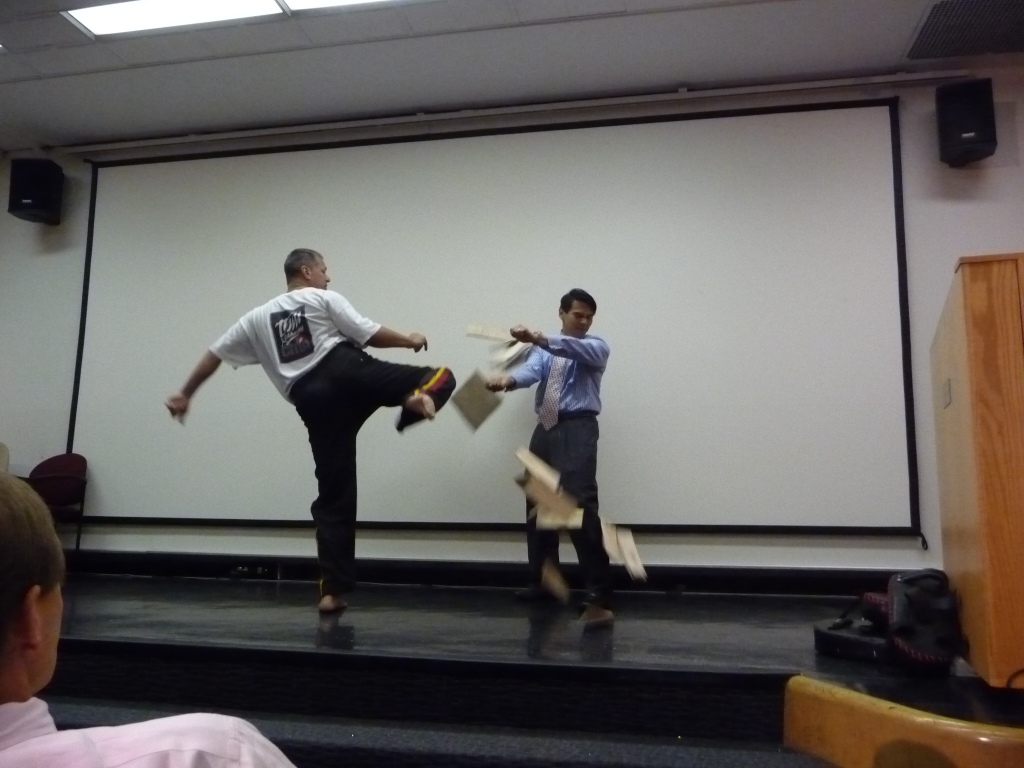 Photo of Steve Doyan kicking blocks held by Dr. Su in his hands
5thdegree black belt in Tai Kwon Do

MR Imaging of hip resurfacing – is it possible? Hollis Potter (HSS)
Showed images using their technology that adjusts the images to be able to see evenwith a metal implant Metal suppression MRI
My Approach to the Painful Resurfacing – Thomas Gross
To every surgeon now, every painful hip is ALVAL or metal allergy
No validated test exists to make this Dx.
Pathologic finding of ALVAL possibly may indicate an allergy:
Is the allergy to :
Co/Cr bearing?
Titanium ingrowth surface?
Cement?
Can the average pathologist diagnose this?
I have never had a report of ALVAL on any of my failures.
PseudoTumor scary and misleading, large destructive masses occur much more frequentlywith PE, (Polyethylene)
Scary and misleading.
Large destructive masses occur much more frequently with PE.
Lets take the hysteria out of the discussion.
Langton has coined the term: "Adverse Wear Reaction" (metal ,PE, ceramic)

Adverse WearReaction
Which is worse?
Metal on Poly Metal on Metal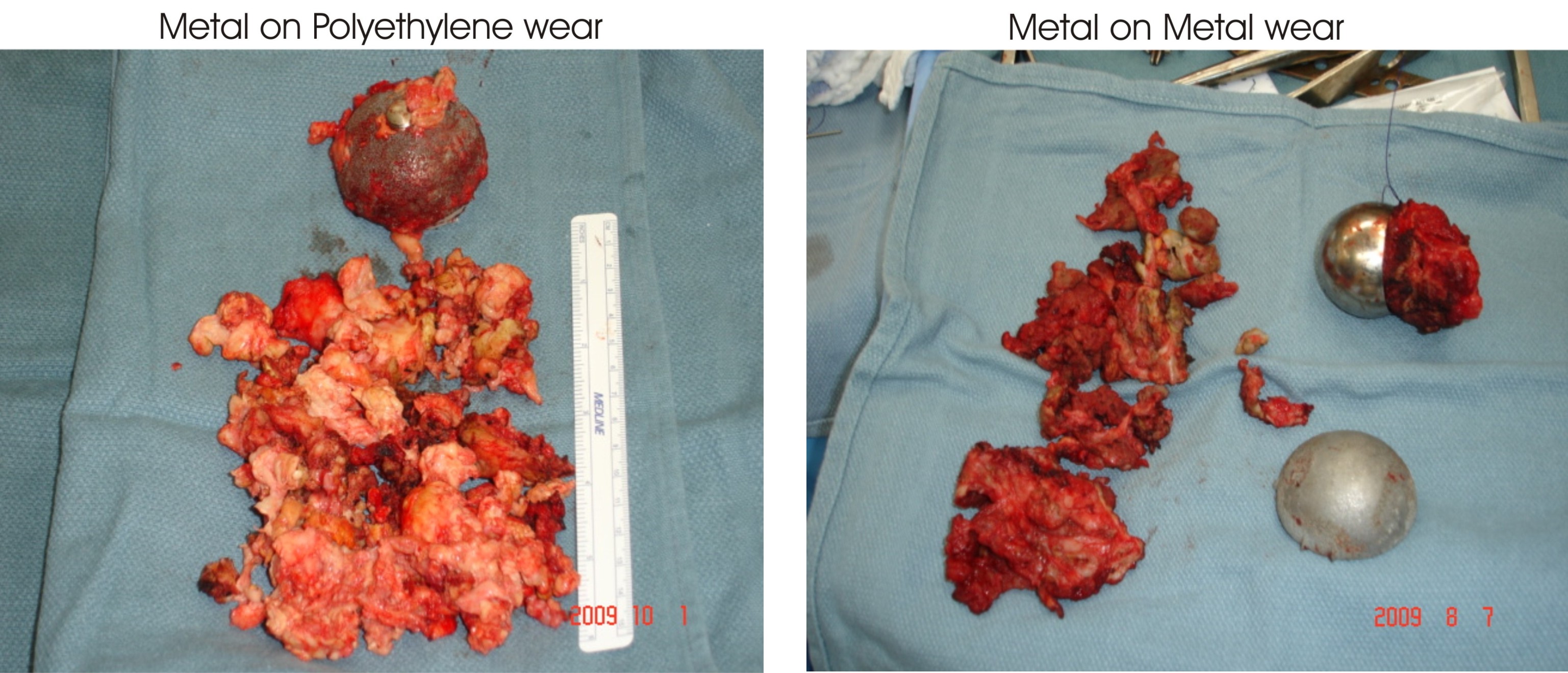 Using metal ions as a diagnostic tool – Koen De Smet
26 patients for revisions of their primary MoM devices
Average time to revision 2.9 years
Serum, Hip fluid, CMM measurements
Does routine exams at 2, 5 and 10 years or with symptoms.
MHRA issues April 22, 2010
alert, will FDA follow with it's own alert?
There is a lot we do not know about these metal implants that are put in.
Tony Nargol has most experience with revisions of resurfacing
Oxford study caused alert
North Tees, ASR 8% compared to 0 with the BHR
No problems with BHR but MHRA not happy to name any individual company with warning, just generalized it to all resurfacings
Only 7 centers in the UK could test metal ion levels
Follow up patients for 5 years, scan for soft tissue reaction/fluid/pseudo tumor
MHRA0.1% -.09%
Within 2 years the ones that tested high for metals even if they were asymptomatic attime, developed symptoms within two years.
ASR's should get tested for metal ion levels. He is recalling 2000 patients on Monday to test them for metal
Squeaking resurfacing
Mechanisms demographics and implications
All CoC had edge wear that squeaked
Squeaking with resurfacing could indicate high wear? Not proven yet but Dr. William Walter suspects it.
W.Canada Done 1000 Zimmer Durom revised 35 so far
The UK alert is not good news for the whole profession. NO distinguishing between implant designs are being made.
This is the first alert, there are more to come.
ARMD- Adverse reaction to metal debris
McMinn
Symptomatic pseudotumors
10 w/pseudotumors
All but one were fluid collection
Symptoms for her were (basically asymptomatic)
Used one crutch soon after surgery, went to NYC walked for miles no problem groin pain
Progressive neck thinning
Nickel off the scale
10 out of 3051 in average of 9 years
All were women all slightly dysplastic
Were not challenging revisions in the five
Oxford Study
Now all of the real facts come out
Reported 18 but had 37 surgeons, most of them were TRAINEES
The ideal cup angle placement should be about 40 degrees and this Oxford study produced cup angles ranging from 10.1 degrees upwards to 80.6 degrees which is astounding and unacceptable.
Tony Nargol
ARMED
Adverse reaction to metallic debris
Issue works its way around the cup
ASR XL problems with stem
Abnormal wear is primary cause of ARMED is abnormal wear.
Single surgeon series, Tony's
At 5 years 25% failure with ASR cups
Harlan Amstutz – ALVAL
ALTR- Adverse local tissue reaction
ALTR covers all debris
Another incredible conference and a lot of data was shared. My thanks again to Dr. Su for allowing me to attend this conference, to Jared Manders for the incredible camera work, for the six surgeons that allowed me to video interview them: Derek McMinn, Tony Nargol, Dr. Koen De Smet, Dr. Vijay Bose, Dr. Edwin Su and Dr. Harlan Amstutz. Thanks to Paul Hamilton for his many hours and hard work to edit these videos and create the music for them. Also thanks to Dr. Bose and Dr. Gross for allowing me to use the pictures and diagrams above from their slide presentations. And that is my overview. Vicky