S & N BHR
The Birmingham Hip Resurfacing (BHR)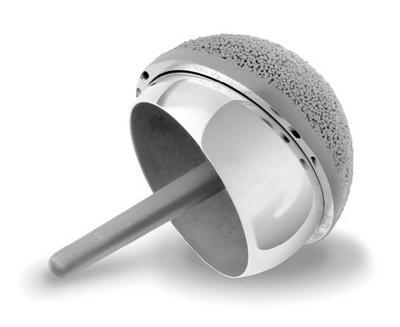 The Birmingham Hip Resurfacing (BHR) prosthesis is a metal-on-metal hip resurfacing prosthesis. The device consists of a stemmed femoral head resurfacing component designed for cemented fixation, and a hemispherical acetabular cup designed for cementless, press-fit, fixation. Both components are manufactured from high carbon, as-cast, cobalt chrome (CoCr) alloy (ASTM F75 and ISO 5832-4). The acetabular cups are configured in standard, dysplasia, and bridging designs. All acetabular cups have a single layer of integrally-cast CoCr-alloy (ASTM F75 and ISO 5832-4) beads on the outer surface that are coated with hydroxyapatite (HA) (ASTM F1185). Instrumentation sets are provided as standard; several additional instruments are available as options.
Resurfacing Femoral Head
The resurfacing femoral head is supplied in a range of eleven sizes. The femoral head central stem is parametric and varies proportionally with the external diameter. There are 6 equally spaced internal recesses intended to provide anti-rotational locking for the cement mantle.

Acetabular Cups
The standard acetabular component is supplied in a range of twenty two sizes (two for each femoral head size to address the condition of occasional head cup mismatch). For those patients with a deficiency in the superolateral aspect of the acetabulum, the dysplasia cup is available. The dysplasia cup is designed with two superolateral screw holes that accommodate CoCr-alloy dysplasia cup screws. There is a range of eleven sizes for the dysplasia cup. A bridging cup is designed with a thicker wall section than the dysplasia cup to allow for mismatch between femoral head size and surgically prepared acetabulum. The bridging cup is also designed with two superolateral screw holes that accommodate the CoCr-alloy dysplasia cup screws. The bridging cup is available in ten sizes.

Dysplasia Cup Screws
The dysplasia cup screws are threaded through a threaded lug on the superolateral aspect of either the dysplasia or bridging cup and lock in situ. The screws also lock into the posterior cortical bone of the ilium. Screws are available in sizes ranging from 24mm to 88mm, in 2mm increments.


Sizing and System Compatibility
Each femoral head resurfacing component is compatible with two standard acetabular cup sizes and one dysplasia or bridging cup size (Table 1).
Table 1: BHR Head and Cup Sizing and System Compatibility

BHR Femoral Head
Resurfacing Component
(identified by head outer
diameter)
Mating BHR
Standard Cup Sizes
(2 cups available per
head component size)
Mating BHR
Dysplasia Cup
Sizes
Mating BHR
Bridging Cup
Sizes

38mm

44mm or 46mm

46mm

50mm

40mm

46mm or 48mm

48mm

52mm

42mm

48mm or 50mm

50mm

54mm

44mm

50mm or 52 mm

52mm

56mm

46mm

52mm or 54mm

54mm

58mm

48mm

54mm or 56mm

56mm

60mm

50mm

56mm or 58mm

58mm

62mm

52mm

58mm or 60mm

60mm

64mm

54mm

60mm or 62mm

62mm

66mm

56mm

62mm or 64mm

64mm

68mm

58mm

64mm or 66mm

66mm

-


Content from Dr. John Rogerson's website
September 23, 2010
On any changes of the BHR device since the first one (as it stands today) was implanted in July 1997, here is a quote from Derek McMinn, the inventor of the BHR
"Dear Vicky,

The only change in the BHR over the years is that when we started back in '97 there were 4mm increment sizes on the femoral component. Eventually 2mm increments were introduced on the femoral side. Some surgeons still don't use the 2mm increments-- I moved to them as soon as they were available, Ronan & some other surgeons still use 4mm femoral component increments I gather. Don't think it's a big deal whichever option the surgeon uses.

I haven't got a femoral loosening since I moved from cementless resurfacing femoral components 18 years ago-- cementless can work well, but hard to beat ZERO loosening with the BHR cemented femoral component!

Best regards
Derek"
just a note, the first prototype was implanted over 20 years ago, that is the first design of the BHR that was slightly different has been around 20 years this year.
Update May 2011
McMinn DJW, Daniel J, Ziaee H, Pradhan C. Indications and results of hip resurfacing. Int Orthop. 2011;35(2):231-237

"The best indication for hip resurfacing is a young active patient with severe hip arthritis, good hip morphology and reasonable bone quality. With revision of either component for any reason as the endpoint, there were 68 revisions in our series of 3,095 consecutive Birmingham Hip Resurfacings (BHR) (1997-2009), including all diagnoses in all ages. This equates to a revision rate of 2.2% and survivorships of 99, 97 and 96% at five, ten and 13 years, respectively. In patients under 55 years with osteoarthritis, the survivorship is 99 and 98% at ten and 13 years. These results provide medium-term evidence that BHR when performed well in properly selected patients offers excellent outcomes and implant survivorship. Small changes to implant materials and design can affect joint function and survivorship significantly as seen from the withdrawal of certain resurfacing devices recently from clinical use. The clinical history of one device cannot be extrapolated to other devices."