Terry Stormes- Bilateral 11/24/14, Dr. Su
Here was my first big hike post surgery. 8 miles at Mount Tamalpais.

In early 2014 I couldn't walk without limping, everything I did was a chore. I went from being someone who ran 10 miles on Saturdays for fun, and hiked several times a month, to being dropped off out front of the store, because I couldn't walk through the parking lot. I had to give up everything physical that I loved like hiking, yoga, running and walking on the beach. When I went to Disneyland with my family that summer I was in a wheelchair, because I simply couldn't walk all day without terrible pain and limping.
Me with my girls and our medals after the 10K at Disneyland. After the 10k we walked another 10 miles at the park that day.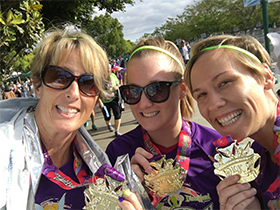 I was told by my surgeon that I had bone on bone osteoarthritis, in both hips, and scheduled myself for a THR. I kept going back to this site, and researching all over the internet for more information on Hip Resurfacing because I didn't want to give up my active lifestyle at 48 years old. Thankfully I found this web site and joined the yahoo group, which lead me to Debbie McCreight.
Debbie helped me get information on hip resurfacing so that I could appeal my insurance company (Kaiser) to send me out of network for hip resurfacing. Debbie also sent off my x-rays to several of the top resurfacing surgeons to see if I was a good candidate for resurfacing. Thankfully I won my appeal and was able to schedule my surgery for BHR and cancel my Total hip appointment.
Its been a year and 9 months since my bilateral BHR surgery with Dr. Su at HSS, and I have returned to my normal life. I do yoga almost every day, I hike several times a month, I ran a 10k with my daughters, and I can walk in the sand without any problems at all. I have been to Disneyland twice WITHOUT a wheelchair. I have no hip joint pain, and continue to grow stronger every month since surgery. I was also able to go to camp with my daughter, I hiked all day long for 5 days, and the only think that hurt was my feet.
I am eternally grateful to Debbie McCreight for helping me through my hip resurfacing journey, and so grateful for this web site, which I spend countless hours on, collecting information prior to surgery.
Terry S.
BBHR 11-24-14
Dr. Su