About Us
Surface Hippy Info is all about keeping the lines of communication open between patients and doctors, and putting patient care first
Providing Avenues for Patient to Patient Communication
In 2006, we started the Annual San Francisco Bay Area Surface Hippy Gathering , where surface hippies and prospective patients have an opportunity to get to know each other and share information and experiences in a safe, non-commercial atmosphere. The gatherings have been so successful that we now have them once or twice a year.
In addition to the Hip Resurfacing Site/Surface Hippy Yahoo! Health Groups, we also now have groups on LinkedIn, FaceBook , YouTube and MySpace to further networking among surface hippies and to spread the word about hip resurfacing. We are all helping each other grow and thrive.


Facilitating Patient to Doctor Communication
Let's face it, surface hippies are among the most demanding and well informed patients ever in the history of modern health care. We talk to other patients, we do our research, and many of us will even go half way around the world, if necessary, to get the best possible care. Not only that, we are a global community of patients working hand-in-hand with top international orthopedic surgeons to raise the standards of the field and ensure the long-term success of resurfacing.
In 2007, Vicky began receiving invitations to international orthopedic conferences. Vicky shares her notes from these conferences under Ask Vicky, Ortho Conferences.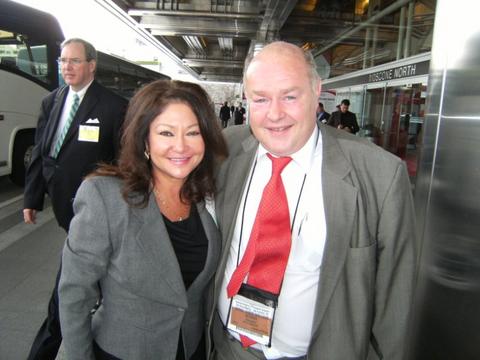 Vicky With Mr. Derek McMinn

(Inventor of the BHR device) at AAOS 2008
This also provides her with an opportunity to personally interview many of the doctors, which you can find under Doctors, Doctor Interviews and Video Interviews. Vicky is personally in contact with many surgeons worldwide and hears directly from the experts what is working and what needs improving in resurfacing.

To further her education, she participated in a lab of full hip resurfacing surgeries by about a dozen different surgeons training new surgeons using cadavers. She has also attended two orthopedic conferences that showed live video feeds of surgeries being performed as a teaching tool for the surgeons present.

Vicky with Mr. Derek McMinn (Inventor of the BHR device) at AAOS 2008
Although Vicky is not medically trained and in no way claims to be an expert, she is a member of the growing informed patient community.
Informing Patients to Ensure the Long-Term Success of Resurfacing
How does all of this translate into real-life terms for you as a patient? It means that as patients, we have the potential to be so well informed that we can seek out the best surgeons possible. And that the surgeons lacking in skill and training will feel a push to do the necessary to keep up with the field. For example, after patients began asking prospective surgeons if they used the neck capsule preservation technique, which ensures proper blood-flow to the neck capsule and reduces the risk of fracture, many surgeons started using that technique.

The reason why all of this is so important is because resurfacing is a very difficult procedure, which can have tragic results if not performed by the most skilled and well trained surgeons. Right now the newspaper articles say that the ideal candidate for resurfacing is a male under 55 years old, but that is according to surgeries performed by a vast range of doctors. It is the safest bet for the average doctor. However, from the patient perspective, perhaps the issue is not necessarily being the ideal candidate, as it is in finding a highly qualified surgeon.
Surface Hippy Hip Resurfacing Site Is All About PAYING IT FORWARD *
Living with a degenerating hip is a debilitating experience. Often we find that the only ones who really know what we are going through are those who have gone through it themselves. Thousands of hip patients worldwide are being supported in their journeys to surgery and in their recoveries by fellow surface hippies.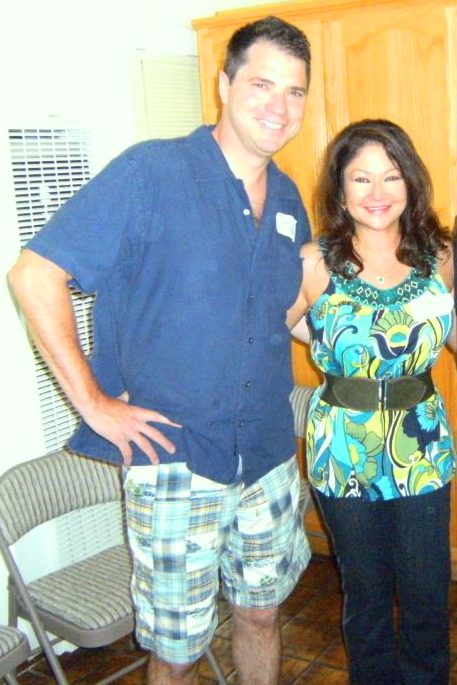 This surgery is truly a phenomena because patients that have it want to shout it out to the world. Fortunately that is a very good thing since most surgeons will not even tell patients this procedure exists. I found out about it after going to several orthopedic surgeons that all told me I needed a THR and never even mentioned resurfacing. Luckily I stumbled on Jay Gangi's ad on craigslist for items for sale that you will need after hip surgery. He paid it forward to me and I continue to pay it forward to others.
Photo of Jay Gangi with Vicky Marlow at the July 2008 Hippy Gathering
If it were not for the internet and stumbling across an ad at the right time, I would have ended up with a THR. I am so thankful to Jay for taking the time to respond to me and send me links to the JRI website and an online support group. Today we have our own support group and message board which is quickly becoming the fastest growing support group for hip resurfacing patients, the new HipResurfacingSite/Surface Hippy Poll/Survey Group and Messsage board. Many patients find inspiration in reading the experiences of others that have taken the journey before them, whether they are professional athletes who want to return to their sports, or full-time moms who wish to play with their children and shop at the grocery store pain-free.

If you would like to pay it forward by submitting an article or your story, please contact Debbie McCreight.
* The expression PAY IT FORWARD is used to describe the concept of third party beneficiary in which a creditor who offers the debtor the option of "paying" the debt forward by paying it to a third person instead of paying it back to the original creditor. Payments can be monetary or by good deeds.
---
About Vicky Marlow
I am a proud mother of a son and a beautiful daughter who has three children making me a grandmother of two little girls and a little boy. All of my surface hippy activities are done as a Volunteer Patient Advocate. I have devoted all of my spare time to the Hip Resurfacing cause and have helped thousands of patients. Last year, I was part of a lay off at the last company I worked at and then faced another hip surgery, so at this time, I am currently back in the job market. My background is in Sales, Sales Management and Marketing in both High Tech and Insurance, to see my resume, you can email me for a copy or look at my LinkedIn profile . If you would like to make a donation to help with the upkeep of this website and help me to continue with furthering the education of the patient community, please click on the donate button in the upper right hand corner.
---
Special thanks go to:

Ann Caviness for her contributions to text and editing, and her input on the Surface Hippy mission.

Paul Hamilton for contributing to the videos on this website. Paul is a gifted pianist, musician and creative videographer and editor. He is the official videographer for this website, he donated countless hours taping and editing videos for the patient community to "pay it forward". Thank you so much Paul for all that you do and continue to do. If you or anyone you know is in need of professional videos, please contact Paul at his website Hammydon Productions. You can also see and hear Paul's work on the majority of videos that are on this site
Jared Manders for the incredible job of filming the videos in NYC in May, 2010 all in HD Broadcast quality. Jared is a highly sought after cameraman and has filmed the President of the United States as well as the Super Bowl, etc. He too is a fellow patient and I SO appreciate him doing this very hard work to help pay it forward to the patient community. Thank you Jared! You can see some of the videos he filmed in May by clicking here . To see Jared's work, here is his website. mandersdp.com

This site has always been and still is currently solely funded by Vicky Marlow
Advertising is now being accepted and the funds received for the advertising go towards the new Hip Resurfacing Educational Foundation, Inc. (HREF, Inc.) which is in the process of becoming a non-profit organization dedicated to educating the patient community in Hip Resurfacing through development of new websites, etc.
Any advertising on this site will in no way affect the content of this website or the opinion of the owner of this site, Vicky Marlow - Patient Advocate.
Donations are also greatly appreciated