Des Tuck – Martial Artist, Bilateral 10/01 & 5/03, Mr. Ronan Treacy
Hi Surfacehippies:
I'm writing this in commemoration of the 18th anniversary of my left BHR. The original implantation date was October 18, 2001. It was my first one, the second being 19 months newer, in May, 2003.
I flew from San Francisco on October 11, 2001, just one month after the September 11 disaster in New York. I used American Airlines and transferred at JFK for my flight to Heathrow. I remember seeing those awful holes in the skyline left by the collapsed Twin Towers when we reached New York.
After spending the night with my cousin in London, I took a train to Birmingham and upon arrival, a taxi to the hotel which at that time accommodated many of the foreign medical tourists who came to Birmingham to be operated on by McMinn or Treacy. I honestly didn't know what to expect from the surgery but was ready for any relief it would provide.
In June, 2001, a few months earlier, I had made my first trip to Japan for a karate grading for 5th degree black belt. I had been doing karate for just over 30 years and was advised by Mr. Treacy to attempt the grading before the surgery because he said one never knows how surgery turns out. Despite the pain, I passed the test. It included the performance of three kata (forms) and two sparring matches.
Now, 18 years later, I continue to celebrate the many benefits of the new lease on life given to me by Ronan Treacy in Birmingham, UK when, in 26 minutes, he installed this device in me. The first thing I noticed was the disappearance of the arthritic pain I had suffered for over 20 years. The second thing I noticed was 45 staples in my Gluteus Maximus.
During the following 18 years, I went through many changes in my life, some good and some unfortunate. I attribute many of the positives to the change in attitude I experienced, especially after my second resurf in 2003, when I felt as if a great weight was lifted from my shoulders. It freed me up to make decisions that I might not have entertained had I remained in pain.
In terms of physical pursuits, I have been practicing karate since 1970, when I was 15. I had visited Europe many times for karate training between 1989 and 2000 and began visiting Japan for training almost every year beginning in 2004. In 2007, I passed the test for 6th degree black belt against very steep odds. In 2013, I passed the test for 7th degree black belt.
To most people these are just numbers. To anyone who practices martial arts, it is a very big deal to get past 5th degree black belt. Only a handful in the world ever reach 6th or 7th. Obviously those with hip surgery constitute a microscopically small group within this category. There are probably less than a dozen in the entire world.
In any event, the most significant change I have experienced is a boost in confidence. Even though I was 47 when I had my first resurf, it felt as if my life was just beginning. This was enhanced by my second resurf at age 49. I turned 65 this year, 2019.
My drive to continue improving my karate training led me to leave an organization I had belonged to for 49 years and to start my own international karate group. I did this in March, 2019. I have branches in California, Mexico, and the UK.  I've been twice this year to Guadalajara to get my group up to speed there, and will be presenting a three day seminar there on November 8, 2019.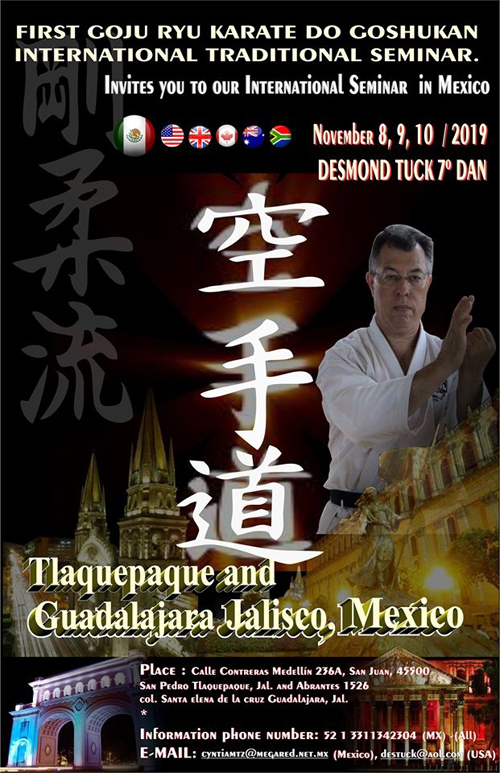 After forming my group, I went to Japan in April/May, 2019 and interviewed three world class masters, each of whom was interested in having me be the head of a US group under their auspices. I chose the most accomplished fighter, Akio Takahashi, a 10th degree black belt who is known internationally as one of the greatest exponents of Gojuryu Karate. He taught my late teacher, Leo Lipinski, who passed away in January, 2018.
Most people never leave a karate organization after such a long time. My successful hip surgery melted away any fears I had of not being able to make the grade elsewhere.
I went to meet Takahashi Sensei in Tokyo with some trepidation. His reputation was of someone who trained in an inhumanly tough fashion. People who used to visit Japan in the late 1960's and through the 1970's still speak of him with enormous respect and fear. The man I encountered was an admirable human being who lived up to every notion I ever had about a quality karate instructor. I am in a position to judge the good from bad, having trained under many world-class Gojuryu instructors during the past 30 years in Europe and Japan.
After a four hour session, Takahashi Sensei told me he would be happy to have me head a US branch of his organization, which currently exists in eight countries around the world. One of his branches is in Nepal. I don't know if you've ever heard about Gurkha's but that's where they're from. The Gurkha's are known as the toughest soldiers who ever served in the British Army in many wars. These are some of the followers of this great man.
Even at the age of 71, he is able to fight at world-class level. I learned this in the five minutes of sparring that we did. It was a long five minutes.
I plan to take a group of karateka from around the world with me to Japan next year, 2020, for an inaugural week-long training session with Kenwakai, which is Takahashi Sensei's organization. I don't know what to expect, but I do expect my two BHR's to serve me well.
I have been sending my x-rays to Mr. Treacy about once every five years for his review. In early 2018, he told me it looked like they would last indefinitely. I take that to mean forever.
In case you're wondering, I do karate as a hobby. I don't charge for my teaching. I just want to spread the knowledge I've acquired and help people live better lives. I make my living as a civil litigation attorney.
If you're on Facebook and are interested in seeing more pictures of my karate life, I have a page entitled "Palo Alto Gojuryu Karatedo Goshukan." Feel free to send me a 'friend' request to my Desmond Tuck page and you'll see thousands of pictures showing how much other fun I'm having.
Best wishes to all,
Des Tuck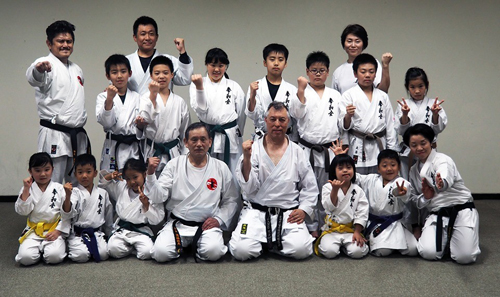 Me with Takahashi Sensei – May, 2019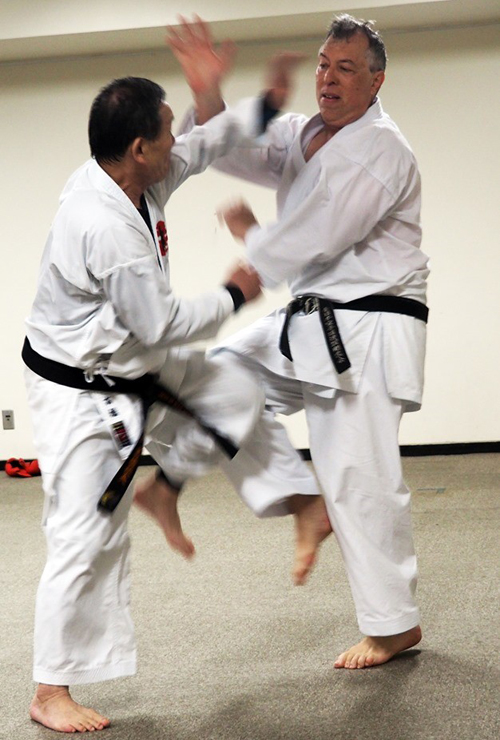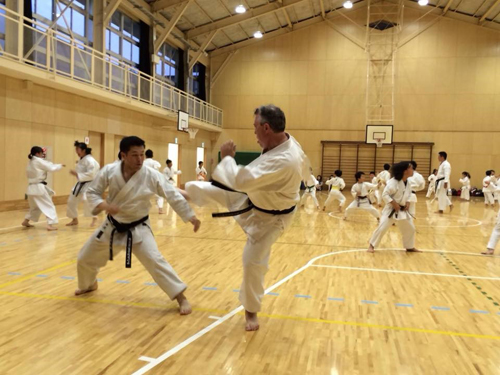 Sparring in Japan – 2016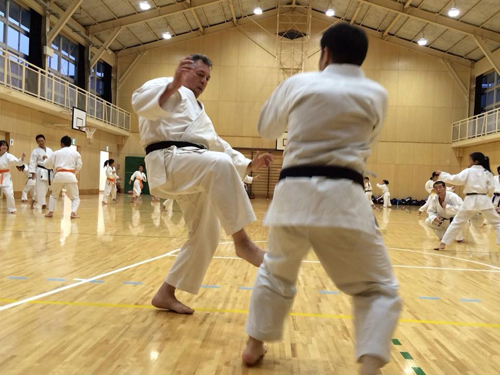 Japan sparring 2016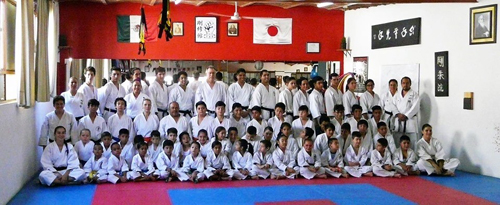 Guadalajara, Mexico 2019

Santa Monica 2017
---
It is no exaggeration to say that hip resurfacing has had such a profound effect on my life that for all intents and purposes it turned the clock back on my aging process. It has not only enabled me to arrest my physical degeneration resulting from osteoarthritis, but I have actually been able to improve my athletic performance.
I underwent bilateral hip resurfacing in 2001 (left) and 2003 (right) with Mr. Ronan Treacy in Birmingham, who installed two BHR devices. I'm told the first surgery took just over 30 minutes, start to finish. The second took a bit longer - 45 minutes - because Mr. Treacy was teaching.
Aside from relieving the constant pain I had experienced for decades, the most noticeable effect resurfacing had on my life involves my athletic pursuits.
Although I suffered hip pain beginning in the mid-1970's, I was nevertheless able to study karate, reaching the level of 5th degree black belt in 2001. However the test for that level, which I took in Tokyo under the auspices of the All Japan Karate-do Federation Goju Kai , was one of the most painful events I can remember. It felt like I had sandpaper in my left hip.
At that time, my right hip hadn't bothered me at all; most likely the pain was masked by that in the left hip.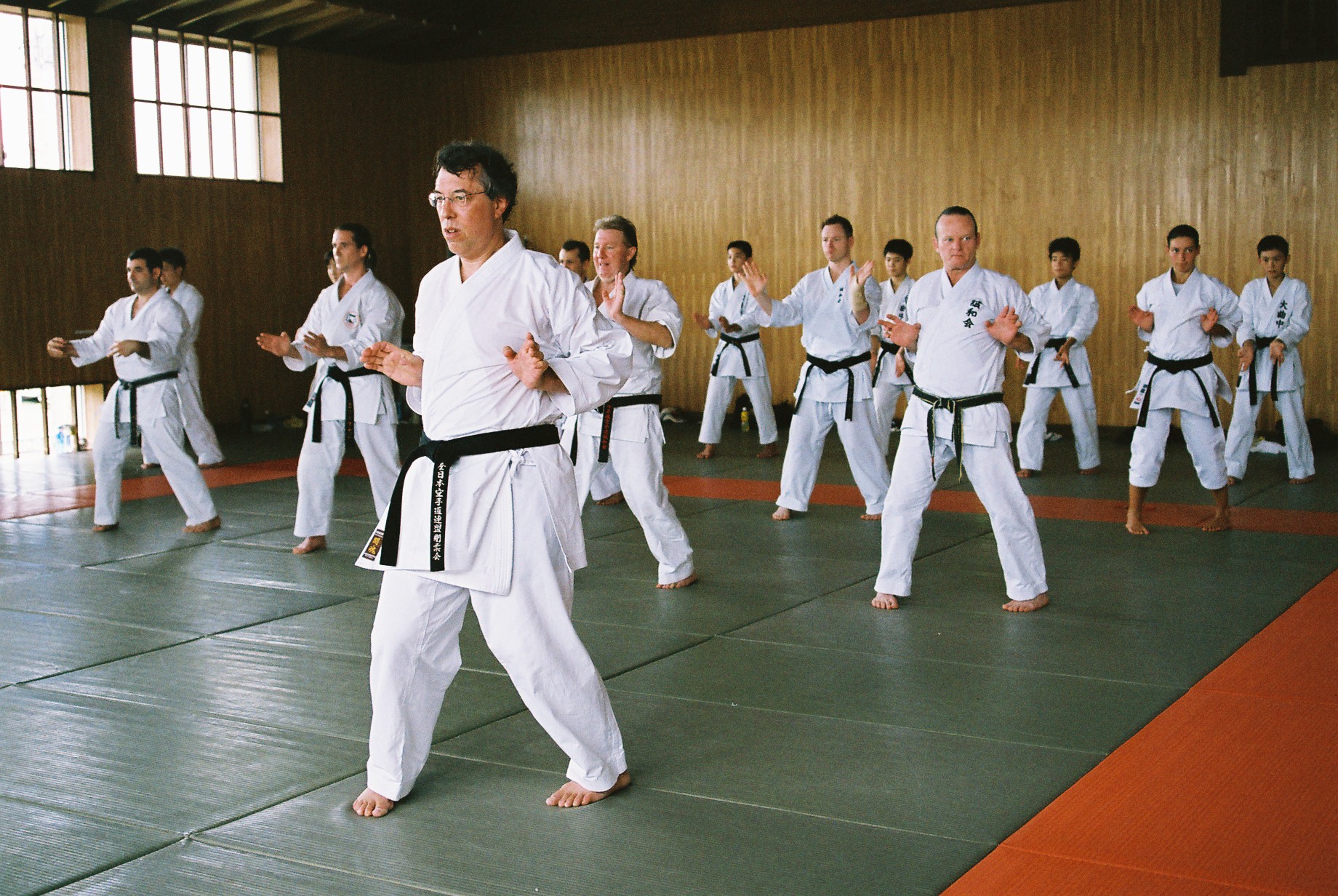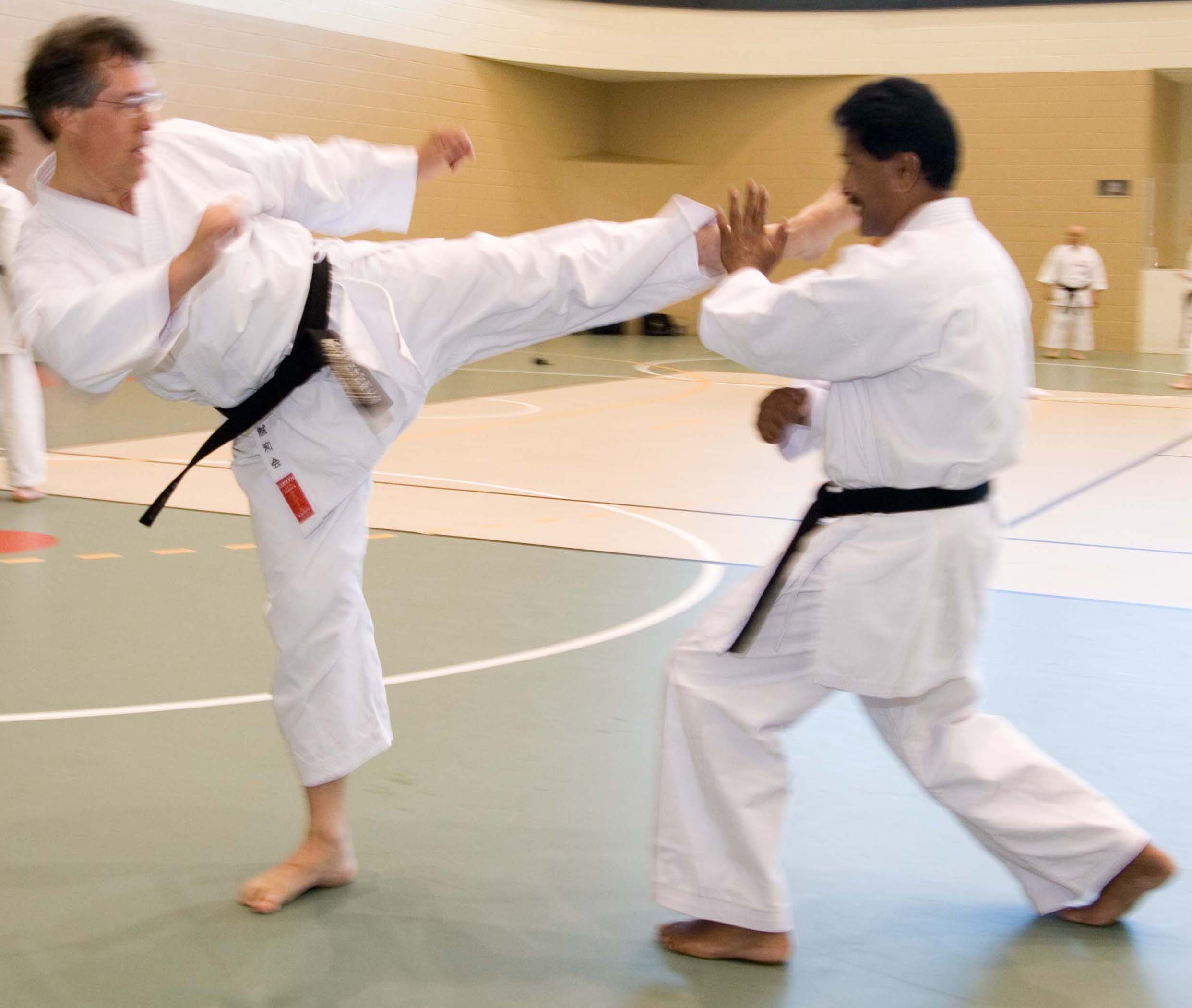 Photo left: Tuck training in Japan; Photo right: Head-level roundhouse kick
Mr. Treacy examined me in February, 2001 and had advised me to take the test before the surgery, which I did. A couple of weeks before leaving for Tokyo, I had a cortisone injection into the left hip. Unfortunately the analgesic effect wore off several days prior to the test, but it did give me four or five days of prior training time without agonizing pain.
This test required me to perform three kata (form sequences) and two kumite (sparring) sessions with high-level karate practitioners also testing for similar levels. I suspect the adrenalin rush of full contact hand-to-hand combat and the fear of getting hit was enough to make me forget about the hip pain for a few minutes.
Luckily my strategy of hammering my opponent in the first few seconds of each match had the desired effect of creating enough fear in them to make them stay away from me.
By the time I flew to Birmingham for surgery four months later, I was ready for any surgery which had a 50-50 chance of ending the pain. As it turned out, my fondest hopes were exceeded.
After my October, 2001 resurfacing I was back doing my karate training lightly within 7 weeks after surgery, and with no restrictions after 10 weeks. In the meantime my right hip started to bother me, but the left one felt great. In 2002 I attended and taught at karate seminars in the UK, Austria and Slovakia. People who had seen me prior to the surgery couldn't believe my improvement after just one resurfacing.
I decided to take no pain killers this time, and had my right hip resurfaced by Mr. Treacy in May, 2003, about 18 months after the first. That's when my clock really turned back.
In June, 2004, I celebrated my 50th birthday by going to Japan and undergoing karate training for 8 hours a day for 10 days. In July, 2005, I won two bronze medals at the USA National Karate Federation Championships in Charlotte, North Carolina, one in fighting and one in forms. In the forms competition, it was an open division, I was 51 and the next oldest competitor was 30.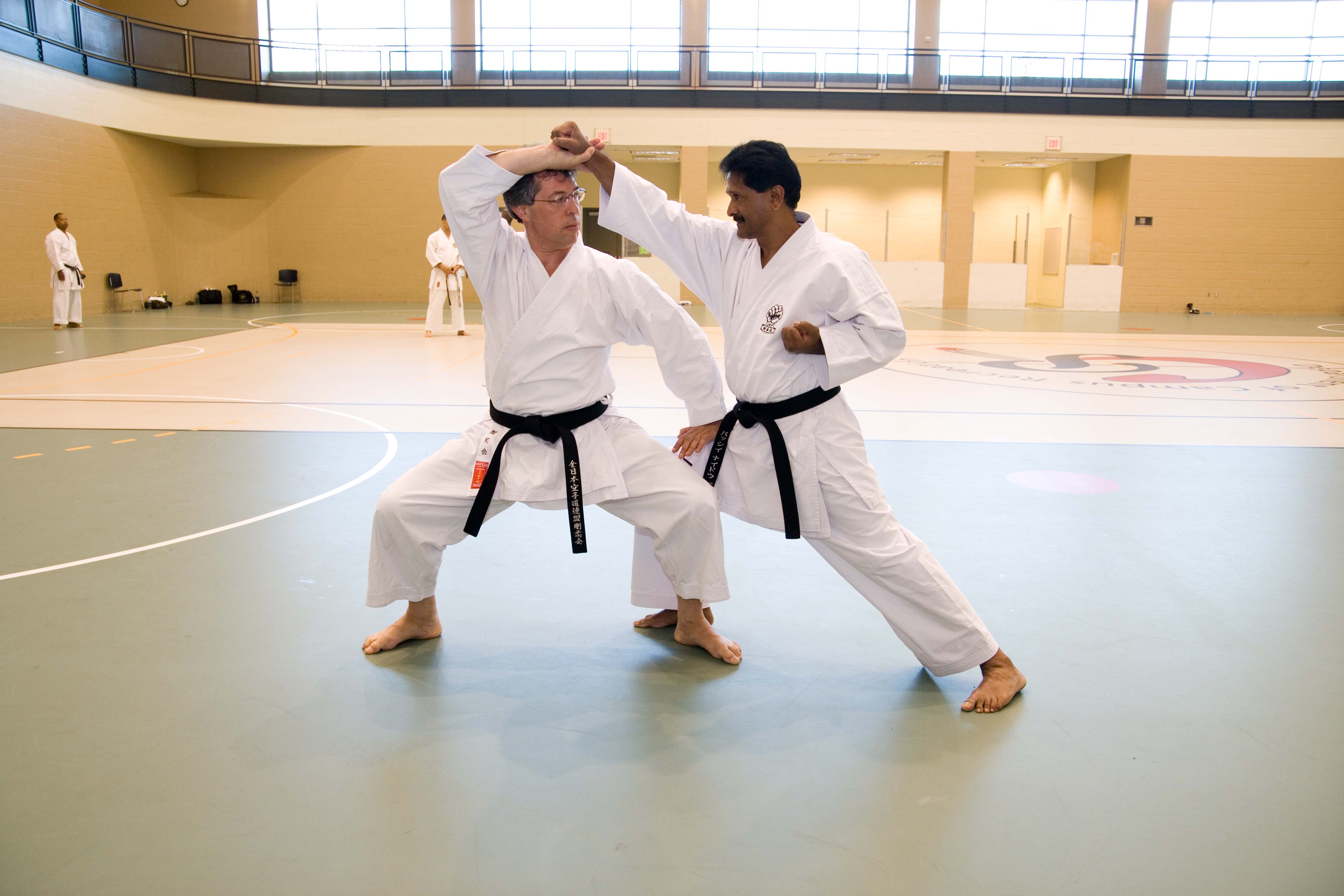 Considering it was my first tournament experience in almost 20 years, and that I had suddenly experienced severe sciatica about six weeks earlier and needed acupuncture to reduce the pain to an acceptable level, I was delighted with my performance. But the most rigorous test was yet to come.
In July, 2007, I tested for and received my 6th degree black belt under the All-Japan Karate-do Goju Kai Federation in Osaka, Japan. This obviously took a lot of training especially immediately prior to the test. I was the first (and maybe the last) person in the world to ever test for this black belt level with the JKF Goju Kai with resurfaced hips. None of the 8 examiners and 5 moderators knew at the time of my "advantage."
I should mention that I was only the 11th non-Japanese in the world to ever pass this test. The All-Japan Karate-do Federation and its four style branches are recognized by the Japan Government Department of Sport as Japan's only official representative entity in world karate. The test for 6th degree black belt is recognized as the threshold leading to the 7th and 8th degree levels. As such, the test for 6th has the highest failure rate, with a level of scrutiny that is detail-oriented to an extent that most would consider ridiculously stringent.
Since being resurfaced bilaterally, I am able to kick more efficiently and with more speed and flexibility than I could at any time in my karate career. My hip movements, essential for the close-fighting style of karate I practice, are fluid and quick. Our basic fighting stance, a "cat" stance, requires one to essentially stand on one leg and move around smoothly, shifting weight onto the other leg but never being balanced 50-50 on both.
Below is a video of Des demonstrating his kicks at the Hippy Gathering in Fremont, on January 31, 2009


Since being resurfaced, I routinely spar with karateka in their teens, 20's and 30's and can hold my own with international level martial artists without difficulty. When doing forms, I can actually express myself artistically instead of moving to accommodate the pain.
I hope my story encourages those of you who want to make further progress in any aspect of your lives, especially in the sporting arena. I am able to perform better now than I could when in my 20's because of my pain-free hips. In other words, hip resurfacing has actually helped me improve my athletic performance to international level even though I am now in my mid-50's and was resurfaced at ages 47 and 49.

During July, 2008, I went to Japan for further training and drilled for 6 hours a day for 8 days. Afterwards, I felt about 20 years younger. I plan to repeat this regimen each year until 2012, when I will be allowed to test for 7th degree black belt. I can't wait, but I guess I'll have to.
Des Tuck
April 6, 2009
Update November 2009
"In July 2009, I returned to Japan for my annual karate training, and had a fabulous time once again. This time we did some pretty heavy sparring practice and my hip held up well throughout. Here's a picture of me doing a partner exercise with a highly skilled teenager and he didn't get the better of me. We also did waterfall training:"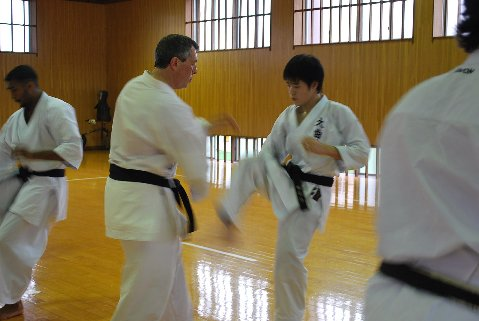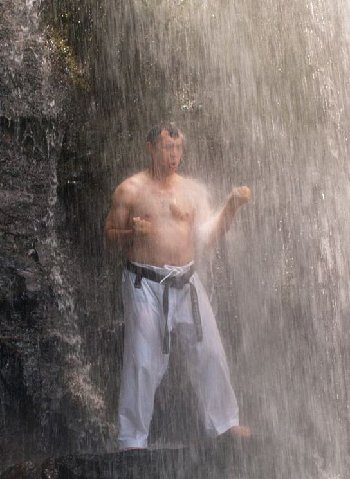 Update July 2012 Trip to Japan
"The main message of these pictures is that if you look around me, I appear to be indistinguishable from others around me who haven't had resurfacing, and in some cases better.

I had no problems at all with the training - six hours a day for six days - so I continue to be delighted with the 'job.' At present I am 10 yrs. 9 mths. post op on my left and 9 yrs. 2 mths on the right.
In the line-up pictures where we're all kneeling, the seniors sit in front, I am number six in seniority at our international seminar. The ones who are not kneeling have serious knee problems. Notwithstanding being an instructor, I do all the training that everyone else does. My rapid improvement in karate began AFTER resurfacing, the first of which I had at age 47. Miracles are indeed possible with resurfacing.
My instructor confirmed I am on track to test for a 7th degree black belt in 2013. There are no guarantees of success but the fact that I continue to improve at this age is the significant issue here."
Des"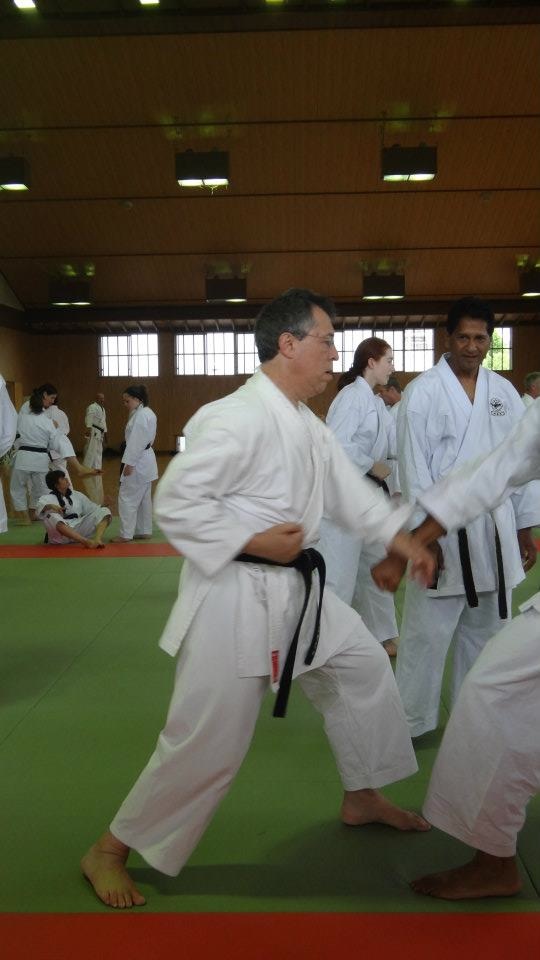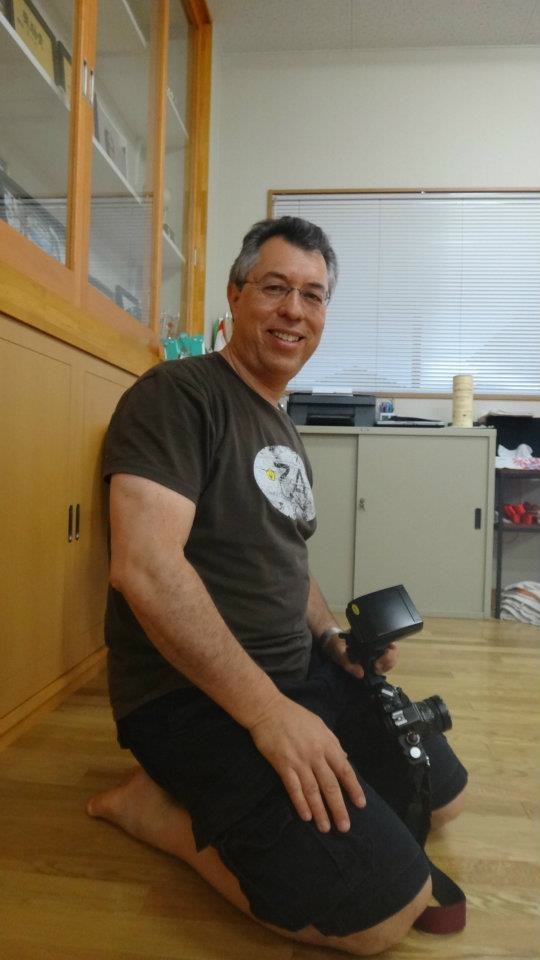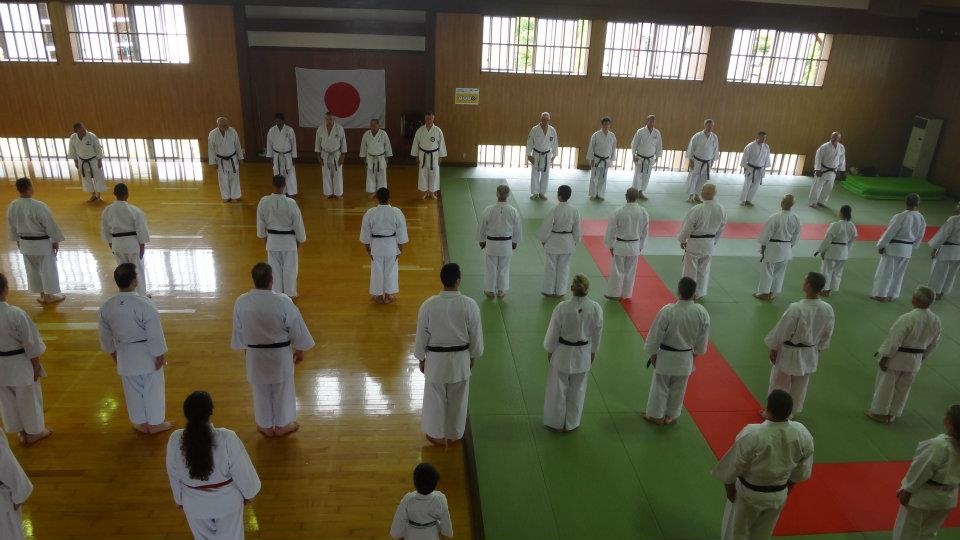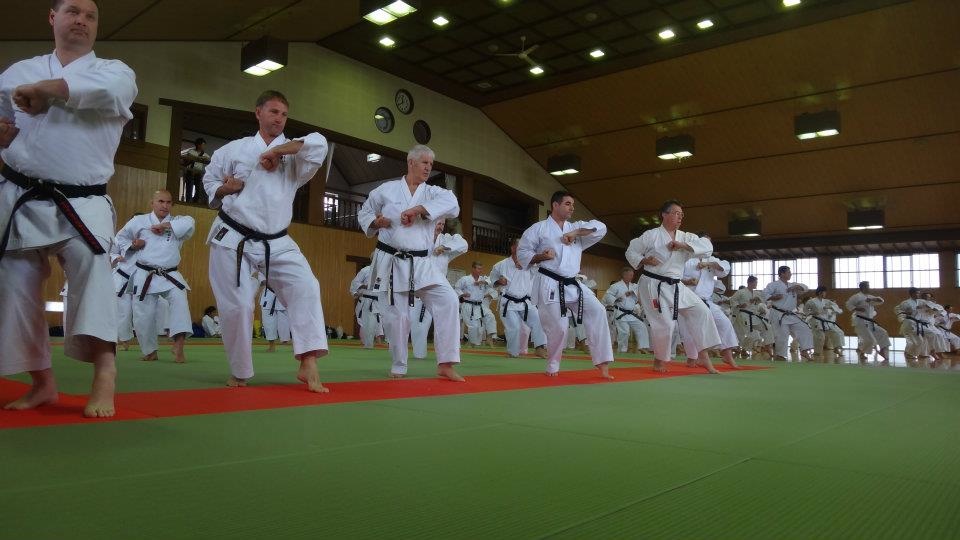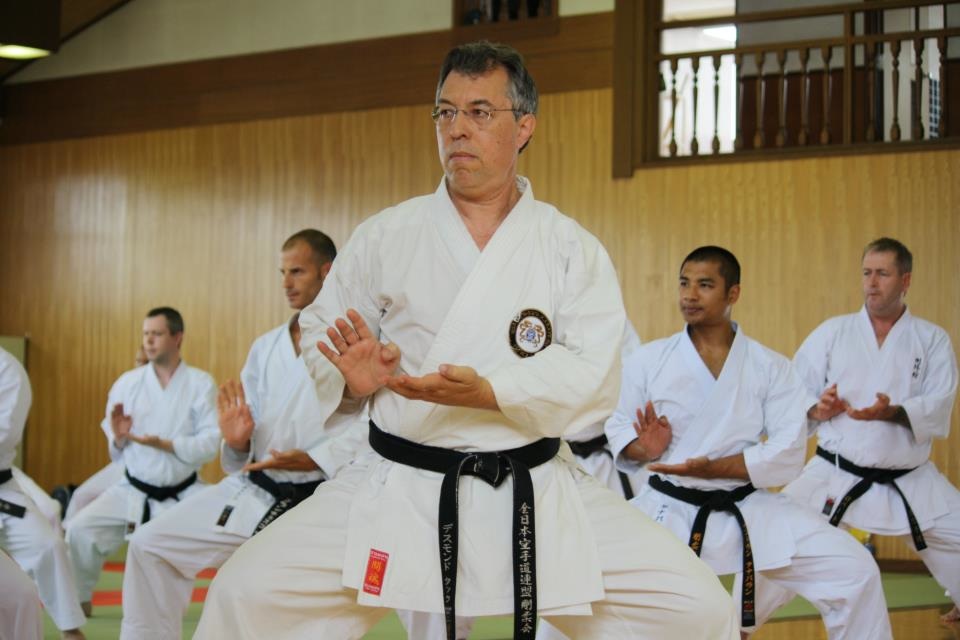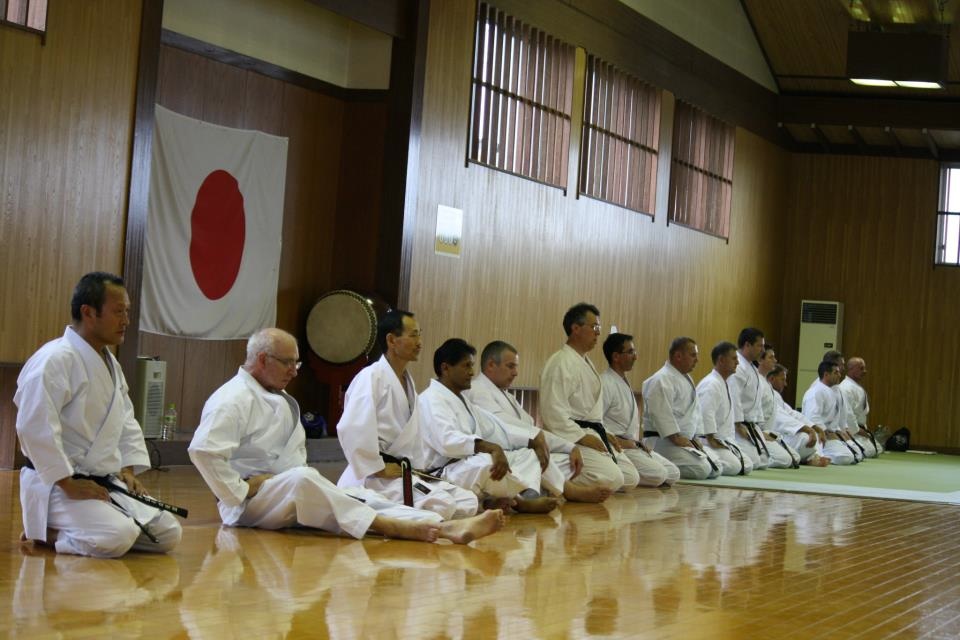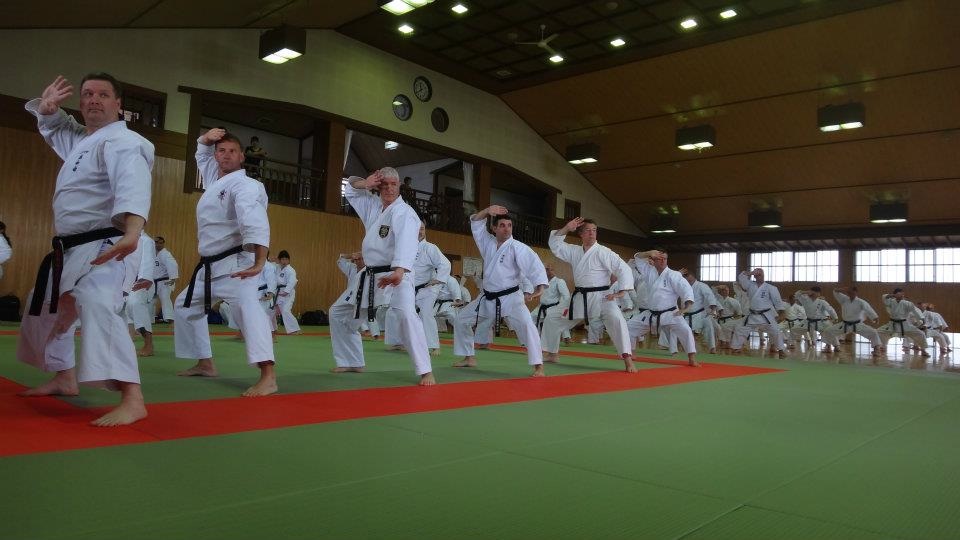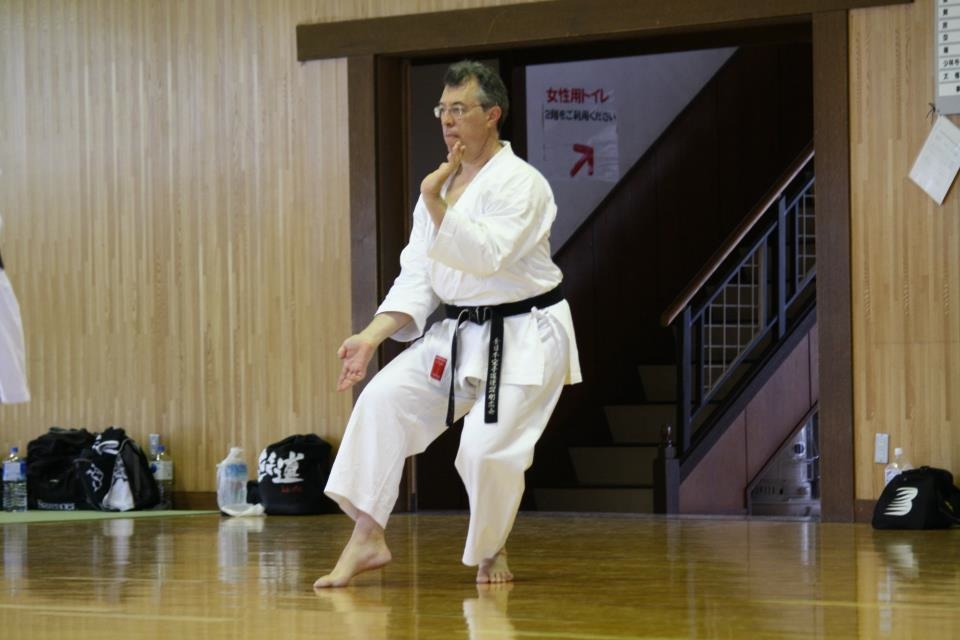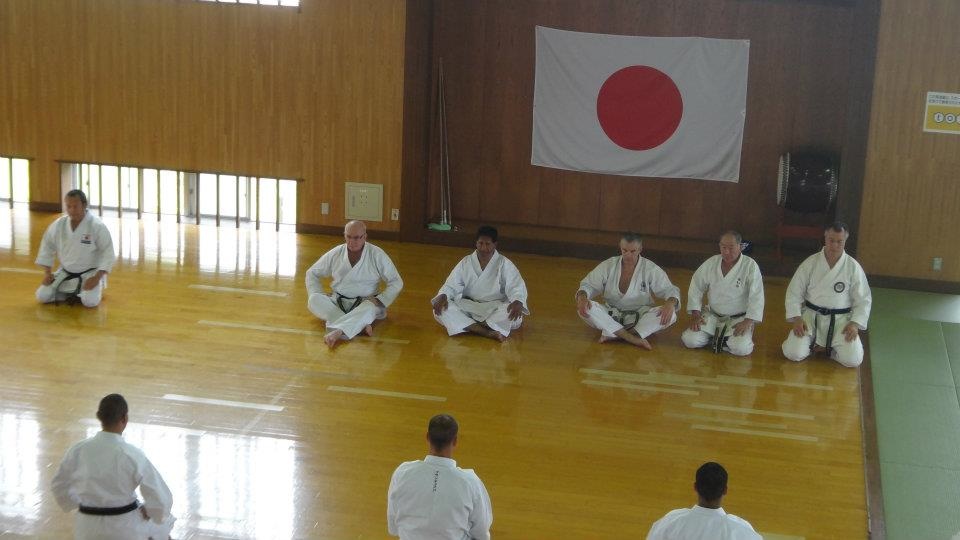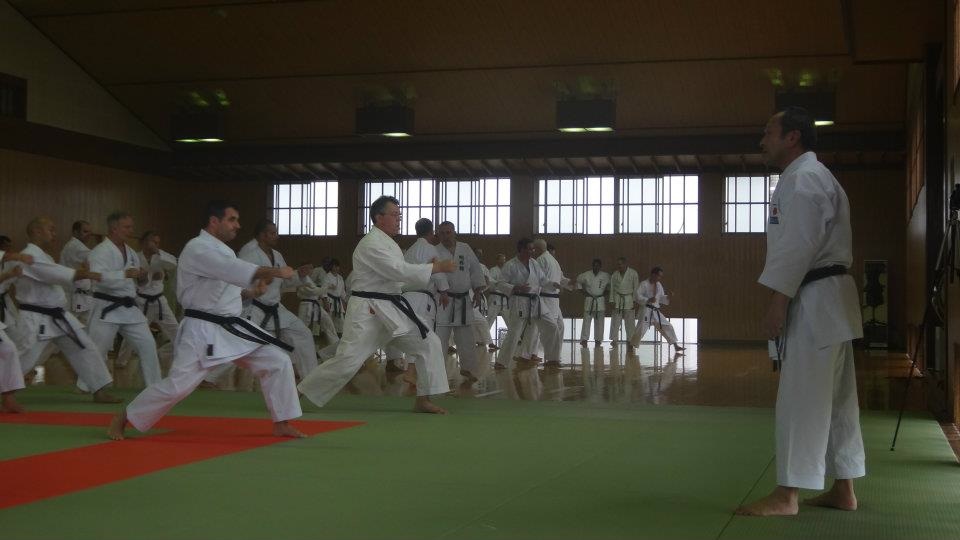 ---
Updated on August 2014
Dear Hippies:
This is a follow-up to previous posts about the condition of my hip re-surfacings of 2001 and 2003. I'm happy to report I just returned from my 8th trip to Japan for karate training since being re-surfaced. These trips generally involve 6 hours a day of training for between six and eleven actual daily sessions.
There's not a lot of impact training involving connection with the floor, although I do avoid doing jumping kicks just because I'm a big 'chicken' and don't want to do anything really stupid to harm my prostheses. There are certainly some twists and throws but having practiced Judo before, I usually fall without injuring myself.
My recent (July 2014) trip was similar to my 2007 trip, during which I tested for my 6th degree black belt before the All Japan Karate-do Federation (JKF) Gojukai, the JKF being the only karate organization recognized by the Japanese government. A few weeks ago, I attempted the test for 7th degree black belt before that panel, and was unfortunately not successful. Of the fifteen people who attempted it, only two passed. I was the only Caucasian in the group. Only six other Caucasians in the world have ever passed this particular test. None of them had any physical 'enhancements' like I did. There are maybe 30 Japanese who have ever passed it.
I had already received my 7th degree black belt in July, 2013 from my own club, Goju Ryu Karate-do Seiwakai, which is, in its own right the largest member of the JKF Gojukai, and was required by the rules to wait a year before attempting this recent test. There are some politics involved, which don't favor Seiwakai, but the main obstacle to passing based on the feedback I received, is my reluctance to do one particular kick as hard as it should be done.
This kick (kansetsu-geri) involves lifting your knee up and then shooting it down and locking it momentarily at full extension, and then bouncing it back up to the original knee-up position. When you do it correctly you hear a kind of a snap in your body from the locking of the leg when extended. This works much better if you have short legs. I am 6 ft. tall and have long ones, which is already a disadvantage. Add to that the absence of ligaments in my hip joints and you can understand my reluctance to over-stress them.
This is a picture of me on the right, poised to actually do the kick before thrusting the leg downwards.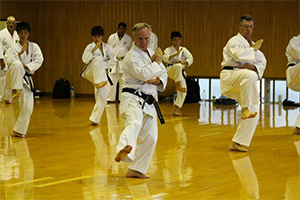 So I made a considered decision to hold back when performing that move at all times. The bad news is that the two moves which result in about 95% of the failures in the test for 7th degree are those two kansetsu-geri's and that's for everyone, not just people with hip problems.
The test involves performing three separate forms (kata), two of which are isometric and involve no kicking. The third one, Kururunfa, which you can see here on Youtube performed by the winners of last year's world championships, does involve four kicks, two kansetsu-geris and two front kicks.
As you will see, Kururunfa is an exceptionally difficult kata, but I was encouraged by the support of my instructors and my fellow karateka when demonstrating during my practice sessions before the test.
Also, the guy sitting next to me at the test, who has for 40 years, been a student of one of the best teachers in the world, gave me a thumbs-up after my performance, which I hoped meant he would have passed me. It's difficult to get any information about the reasons for failing these tests, but my Japan chief instructor said, not so cryptically, "kansetsu-geri no good" which made it pretty clear. He said the other two kata were very good, so I deduce that I suffered from a kansetsu-geri deficiency in this instance.
In any event, I had a truly fabulous time in Japan, where I also celebrated my 60th birthday the day before my test. After 11 days of training, I came home feeling about 25, no kidding. Here are some pictures of me taken by a UK friend during training.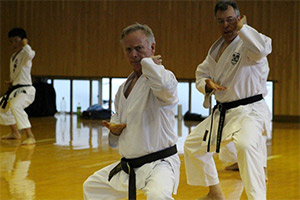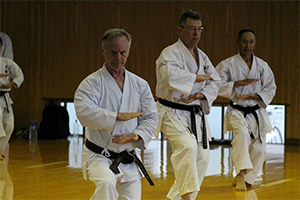 Here's a picture of me with two of my buddies from Italy and Portugal. The Italian guy next to me is also 60.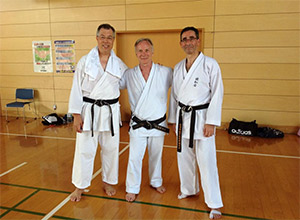 While in Japan, I went on a couple of really strenuous hikes. The first one was to a hilltop temple called Yamadera, which famously has 1,171 steps to the summit. I did this with a group of friends. Here we are at the bottom. I'm the 'old guy' in the group - the next youngest is about 45.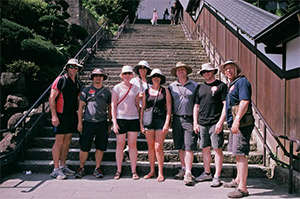 And here's the view from the top.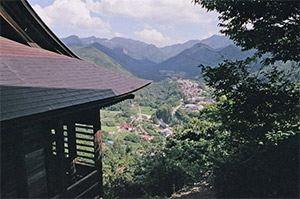 I had absolutely no difficulty going either up or down, and it was hot as hell. We were all drenched.
The other one was to Nihon-Ji, which is also on a hilltop and I went alone. I have no idea how many steps it was to the top but it was at least twice as many as Yamadera. Here's the view from the top of that one. I walked from the railway station in that town you see, through the fields and up the mountain.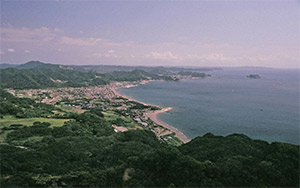 I had no problems with the climb or descent either, but it was much harder than Yamadera, and equally as hot.
In addition to these climbs, there was a LOT of walking around Sendai and Tokyo, the two cities where we spent time in addition to Omagari, the town where we did the training.
I hope this informs those of you who have any doubts about what is possible in your lives after re-surfacing. While I don't encourage anyone to go against doctor's orders, you can see that the world will be at your feet, and since your feet are below your hips, that's a good thing.
Until next year's visit to Japan, signing off.
Des Tuck