Debbie McCreight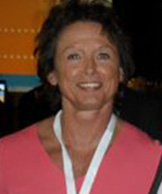 Welcome to the new website! My name is Debbie McCreight and I have been working behind the scenes since Vicky passed away helping to keep her website and her memory alive to all those she has touched and helped over the years! Vicky always talked about "paying it forward" and this has been my motivation to keep her alive and share her story with you in this website which she developed.
I found out about resurfacing back in 2007 when I was diagnosed with OA (osteoarthritis) of my right hip. I remember the very day and thought my active days were over. You see most of us are or have been very active in our lives. I found Vicky not too much after my diagnosis. She was a godsend to me as she was to many others!
My story is very similar to Vicky's. My right hip continued to deteriorate to the point where I was bone on bone and could barely walk. People would continue to ask me what was wrong and why was I limping? I scheduled my first surgery in 2009. Fast forward to August 2018 when I had my second resurfacing on my left hip, so I am now a member of the bilateral club!! Resurfacing has given me back my active life!! There is so much more I could add to my story but…
I can't thank Vicky Marlow enough!! I miss her very much and will do my best to continue to "pay it forward".
Enjoy the website and please hit the contact links if you have questions.
12 Year Anniversary on my right hip
On May 15,2021 I reached my 12 year anniversary of receiving my BHR Birmingham Hip Resurfacing from Dr. Su at HSS in NY. My hip resurfacing feels great and I have no problems. My activities have been running, biking, and avid weight lifting. I am a true believer of hip resurfacing and it is a great alternative to total hip if you are the right candidate.
Thank you
Debbie McCreight