Vicky Marlow's Story 12/01/05 Dr. Bose ***VIDEO***
Update follows at the end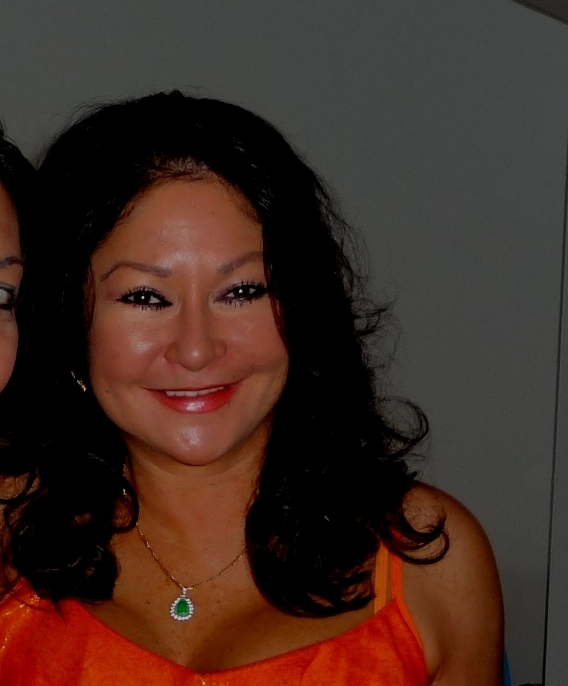 About ten years ago my Mom had her first hip replaced, a year later she had her second. The THR's (Total Hip Replacements) that she received then were the old poly on metal small head devices. She was told they would last her 8 -12 years before she would need revision surgery. During this time she was in her early 60's. Since then she has never been able to cross her legs or stoop down low to get something out of a kitchen cabinet. Due to her THR's she is unable to lift her grandchildren or even get down on the ground to play with them.
Recently she has begun limping again, unable to walk up a flight of stairs without holding onto a handrail and pulling herself up by placing only one foot up at a time.
I was diagnosed with OA (osteoarthritis) about 8 years ago and knew that it was inevitable that I too would eventually be facing hip surgery. What I did not realize is that in the beginning of 2005 (in my 40's), my OA would hit a point where it would all of a sudden progress rapidly. I was then faced with the reality of getting my left hip replaced and I shuttered at the thought that my life as I knew it would soon be over. Here I was, a single female in her 40's, I could not imagine living life as limited as my Mom's had become, even though she was no longer crippled like prior to her surgeries, to me she was still disabled. And the thought of not being able to pick up my grandchildren was devastating to me.

The story of "Paying it forward"
Luckily I found out about hip resurfacing quite by accident. I was searching on craigslist and happened upon an ad from someone that was selling items you will need if you are having hip surgery. I emailed Jay Gangi who posted the ad and I asked him if he had his hip replaced and if he had heard about this new MIS approach that I had read about. Jay responded with the fact that he had found something much better, it was called hip resurfacing and he sent me links to the Yahoo group and to JRI's website. When Jay responded that day, it forever changed my life.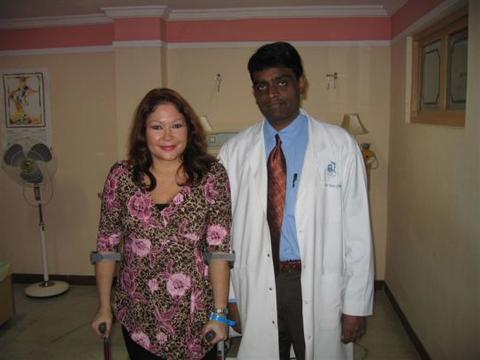 When I did my research and realized the incredible differences between the two procedures, (see Why Resurfacing ) my mind was made up. However, I did not realize the struggles that lay ahead. How would I get this accomplished when I could not find anyone that even knew about the procedure?

I went to three orthopedic surgeons including one top surgeon at Stanford that all told me that a THR was my only option. The doctor at Stanford went so far as to tell me that I did not qualify for hip resurfacing due to having dysplasia (shallow sockets) and also told me that they removed more bone, which I was later informed, was not true. I was crushed, and scheduled surgery with him for a THR.

Vicky 1 week post op with Dr. Bose

Luckily I joined a yahoo support group and found out that I needed to get more opinions. I scheduled an appointment with Dr. Harlan Amstutz. I paid out of pocket for the $350 consultation fee as well as my airfare and rental car and flew down to LA for a consult. Dr. Amstutz gave me the good news that I was indeed an excellent candidate for hip resurfacing.

Then the struggles began with my insurance company. At first they would not approve surgery outside of a 50 mile radius. I decided that I would move in with my sister in L.A. and see if they would approve my surgery then, after all, she lived within 50 miles of Dr. Amstutz. The insurance company then said that Dr. Amstutz was out of my network. I found out that Dr. Schmalzried was in my network and started with that angle.

By this time, my pain was increasing every single day and I ended up having to purchase a cane to walk.

Two things then happened, I submitted a request to my insurance company, and again they denied me, this time it was based on "experimental procedures not being included. And secondly, when I called to change my surgery date from Dr. Amstutz to Dr. Schmalzried, JRI then informed me that they ran out of hip resurfacing devices and that they could not schedule a surgery date for me. They had no idea when a device would be available and that I would just have to call back at a later date.. . I basically sat down and cried.
I was faced with the decision of allowing my health insurance to dictate the type of procedure I would get, which was 100% coverage for a THR, or possibly be stuck paying out of pocket to get the procedure I wanted, which was hip resurfacing for about $23k out of pocket at that time for Dr. Amstutz. Looking at my Mom and her limitations, I could not and would not allow that to happen to me. I realize now that some of the newer THR devices do not have the limitations that my Mom has, but the doctor at Stanford clearly told me that I WOULD indeed have limitations for the rest of my life with the THR he was planning on giving me.

Taking charge of my own Health, against all odds
I was told to not give up and fight my insurance company, so with Alan Ray's help I put together another appeal letter to get surgery approved for hip resurfacing down in Los Angeles.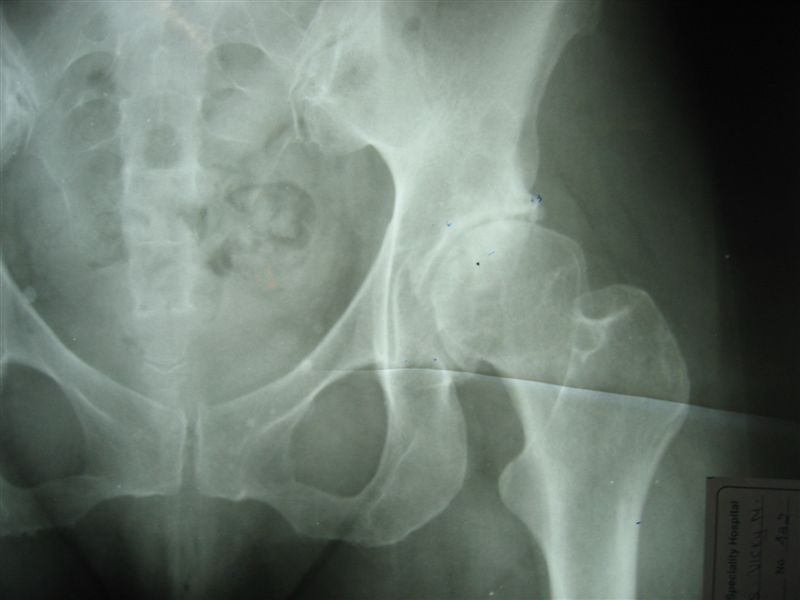 I then emailed my x-rays to Dr De Smet in Belgium and Dr. Vijay Bose in India. When I received a response in half an hour from Dr. Bose and within three hours from Dr. De Smet, at first my thoughts were, wait a minute, something is really wrong with this picture? Doctors in the U.S. never responded to emails personally that I knew of and here were two of the world's top doctors responding to me!
I put together a detailed cost spreadsheet and decided that I no longer could deal with the stress of my insurance and that I would pay the less than $12k out of pocket and go to India.


I emailed Dr. Bose on September 22, 2005 and booked my surgery for December 1, 2005 in India. It was like a ton of bricks had just lifted off my shoulders just knowing there was finally a light at the end of the tunnel. By the time I left for my surgery, well… you can read the words on the home page of where I was in regards to pain.

I then called my Mom to tell her the good news. Her response to me was, "I will NOT let you go to India!" I then faced opposition from the rest of my family and friends. The responses I got were along the lines of, "Are you sure you don't need to see a shrink instead of needing hip surgery?" "India? You gotta be kidding me?" "Are you joking? You're joking right? Tell me that you are joking" "India??? For surgery??? Have you lost your mind?"

I had to just ignore their comments and thank goodness for the support I found on the surface hippy message board because I had no support from my family and friends on the decision I had made.

Vicky's 4 inch incision 4 days post op and 6 week post op x-ray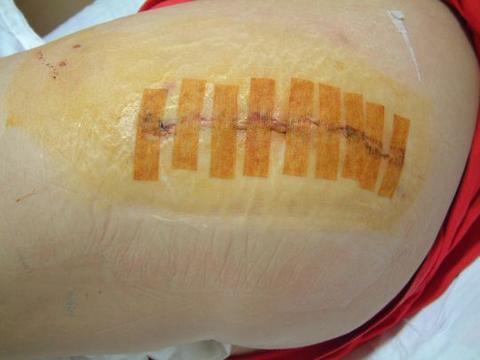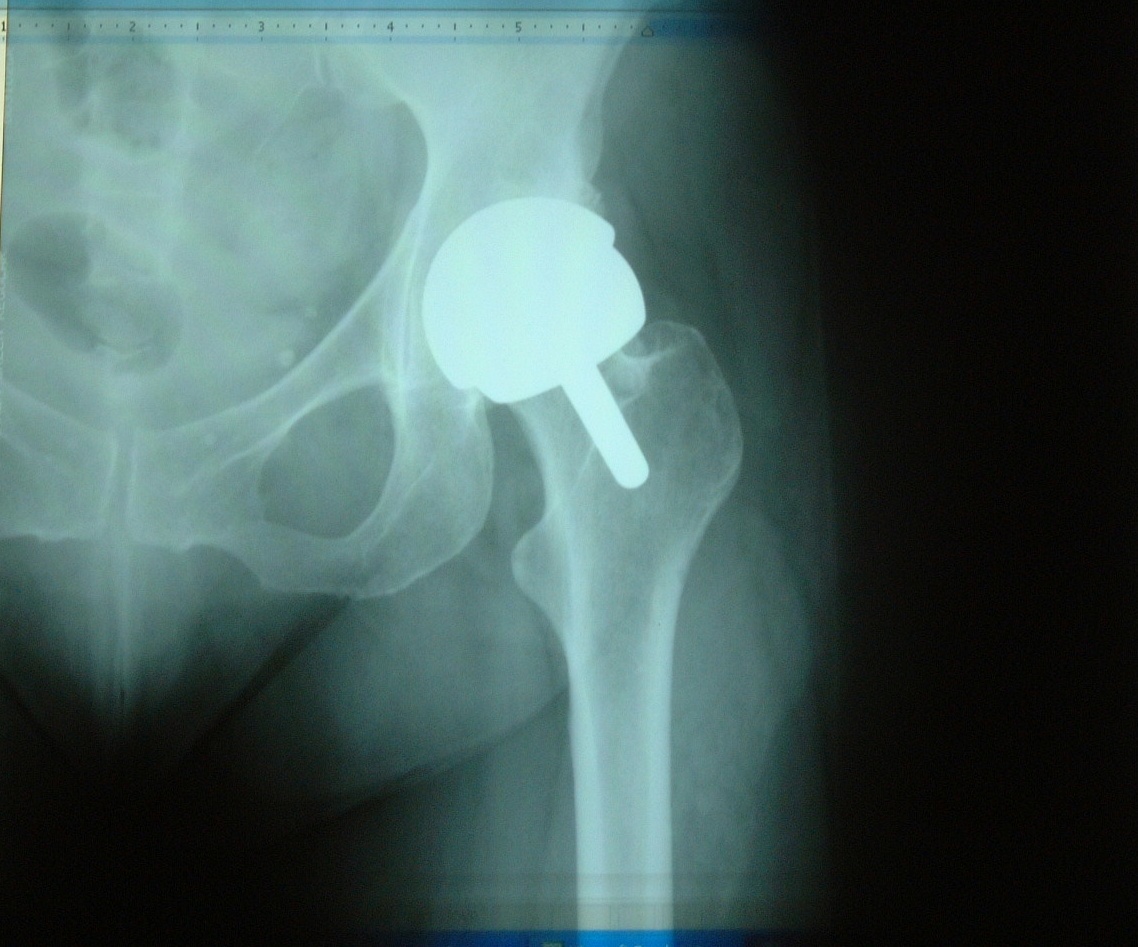 Below is a LIVE surgery Video of Vicky's femoral component being hammered in, it is taken during her actual surgery.


Needless to say, they all look back on this today and know that I made the right decision. It was not an easy one to make and there is NO way I could have found the courage to do any of it, if it had not been for my "new" family that I found in the many friends I made on the Yahoo Surface Hippy message board. My surgery with the very talented Dr. Vijay Bose at the Apollo Specialty Hospital in Chennai, India was on December 1, 2005, the day I got my life back. I took out a home equity loan to pay for my surgery and it was hands down the best $12k I have ever spent/invested in my entire life.
By the way, for the $12k, I flew roundtrip Business Class, stayed in the hospital for 9 days, recuperated in a five star beach resort for 4 days. The hospital rooms at the Platinum Ward are very large, PRIVATE, with an attendant bed for anyone you decide to take with you, (I went alone) plasma screen TV, refrigerator, microwave, and wireless laptop, all provided for you in the hospital.
My special thanks go to Jay Gangi , Keith Brewster, Bob Singer and Alan Ray for paying it forward to me. I vowed that I too would pay it forward, and I have and continue to do so.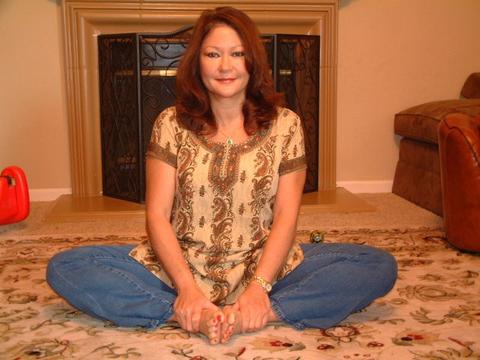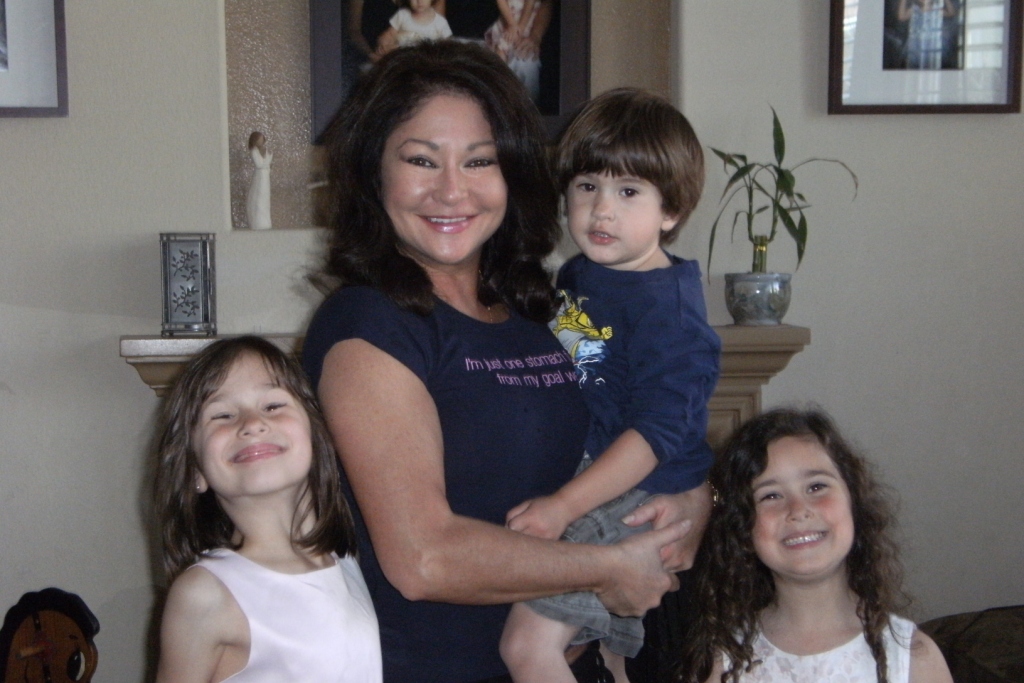 Photo on Right
To be able to pick up and carry my grandbabies meant the world to me, yes my grandson is on my left operated hip.
Photo Left: Vicky 11 months post op

We started a non-profit organization called DAST International, to help patients that have no insurance or the financial means to be able to get their hips resurfaced. For details click here Dastinternational.org

So thanks again to all the surface hippies that helped me along my journey and to all the new hippies that continue to pay it forward.
Update May 25, 2009
I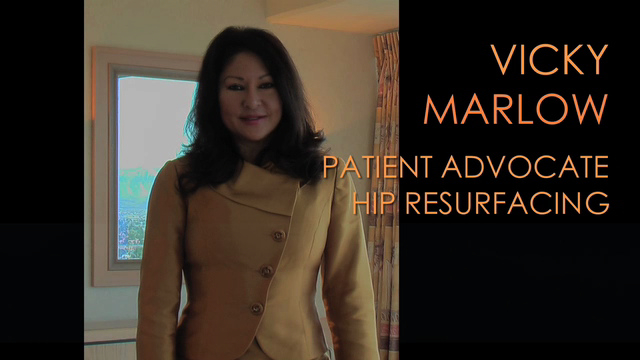 t has been almost 3 1/2 years since my hip was resurfaced and what can I say, it feels like a normal hip. I can do anything I choose to do with no limitations. I continue to workout with a personal trainer 3 times a week and on occassion I do Bikram Yoga. I have a full time job that I love as a Commercial Insurance Broker and I enjoy my volunteer work which has also become a full time job. Being a workaholic has always been my nature. This photo was recently taken at the American Academy of Orthopedics surgeon conference that I attended in February, 2009 where I video interviewed 8 doctors.

Posted on May 20, 2009
Got my final test results in for my metal levels
From Dr. Su

"Congrats, from what I can see, your levels are very low!
Blood values for Chromium is at 2.1 parts per billion, and cobalt is less than
1.0
Great results.
Ed"

Just goes to show you what a "perfectly" or EXTREMELY WELL placed device is
like. When people are concerned about metal ion levels, please keep in mind
that if your device is placed accurately, it will be very rare for the metal to
ever touch, the synovial fluid will fill the joint space like a normal hip the
majority of the time.
Vicky
LBHR Dr. Bose Dec 01 05
I emailed the above results to my surgeon Dr. Vijay Bose and here was his response to me:
05/23/09
"Hi Vicky,

Congrats on your blood levels of Cobalt & Chromium. Ion levels are a non issue in well implanted prosthesis and a serious concern in badly positioned implant.
The studies from Oxford which show psuodo tumors have been used by surgeons who are against resurfacing to 'justify' their stand. Pat Campbell informed me that Koen De Smet stated that the only inference from the oxford reports is that one must not get a resurfacing in oxford. I could not agree more.

These allergic reactions (ALVAL & LYDIA)is also overstated in my opinion. There are two issues to any allergy. One is true hypersensitivity and the other is the dose of the allergen. If one starts sneezing when someone gets a flower into the next room, then it is indicative of pollen hypersensitivity. However, if pollen is put in the nostril, it is quite natural for most or everyone to sneeze.
Therefore, as badly positioned prosthesis give a huge amount of ions, it is not surprising that more and more will show 'allergy' with progressively increasing ion load. This can be misinterpreted and does not represent true hypersensitivity. It is true allergy only when patient shows ALVAL and the blood levels are normal. This is a perspective that has been lost in the recent commotion in these issues.

Keep up the good work Vicky. The world needs your contribution. My thanks to Dr. Su as well.

With best regards
Vijay Bose
Chennai"
Update December 1, 2009
I emailed Dr. Bose to see if I needed to send him my x-rays for review, ( I have sent them to him every year on my anniversary to see how my component is). Here is his reply.

"Hi Vicky,
Hearty congratulations for your 4th year anniversary. It is difficult to say whether you gained more from the BHR or the BHR concept gained more from you.!
An x-ray is due if it is two years from the most recent x-ray
The entire team joins me is wishing you a happy 4th year BHR anniversary.
with best regards
vijay bose
chennai"
Below is a photo taken at the Gala dinner during the Advanced Resurfacing Course for Hip Resurfacing Surgeons in Ghent, Belgium, June 2009.
Left to right standing Dr. Lage (Brazil), Dr. Su, Dr. Rogerso & Dr. Rubinstein,
Seated left to right, Dr. Kim (Canada), Dr. Gross, Dr. Mont and Mr. Mark Bloomfield from the U.K.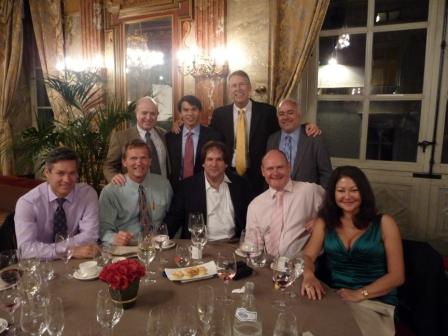 Below are pictures of me on the boat in the canal in front of a castle on the way to one of the dinners at the 4th Advanced Hip Resurfacing course held in Belgium June 2010, and dinner the last night there with Dr. Harlan Amstutz and his lovely wife Patti, Dr. Vijay Bose and Dr. Tom Gross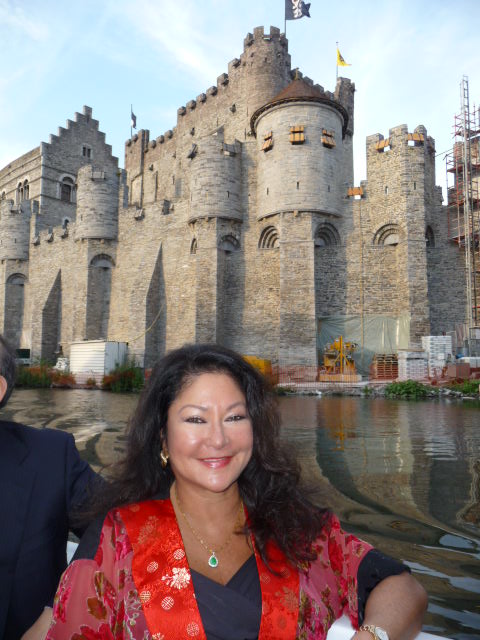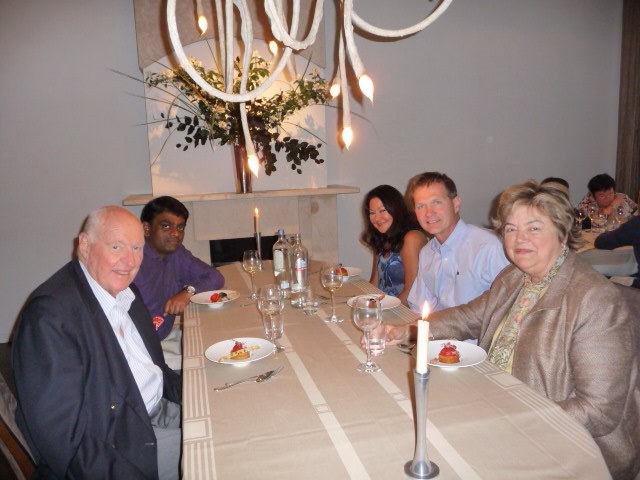 July 1, 2010
My left hip is doing fantastic at over 4 1/2 years post op, but now it looks like I will be on my second journey soon, as my right hip has now started to deteriorate to the point that I know I will need another hip resurfacing probably within the year. . . . I will soon be a bilateral . . . stay tuned. .
Update August 8, 2010
It's official, I am going back for round two, getting my right hip resurfaced on December 6, 2010 with Dr. Vijay Bose at Apollo Hospital in Chennai, India. I have just booked my flights and hotel stay for after the hospital.
Update April 4, 2011
I had my right hip resurfaced by Dr. Vijay Bose in India on December 6, 2010, almost exactly 5 years from my first left hip. The recovery this time has been nothing short of AMAZING. For an almost day to day blog of Vicky's 2nd Hip Surgery go to Ask Vicky/Tips from Vicky and see Vicky's #2 Hip Journal or click on this , also to watch a live video of a portion of my surgery as well as to just see my astonishing ROM or range of motion that I regained at only 3 months post op click here .