Bob Palmer - Former NFL, July 2007, Dr. Gross
October 13, 2008 Update

My name is Bob Palmer, 45, years old, I had RHR on July 7, 2007. After over a year of limping, no running, and over 3 years of back pain, while all along believing I had a "back" injury, I am finally pain free. My diagnosis was found by accident in December of 2006, during an MRI of my lumber spine. The physician who read my MRI contacted me by telephone and told me that my MRI "wet reading" showed no signs of herniation of the spine, however I had a hip issue that he thought needed to be looked at by my orthopedic. After a follow-up and another MRI of my right hip, I was diagnosed with osteoporosis of my right hip. In January of '07 I joined surface hippy after being on another hip site to learn about hip replacement. I met a woman named Vicky Marlow who spent the next month educating me on the differences of Hip replacement and Hip resurfacing. I remember Vicky explaining to me that I needed to go see a specialist and that she gave me 3 or 4 physicians that understood resurfacing and had done enough surgeries to be considered qualified at what needed to be done. I remember Vicky saying to me, "Bob, once they amputate the femoral neck you do not get it back!" "You need to go to one of the experienced physicians to see if you are a candidate for resurfacing." Vicky Marlow laid it all the line to me!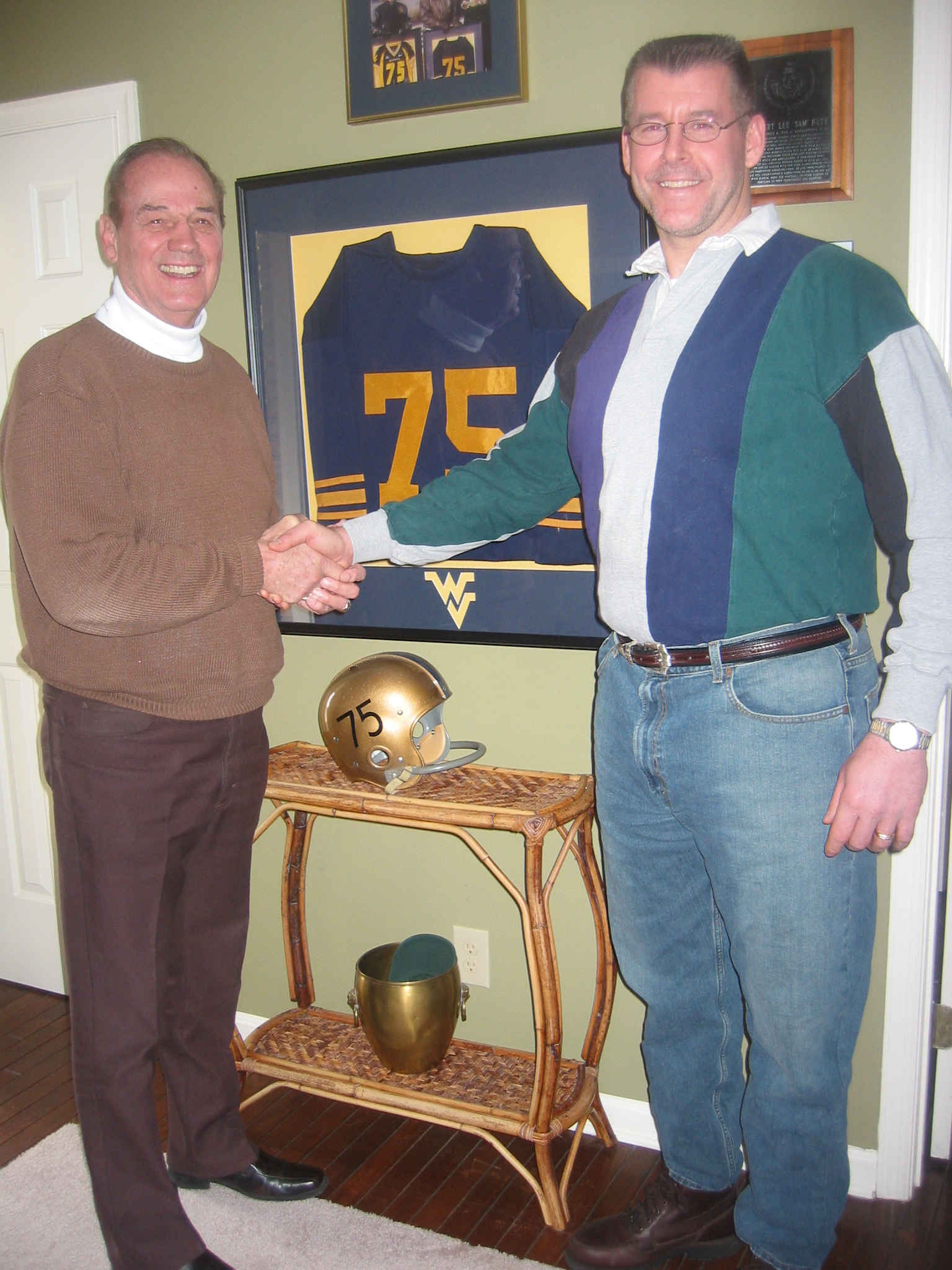 Thus my trip to Columbia, South Carolina and meeting Dr. Thomas Gross, of Midlands Orthopedics. Dr. Gross and Lee Webb and Nancy Smith, made this decision for me so easy that I only waited 1 month to have the surgery. This was the biggest decision in my life and while at the same time the easiest. I stayed at the Marriott across from the Hospital. I walked to my surgery right across the street. My surgery was at 11:00 am., I was the (3) third surgery scheduled for (5) five that day. After surgery I was in a lot of pain, and at approximately 4:00 PM or so I was being asked to get up and at least stand. This was approximately (4) four hours after surgery! Incredible! I stayed (3) three days in the hospital and was released to fly home.

My therapy back in Virginia was Dr. Gross's Schedule I exercises and walking. I returned back to work (3) three weeks alter for light duty and (5) five weeks after surgery I was back to work fulltime as a Law Enforcement Officer. After the first (6) six weeks I flew back to Midlands Orthopedics for a check up. After my therapy consisted of the Scheduled II exercises which I did up to a year. I did not schedule Physical Therapy as I exercise regularly and I wanted to do the rehab on my own.

This experience was the biggest decision of my life. I was scared; however looking back at it, I opened my life to being "pain free". I owe a lot of my decision making to Vicky Marlow, because she was VERY VERY hard and straight with me and without that type of attitude I would have never made that decision and would have had the replacement.

My implant is the Biomet model. The reason for this model and deciding on Dr. Gross is that the Biomet model does not wear on the femoral neck and the residual treatment 12 to 15 years down the road is to replacement the implant NOT the femoral bone with a replacement.

Any questions please go to ActiveJoints.com.

Thanks,
Bob Palmer
RHR July 2007
Dr. Thomas Gross
Midland Orthopedics
Columbia, South Carolina
---
How it all started from Totally Hip

Bob posted on the Totally Hip site asking about THR's. I contacted him offline and sent him a long detailed email explaining the differences between a THR and a hip resurfacing and why at the very young age of 43, an athlete his entire life, (ex- Pro NFL player) and a police officer (that email is at the bottom). Bob needed a solution that would give him back a full active lifestyle. My first very long email to him is at the end. Here were his initial responses to me. I will leave off the rest of my emails back to him, to shorten it.
---
April 10, 2007

Hi Vicky,

Well first I would like to thank you and commend you on your good work! I have never looked into "resurfacing" before. I have had (2) orthropedics..one from Reston, Virginia and the other from Georgetown Medical Center websites:
Dr. George Aquiar, MD

Sam W. Wiesel, MD, Chair

Both took x-rays and MRI's which showed I was "bone on bone" and there was no other choice in the matter however I was never told or asked about resurfacing...I did ask about arthroscopy and both stated that I was way past that....

Can you please tell me why no one has offered this procedure to me??? I was told that my femoral head was diseased to the point where it needed to be replaced. I appreciate all info you have given me and I do respect your opinion. Please give me any advice to what I have given you.

Thanks,
Bob
---
April 11, 2007

Hi Vicky,

No I can not travel...I am a supervisor for a large police dept and I am not in the position to travel, however I got all the informatve questions that I will ask him in your last email. His father I am under the impression was the founder of the cementless THR which I have been told was a major break through in that procedure..which I do NOT want!!! lol.....by no means do not misunderstand me..I am going to ask him everything you told me and then get back with you..

Thanks so much for everything!!!
Bob
---
Like I first told you I call it as I see it!!! lol... and you did talk me right out of a situation that not only 1 doc diagnosed me with but 2 docs diagnosed me for a THR... and you gave me life with another procedure...so I can not thank you enough as I have said.

I am soooooo biting at the bit for April 30th...Vicky I know you understand this, but the pain is horrible...I limp all the time and I am very fit person...and then I walk and people say to me what is wrong? I am having a hard time hiding it at work, but it is easier to do working night shift..less brass around...but I am a supervisor (first line patrol Sgt) so it is hard to not limp...lol.

Ya know the funny thing is I can do leg extensions (seated) and leg curls (lying down) because it does not hurt..It only hurts standing, walking, bending down tying shoes, sitting and crossing leg over (which I can barely do) tying shoes.. lifting my right leg up in the air (hurts like hell) and driving (which is important in my job) lol.

I see people on surfacehippy always talking about "getting a new life" I am anxious about feeling what I am reading....

Bob
---
You make me feel so good..because one of my guys just said to me, "Sgt, you are limping what's up?" We have wellness at 0200 hours and I workout with a bunch of 24-26 yr old Marines...they run several miles before we workout, and I do 10 minutes on the eliptical...lol...then I kick their ass with the weights...they call me "DI", which is short for Drill Instructor...lol.
---
Vicky,

My name is Bob Palmer, and I have no problem telling you....I was with the Dolphins from August till Decemebr in 1988... I was released in Dec..lived in North Hollywood until May of 89 and then came home and became a Herndon Police Officer..now with Fairfax County...Northern Virginia.

Bob
---
April 30, 2007

Bad news Vicky...He told me he would do a hip resurfacing in a minute on me...but my anatomy is not good for this surgery...I am pissed! depressed! and feel sick.

He told me the diameter of my femoral head is too small for a resurfacing...He blames most of it on birth...ie genetics...which is the second doc to tell me that!! And the loss of bone mass from wear and tear..he said it is not even a question because he could not place a Birmingham resurfacing cap on the top. he says there is just NOT enough bone to attach it too...if there was he would do it...or he told me we would go into surgery attempting to do it, however once in there he would have to do the THR...he says X-rays do NOT lie...my hip has started to fushion on it own..lack of the joint mobility he says..which soon could be crippling...a cripple at 43...damn.

Also I found out that he has done 92 resurfacing...so 40 was way wrong....my incisiion will be 6 inches in diameter..and recovery is 6 to 10 weeks...with 100% weight bearing...I asked all my questions and he was nice enough to answer all of them...again he did not rush me into anything told me when I was ready...he is 3 months out from booking...so if I was to have this in Oct..I would have to see him in August.

He says he uses metal on metal NO plastic and it is the BIG Femoral head...I am sooo pissed!!! I feel sick..I have not been to sleep today so going to bed. 4:30 PM here.

Thank you for everything Vicky and being my friend.

Bob
---
Hi Vicky,

Yes, he stated that he would "only" give me the MOM Large Head THR..because of my level of activity...of course I heard and listened to all the "bs" about recovery being the same and I could do just as much....even run!!! I think he is a little crazy...but he has done over 500 THR's so I must have some confidence in him...his entire firm does Hips, Knees and nothing else....

I spoke to Nancy at Dr. Gross's office today they are sending me paperwork to fill out and then my x-rays will be sent to him..if he says my femoral head is too small..I will stop all the wishing for resurfacing and move on to Novemeber...

Thank you again for your time!
Bob
---
May 2, 2007

Hi Vicky,

I have spoken to Nancy, Dr. Gross's nurse and I am starting all paperwork...This will be my last attempt at this...I will keep an open mind...thank you!

Bob
---
May 16, 2007

Hi Vicky,

I have great news, Dr. Gross is going to do my resurfacing...I am so happy!

I was majorly stressing over going to four other docs and not hearing what I thought I would hear....I spoke to Lee Webb late last night, and I am scheduled for a physical Friday at 150 PM. I am going to fly down on a tuesday and have it on a Wednesday, fly back on Saturday...

I have to make a Surgery appt with Nancy Smith and have already left her a voice mail to call me...If Dr. Gross is NOT too backed up I have asked for July 11th (Wed)....I have two vacations to go on and they are before that date...plus I am sure he is backed up for some time...so I am hoping he will do this on the 11th...

Did you have any pain in your knee or top of your foot? I am just starting to have pain on the top of my foot...I have had the knee pain for months..I am sure this hip thing is messing with some nerves...

May I ask you for a cell # or telephone where I could talk to you if you feel ok with it?

Thanks for everything Vicky!!!

Bob
---
May 17, 2007

Thank you again! It was very nice to finally hear the voice that gave me hope...

Absolutely use my story...I was so relieved when Lee Webb called me...nervous too..when a person is in so much pain they can not do what they used to, they develop a form of depression, which even though I have been VERY confident my entire life...this injury has changed me....made me realize a lot...

I am so grateful Dr. Gross will do this for me! This type of injury is a life changing incident, and when I read people stating they got their lives back...I understand, even though I have not had the surgery yet...

You Vicky are an inspiration and keep being who you are! You stand for promise and change....those are great qualities when a person has no direction...

Thank you for being you!

Bob
---
While Bob and I were emailing back and forth, I recommended that he reach out on the surface hippy site and here was his first post:

Bob Palmer - Mountaineers_75 Paul Johnson
4/14/07

I am 43, 6'5 245lbs, athletic male, who has been dealing with right hip pain for almost 5 years. In April 2001 I was working out in the gym and began to feel pain in my lower right back. In several months the pain got worse and I thought I might have herniated a disc in my vertebrae. In September of 2001 I went to an orthopedic, which in turn sent me to an anesthesiologist, who began a series of (3) epidural injections. I was then sent to a back specialist, who
orders a MRI, X-Ray, and Cat Scan of my back; they found a small hernia of the L/3 L/4, S/1. I finally had the surgery on March 7, 2006. The specialist told me that he did not feel that this hernia was causing me my pain; he told me the disc was NOT lying on a nerve. The pain came back within weeks, after I began to start normal activity again.

In February of 2007, I went to an orthopedic doctor who specialized in hip replacement. He took an X-Ray of both my left and right hip. He stated that I was a "no brainer" and that I need a total hip replacement, that the pain I was experiencing was coming from my hip NOT my back.

In just 2 months I have had (2) really good internet friends talk me out of having THR. I met them over on the THR Support Group. They have spoken to me numerous times into suggesting in finding a doctor in my area that does RESURFACING. I have found someone in the Washington/ Metro area that does this type of surgery and I am VERY excited.

On April 30th, I have an appointment to go to the Anderson Clinic, in Arlington, Virginia. I am seeing Dr. C. Andy Engh. He does the BHR RESURFACING procedure and I am hoping that he will take one good look at me and say I am a perfect candidate for this.

My questions are:
Has anyone experienced similar experiences where their pain they thought was coming from their back when it had been their hip all along?
Has anyone been to the Anderson Clinic and had hip surgery? Primarily RESURFACING?
Has Dr. C. Andy Engh done anyone's surgery on this site?

I would really appreciate everyone's opinion and replies.

Thank you!
---
06/17/07

It is official...having Hip Resurfacing with Dr. Gross!!!!! I received good news last night from Lee Webb R.N., Dr. Gross's assistant, that he will be doing my Rt. Hip Resurfacing on August 1st. I am extremely happy and very glad I had the opportunity to listen to Vicky Marlow, who is my angel in disguise.

I fly down on July 30th, surgery on August 1st, fly home on August 4th...

I am very glad that Vicky brought me to this chat site, http://health.groups.yahoo.com/group/surfacehippy/ as I was on a THR site, and I would have never thought of this surgery, because it was not told to me as a patient in the dr's office. I have learned alot from all of you...And will continue to do so...

I am not a "surface hippy" as of yet, but finally on my way! Thank you for all the awesome messages and the intelligent written conversation.

I look forward to much more learning before August 1st…

Bob
(Leesburg, Virginia)
---
Hi Cat,

The person you need to speak with either over the telephone or personal email is Vicly Marlow... She was my "Angel in Disguise" I was 2 weeks from having a THR back on May 5th. I met her on a THR site on April 28th and she was such an inspiration that I am now planning surgery with Dr. Gross on July 11th.

She is a very nice person and is always open to anything I have to say to her... She is ALWAYS there and someone such as yourself, who is alone and needs answers immediately or someone to talk to, she is the one I would speak with...

Please look for her on this site and ask her for her personal email? I promise you will NEVER regret this advice...

Good luck Tuesday Cat!!!!!

Bob
(Leesburg, Virginia)
---
Update from Bob post surgery just under six weeks post op:

Hi,

I am visiting Dr. Gross for my (6) six week check up on Tuesday, August 21st, at the Irmo office. I am up to (3) miles walking, looking forward in beginning to workout after Tuesday....and in someday running again...

My appt is at 1:05 PM...so If anyone is planning on being there I would love to meet another surface hippy....

Thanks,
Bob
RT. Hip Biomet
Dr. Thomas Gross
July 11, 2007
---
Here is the original email I sent to Bob introducing myself and Hip resurfacing:

From: Vicky Marlow
To: teamscout2002
Subject: (Other Site name deleted)
Date: Tue, 10 Apr 2007 16:27:26 -0700

I just wanted you to know that the Totally Hip support group is very pro THR. I got attacked so bad on there the other day and now my posts are getting deleted along with the members that continue attacking me. They are all upset that they ended up with THR's even though they won't admit it. You are really way too young to receive a THR, they literally amputate the whole neck of your femur for no good reason. You ARE way too young for a THR, but you are not too young for a resurface. Do not listen to those people on that other site telling someone as young as you to get a THR. Take a look at these animation videos and actually see the difference between the two surgeries, it is huge!

The link that was here is no longer active, however, click here to view a similar link.
Also take a look at these photos of patients that had their hips resurfaced including me and what we can do today. I can almost guarantee you that the THR patients will not be anywhere near able to have the ROM or activity level of someone that has a resurfaced hip.

Here I posted links to athletes stories, these links are no longer active so I have deleted them, you can see these stories now on this new site.
It makes absolutely NO medical sense for you to get a THR unless your bone is in such bad shape or you have huge cysts that a resurface is not possible. Beware though, many of us were told we were not candidates for resurfacing by docs that didn't do the procedure. I was told I was not a candidate by a very "reputable" OS at Stanford he said because I had dysplasia. Well he outright lied to me. The two main reasons you do not want to get a THR is the revision surgery is mutilating, they have to break your femur in three places then chip away at your bone to remove the huge metal spike they place in a THR.

Click to view the Arthritis Foundation website.
The other is due to Wolf's Law, here is a quote from someone that says it so much better then I ever could:
You must ask "your doctor" if he's at all familiar with Wolf's Law. (I can't believe he wouldn't be...but anything is possible) The Big Femur Head THR is an excellent second choice, an option to resurfacing if there are other factors that make a resurfacing unadvisable. But the primary benefit of the BFH THR is a reduced risk of dislocation. That's far from the only concern.

You may have cysts or some other condition that compromises the structural integrity of the femoral neck. If such a complicating factor isn't present, there is no medical justification for considering a procedure other than resurfacing.

The long stem of a THR changes loading angles on the proximal femur...load forces are shifted lower in the bone. Load forces that should have gone to the top of the femur bypass it, and end up at mid-thigh. From pictures and x-rays I've seen in the last day or so, nearly the upper third of the remaining femur is improperly loaded. But that bone needs weight loading or it will demineralize and soften. And to paraphrase surgeons who know this much better than I...because the load is shifted so far down toward the center of the femur, revisions, which are certain to be needed if you're at all active, will be much more difficult and complicated.

(Try it another way: A THR, whatever the size of the ball, amputates 15 to 20% minimum of your femur. Then you improperly load the next 20 to 25% of the femur with a long stemmed THR and it turns to mush. If you do the math, that gets you very close to only half a femur left, if you need a revision...and a revision is much more likely if you've changed the load angles so dramatically. Where's the medical sense in this?"
Anyway, I thought I would send you the info directly instead of posting it. Where do you live? I am in Northern California. Just read some of the heart breaking stories on that other site from people that have had THR's.
These will link you to the threads:

1st
This link no longer exists but did when it was sent to Bob.
Dislocation in 3 months
Beverly J, Fri Mar 30 3:26 PM

Well I did it again. This time all I did was reach for a cup of coffee. I did not even reach across my body. I hadLTHR april 24, 2006. I dislocated the first time getting up from a chair in January 2007 and now again on Monday.Right now I am distraught over the whole thing. To complicate things I was out of town... more
---
2nd
This link no longer exists.
Anybody not the same as before?
Phil from long island and virgin, Sat Mar 31 4:48 PM

I have been gone for a long time and wanted know if anybody out there was like me meaning that since hip replacement things are very different from the experiences I read on this site meaning that I never was the same after the double thrs I had in 1994 from a renowned doctor. I was told that sometimes... more
---
They have lost the quality of their lives. Do not let that happen to you, you are way too young. You will not see those types of stories from resurfaced patients. Once they amputate your bone, it does not grow back, there is no way anyone can say that amputating a bone is better then preserving it. I know many on that site are angry that they did not find out about resurfacing before they got their THR's but that gives them no right to advise new people like you to make the same mistake.

I know this is tough, to find out at such a young age that you need your hip replaced, but know that there is a much better option for you. I was 48 when I had my hip resurfaced and I have my life back. Here is a link, the data on this report shows survivorship of 99.8% for resurfacing at about 8 years, and only about 80% for THR at 8 years. This is a published medical paper.

Click to view the Journal of Bone and Joint Surgery website.
Another link that shows all the problems a THR can cause.
Feel free to email me anytime. I can also give you my number if you want to talk.

Vicky
---
From Vicky:

Bob is extremely happy with his successful hip resurfacing done by Dr. Thomas Gross over a year ago as you can read in the beginning from him. A couple of things I want to point out to those of you still searching for your answers. When I initially contacted Bob, he had never heard of hip resurfacing, he was shocked that not one doctor had even mentioned to him that this was an option.

Although this does not happen as often anymore, it DOES still happen. I have worked with two people recently in their early 30's that found me on my myspace page (dedicated to hip resurfacing) Jessie and Ben and neither one of them had been told about resurfacing. They were both told they needed THR's and to wait as long as they possibly could and suffer in pain. Click on their names and read their stories, they are both post op today.

When Bob did his own research after my initial contact with him, he realized this was the procedure for him. He went to a doctor that does the procedure and was turned down. When I asked Bob about the possibility of traveling to have it done, you can clearly read his answer above. He basically was in the mindset that travel was out of the question. See how things progressed for Bob in his journey of discovery. He asked a lot of questions on surface hippy and got a lot of support from many wonderful people that all encouraged him to not give up. Bob is extremely happy with his resurfaced hip, he is back to a full active lifestyle, no limitations, back to full duty at work and can enjoy his young children fully.