Chris Sizer -
Christopher Sizer – "Biggest Loser - Home" loses 65 pounds 9 months after Hip Resurfacing
Right BHR
Dr John Evans

Somewhere in 2006 I started noticing some pain in my right hip. Sometimes severe but there for sure. My job was and is an Assistant Minister of Music and there is a lot of standing on Sunday's conducting our choir, singing in the choir and on Wednesday nights teaching at choir rehearsal. On Sunday's, I was also one of the singers in the praise team in the evening service so after service on Sunday nights, all I wanted was my recliner.

This went on for several months as being the GUY I am, this like other things will just go away. Well all that happened was it just got worse...and worse. I stopped exercising, because of the pain and days off from work were no longer active do stuff days but sit in the recliner and do nothing days.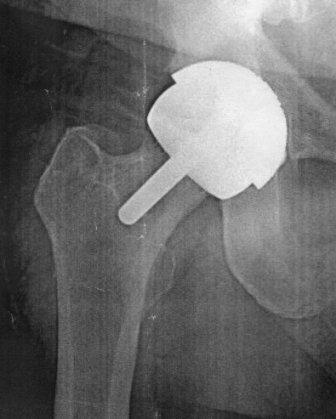 Finally I told my wife how I was feeling and she encouraged me to go and see a doctor. I saw my first doctor in April (I think) of 2007 and found out that I needed a hip replacement. Looking at the x-rays, you did not have to be overly trained to see the drastic difference between my left hip (with cartilage) and my right hip (without cartilage). I came home and told my wife and also told my boss and co-workers. At the time I knew nothing about this type of surgery, but had friends from every direction telling me of folks they knew who had this surgery and are all doing well. The following months were not good as I went with the doc's recommendation to get pain blocking shots under flouroscopy which for me translated into expensive and useless. During this time I also looked up all I could find about Total Hip Replacement surgeries. One thing I found that was interesting was this thing called a Birmingham Hip Resurfacing, and that it was a recommended procedure for replacement patients under 65 or that have a more active lifestyle. Soon after I found the "Surfacehippys" websites and started asking questions about this procedure. Lots of encouragement and lots of reading about good results made up my mind as to what I wanted.

The next time I saw my doctor he told me that he does not do the BHR and that he considers it experimental at best. He also said that if he were in my position, he would do the same thing. One thing that was also said to me was to wait till I couldn't possibly stand the pain any longer. I thought that's why I came there in the first place. He gave me the name of the only doctor in San Antonio that does the BHR and off I went to Dr. Evans. He gave me some info to read about, told me that I was a good candidate for the surgery and gave me the realities of the surgery. One thing being that he would not know for sure if I would have the THR or BHR until after he opened me up.

Two being that I could expect a possibly longer recovery than a THR. My main concerns were the ability to play with my kids again, go cycling, hiking and more. He assured me that this would be the way to go to be more active in the long run.

The date was set for Monday Nov 5th/2007 (two days after my birthday). My son John was 4, Frances almost 2 and Claudia was 12. I saw the best years of my life with them slipping away as I couldn't play with them, or have the little ones on my lap or much of anything THEY wanted to do.

I remember the day up to the insertion of the epidural, the room being confirmed at 45 degrees or so and one of the nurses having me lean into his arms then laying me down again. I woke up that afternoon in a recovery area and I can remember talking complete nonsense for a while but that's what anesthesia does.

That 5 days in the hospital went from bad to great and quickly. The first day was the worst and the next 4 days got better and better. I did the exercises, and rested and exercised & rested. I got home that Friday after two stops. Bed Bath & Beyond and Wal Mart to get a few comfort items. I was on crutches and in the electric shopping cart that day and for a while after to go shopping. I spent a solid month away from work but I could feel myself getting better and seeing my hip improve every 2-3 days or so. It was amazing getting a better range of motion and more strength every 3 days but it was happening.
By Mid December I was at work on half days for about 10 days then full days after that. I remember my first Sunday back in the choir I had to yell out an announcement to the choir and it was returned with applause. I was back.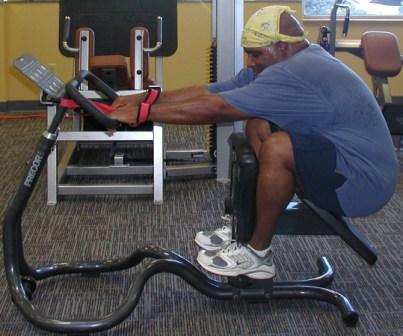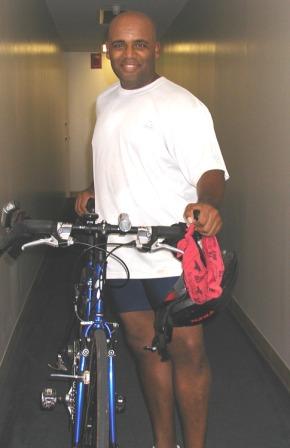 At three months, I was getting involved in San Antonio's Biggest Loser through a local station WOAI with Leslie & Shelly. I did not get picked for the show but I did take their option and went at it alone, logging my results online. Guess what? I won the online contest with another contestant. We were asked to come on the show and by then I had lost 30 pounds. With the 3 months at a local health club prize we were given, over the next three months I lost 30 more pounds. I started riding my bike to work again, I was hiking, lifting weights, and even playing a little racquetball. My one year anniversary of the BHR was celebrated on my bike. 40+ miles on the Tour De Gruene in Gruene Tx. 3 flat tires later and I did the entire 40 something miles. A month or so later I was on another 35 miler at the Mission to Mission Tour.
Photo: San Antonio Living Show Host
Somewhere along that path I got a hold of mountain biking and I also log many miles in the park directly next to my house. A typical week would be...

Mon, racquetball during lunch time, MTB after getting home
Tues, Lifting weights during lunch time, MTB after getting home
Wed, Lifting weights (longer session)
Thurs, Road bike to work am, Road bike home pm
Fri, am lifting weights (longer session)
Sat, take kids on long walk in the park and do other active kids stuff
Sun, afternoon MTB ride

This is a perfect week and when it's not perfect, (and it never is) usually another activity or house work is added or substituted for the ones listed. (Gotta keep up the honey do's...RIGHT?)

Any way this is my athletic lifestyle that was not a part of my life till after the resurfacing. CS
seezor.blogspot.com has more of my story also

God bless you. CS

Right BHR Nov 5/07
Dr John Evans
San Antonio TX