Jan Taylor LBHR, 12/10/09, Dr. Andrew Yun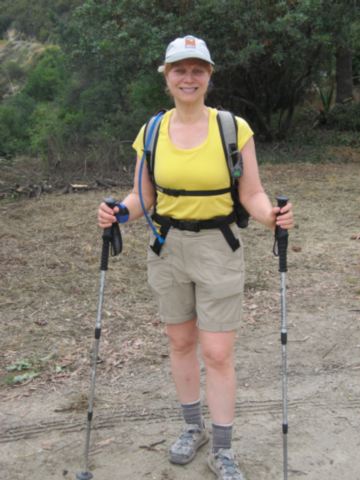 Well, I came home from a three-day stay at St. John's Hospital in Santa Monica yesterday afternoon, rain pouring all the way. I am feeling great right now (had my pain meds an hour ago) and am thrilled at my progress so far. I can now proudly add the surgery date and surgeon's name to my signature below.
Some of you had voiced apprehensions about Dr. Andrew Yun being too inexperienced in the Birmingham Hip Resurfacing procedure since he hasn't done hundreds of BHR surgeries; but I went with my orthopedist's high recommendation, what I learned about him, and my personal impression.
I was not disappointed. Even my physical therapists said he is one of the best and that people come from all over the country to have him do surgery. So, he's an up-and-comer in this field. His name won't be unknown for long, I'm sure.

Dr. Yun had voiced a little apprehension during our first meeting that I might need a THR instead of a BHR because I am over 55 (I'm a very young 56); but I let him know that I was comfortable with the low risk of femur fracture (4-5% probability). I did give him the option of going with the THR if he determined that the hip bone was too fragile and wouldn't support the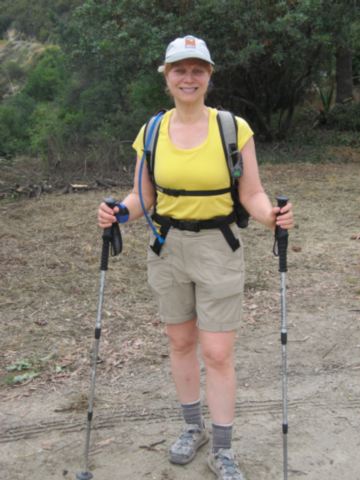 resurfacing. But he found, once he got in there, that the bone was strong enough. So, to my great relief, I learned that I got the BHR once I was in the recovery room.

My anesthesiologist was a crack-up (and a fellow Bruin), so he made the "going under" less painful with jokes. Once I got the spinal injection, which really wasn't bad, I started feeling quite loopy and went to sleep quickly. I chose an epidural rather than the traditional general anesthesia, and came to without any nausea.

Here are some things that most people don't talk about, but I will share. The catheter was not removed until the day after my surgery since they wanted to wait until I could get up and use the crutches. They didn't have me get up until the day after surgery because I didn't get to my room until evening and the PTs had gone for the day. I think that room availability may have been an issue, but it turned out well since I got a beautiful private room with a view just by chance. So the next morning, the PT had me up and practicing a little with crutches. Getting in and out of bed was VERY difficult and painful, but that is improving exponentially. Once the catheter was removed, I was unable to pee for over four hours, even though I tried. That night, though, I got up to pee 10 times in 12 hours - getting rid of the fluids that had been injected during surgery. It was a forced way to practice getting in and out of bed. Although I could have used a bed pan, I needed to work on mobility (and I hate bed pans). I also had pretty intense itching around my chest, although no redness or swelling. The guess was that was related to the anesthesia. I still feel a little numbness in the left leg, and the itching is subsiding with the numbness; so I suspect the anesthesia was the culprit.

During my stay, they had me wrapped with an ice pack that has cold fluid coursing through it. And they had compression pads around my calves to aid in circulation. The whole contraption was sent home with me, along with a raised toilet seat that doubles as a shower seat, a sock aid, breathing thing (although I've had no problem in this regard), a nifty grabber, and a cane for three weeks down the line. I had my own crutches already.

I was surprised at how quickly they released me from the hospital, but everyone was telling me that I was making remarkable progress with the physical therapy and was doing very well with the crutches. All of my working out at the gym has paid off well, although I still feel like a slug and get tired easily. That is to be expected with major surgery. My sister brought me a special pillow that keeps my knees raised in bed, and that has been very helpful. My husband has been a great support. I can't sleep in our bed because it's a waterbed and impossible to get in and out of in my current state, so I'm sleeping in my long-gone daughter's room and have an intercom set up so I can get his assistance when needed.

Today is my first full day home and I plan to spend it out of bed and on our reclining sofa in the family room as much as possible. I'll increase my time walking around the house today. It's already getting much easier to get in and out of bed. I'm looking forward to a good shower and washing my hair. I am so relieved that I was able to get the surgery scheduled so quickly and am looking forward to full functionality and flexibility. I plan on following all of the doctor's orders, doing the PT exercises religiously, and recovering quickly. I am truly all smiles, although there is still some wincing as the pain meds wear off. I learned early on that pain management is a real key, but I'm also looking forward to easing off of the meds.
I hope to return to hiking in the mountains and canyons, and rafting the whitewater rapids of the Grand Canyon as soon as possible!

Jan Taylor
SoCal
Left BHR, 12/10/09, Dr. Andrew Yun
December 24, 2009 - Two Weeks Post-Op Update
Today is the two-week anniversary of my LBHR and I'm doing very well. My progress has been steady, the PT exercises are getting easier every day (I'm turning them into combination exercises by tightening the abs and butt simultaneously), and I'm increasing my walking distance daily. There is no pain in the hip, although I still have a deep ache at the op-site as the pain meds start wearing off. I would like to return to return to work in a week-and-a-half, but will need to be off the pain meds before that can happen because I won't be able to drive until then. I have one more week on crutches, and then I'll have full weight-bearing with a cane for three weeks.

Fortunately, there have been no complications and the progress has been going as planned. I've heard no clanking whatsoever, and don't even feel anything different in the hip other than the lack of pain. I'm really looking forward to getting off the crutches because of the inconvenience, but it really hasn't been all that bad. I've had the wonderful benefit of having a generous and attentive husband who hasn't grumbled a bit over the extra work.

Regarding swelling, at two weeks post-op my left thigh is just one inch wider than my right thigh. My hips, around the largest point are 1.5 inches bigger than they were pre-op. Since I took my measurements a week ago, the swelling in my left thigh has gone down about half an inch, and swelling around my hips has gone down a full inch. I'm using the ice machine three-to-four times a day for 30-45 minutes each time. I always ice after my PT exercises and after any excursions out of the house. I also drink water and tea all day long and I think that helps flush out excess fluid. I can fit back into all of my regular pants, although the left leg is a little bit more snug. The incision was posterior and is eight inches long, a bit longer than what I've read about, so it will definitely a topic of conversation once I'm back to rafting and in a bathing suit.

Each day I can do something more for myself than the day before. It's remarkable how quickly the body heals.

Jan Taylor