Vince DePalma - Bilateral 8/22/08, Dr. Edwin Su **VIDEO**
Shopping for New Hips

Years ago when I set out to buy a new car I searched near and far for the best car available. I looked at the various technologies, manufacturers, fit and trim, and maintenance records. In the end I think I ended up with one of the finest cars available. To this day it continues to bring me satisfaction and joy.

"When you are ready to get new hips, we'll send you to Dr. Barrett at Valley Medical," said my sports medicine doctor as he was writing a renewal prescription for Celebrex. "Okay," I replied, wondering to myself just who was this orthopedic surgeon that was so highly regarded. As I soon discovered, he was one of the area's prominent Total Hip Replacement (THR) surgeons.
Video of Vince at 5 weeks post op

I went to see Dr. Barrett. We discussed doing a bilateral THR using the DePuy large ball metal-on-metal implants. The surgery seemed like a foregone conclusion. From my reading I already understood this procedure was the gold standard for hip replacement surgeries, and here I was sitting with one of the best orthopedic surgeons in the region. Nevertheless, near the end of the office visit and as luck would have it, I asked one final parting question, "What do you think about hip resurfacing?" The good doctor took a deep breath, sighed, and said, "If I were to do a resurfacing I would have to do the extra work to get the exposure, take the extra time to reshape the femoral head…" I asked no further questions because I could clearly tell he was not in favor of the new procedure. At the time I did not know there were orthopedic surgeons who actually were philosophically against resurfacing, and to this day I do not know if Dr. Barrett was one of them. My bilateral THR was scheduled for 6 months out, and I was excited to have a gold standard solution and a great doctor to boot.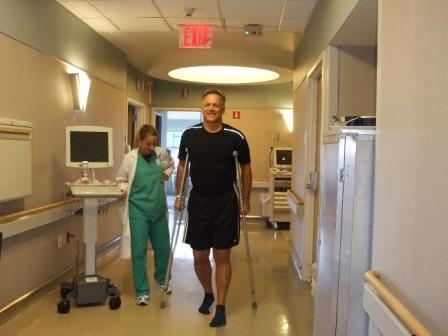 In the months that followed I continued researching the technologies, the manufacturers, the fit and trim, and the maintenance records of hip surgeries. As my learning increased I became less confident in the bilateral THR that was scheduled for me. Something was clearly bothering me. Perhaps it was thoughts about technical things such as stress shielding, or perhaps it was a gut reaction to the doctor's deep breath and sigh regarding an alternative procedure. I do not know. I simply could not move forward in confidence. I was two months away from the THR when I called and cancelled the surgery. I simply tabled the whole thing and immediately felt relieved.

Several months later I heard hip resurfacing was approved in the USA. The news rekindled my interest and prompted me to resume my shopping for new hips. I emailed my x-rays to several resurfacing surgeons (Pritchett, Bose, De Smet, Hozack, Ure, and Gross). All of them said I was an excellent candidate for resurfacing. I asked a lot of questions and soon discovered there was some significant variation in the surgical methodology.

Some surgeons reconnected the gluteus maximus tendon after cutting it to help dislocate the hip. Others did not reconnect it. Some surgeons practiced neck capsule preservation. Others did not. In my particular case both hips needed resurfacing, yet none of the surgeons questioned would perform a bilateral except for Dr. De Smet in Belgium. Dr. Ure at Mt. Shasta graciously said he would consider doing one, but it did not sound like he was yet set up for doing them. I mentioned all of this to Vicki Marlow, and she suggested looking into Dr. Edwin Su in New York City.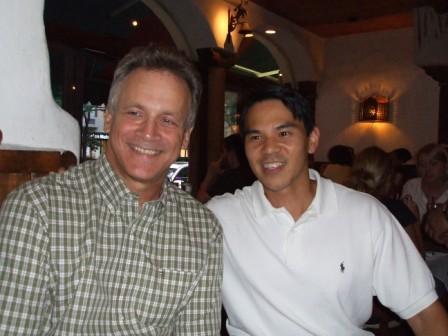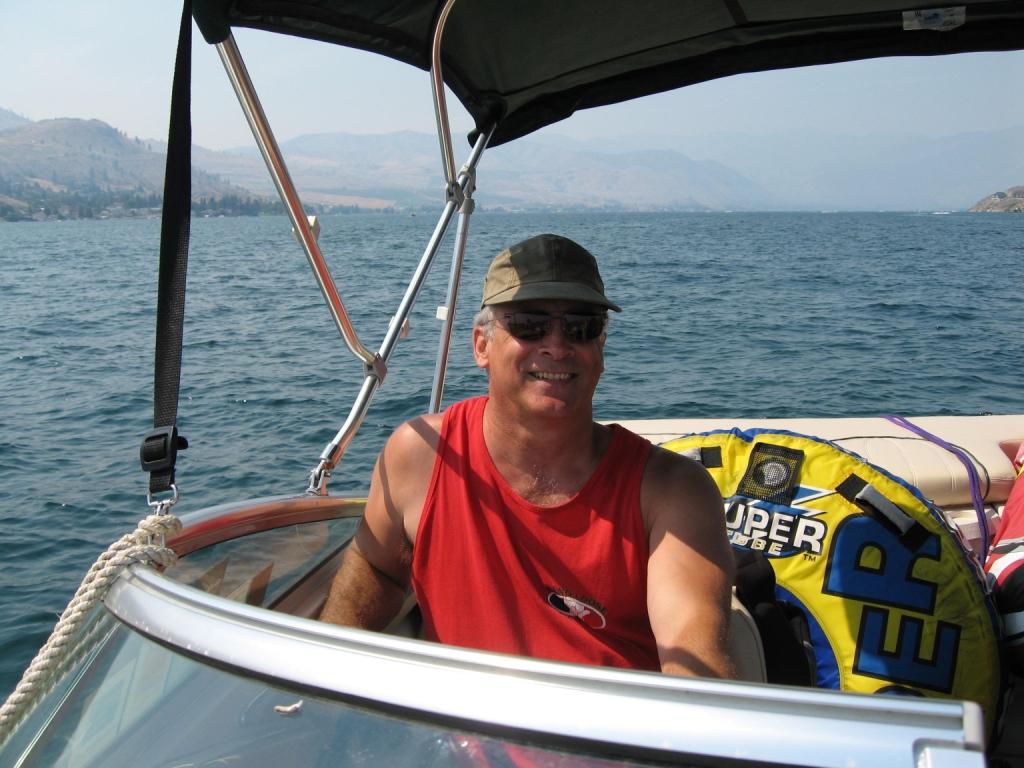 Photo, left: 7 Days Postop with Dr. Su at Cilantros Mexican Restaurant

What an excellent find! Dr. Su and his Hospital for Special Surgery had plenty of experience performing bilaterals. What impressed me most (in addition to Dr. Su's humility) was the fact that he was the only surgeon looking at my x-rays who observed I had a cam impingement and a serious cyst in one of my femoral heads. Perhaps the others saw it, but no one else mentioned it. So Dr. Su became my doctor, and he performed my bilateral on August 22, 2008.

At the time of this writing I am approximately 6 weeks postop. I am now walking without a cane, and I am walking without a limp (after a few startup steps). I am pain-free. I can go up and down stairs, and I can even ride a bicycle, no problem. With a little work of course comes a little soreness, but that seems quite natural and passes after a day or so. I can stand up straight, and that feels great! I must say Dr. Su and HSS did a great job. I am grateful for them, for Vicki Marlow, and for all of my Surface Hippy friends. I was never alone. Thank you!

Best wishes,
Vince DePalma
Bilateral BHR Dr. Su 8/22/08