Colleen Hennessy (DAST) 4/15/08 Dr. De Smet
Colleen Hennessy (DAST Candidate)
4/15/08 Dr. Koen De Smet

I returned to the USA in August, 2007, after a 27 month Peace Corps assignment in the rain forest on a mountaintop in Honduras. My little village had rough, rocky roads, and with an aching hip, it was sometimes quite a struggle to hike the half mile uphill to my house. On three different occasions, I fell and cut my knees. My hip was getting worse but I said nothing to the Peace Corps Medical Unit. You were sent home permanently and your service as a volunteer was abruptly ended if you had a problem like a hip that required surgery. I loved my time in Honduras, the people, the orchids, butterflies and the opportunity to spend 2+ years away from the fast pace of the USA. So I put up with the pain. I would admit it at the end of my service.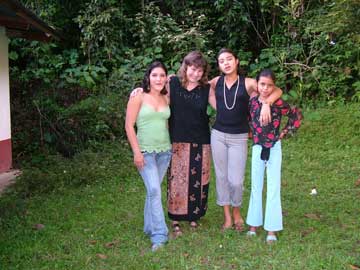 There were several medical exams at the close of my service, before returning to the USA. I finally had an x-ray of my hip and was told by two doctors (one in Honduras and one in Colorado), that I had osteoarthritis and needed hip surgery. Her e I was, back in my native city of Denver, limping around with no health insurance. Peace Corps is finished with the volunteer as soon as they return to the states, as far as any medical assistance. Surgery was out of the question for me. I took a lot of calcium and glucosamine chondroitin, hoping this would somehow create a miracle in my hip. I exercised as much as I could, as the weather turned to snow.
Photo: Colleen with her Peace Corp Children

Three days after returning to the USA from Honduras, I attended my 30th high school reunion. There was not much of a turnout from our class of over 600 graduates, but I was delighted to reconnect with an old friend whom I have known since the first grade. She was the first to tell me about hip resurfacing and I had no idea that there existed an alternative to a total hip replacement. Struggling to walk through the parking lot that night of the reunion, I felt 98, not 48 years old.

I spent the cold C olorado winter in pain, reading as much as I could about resurfacing. I talked on the phone with a doctor in Boulder who does hip resurfacing and asked what kind of price an uninsured person would be looking at. I was quoted $3,000 for the surgery and $59,000+ for three days in the hospital! This did not include the fees from the anesthesiologist! Impossible for me. In addition, University of Colorado Health Sciences Center was unwilling to work with me, and there were no clinical trials anywhere.

I started reading messages on the surface hippy website and learned about DAST, thanks to Vicky Marlow. Being selected as Dr. De Smet? s candidate for 2008 was a prayer answered. I decided to post all of my paintings and photographs on a website and have an art fundraiser. I sold 104 pieces and raised $6,765.00 toward the trip to Belgium. The middle of April was my scheduled time for surgery.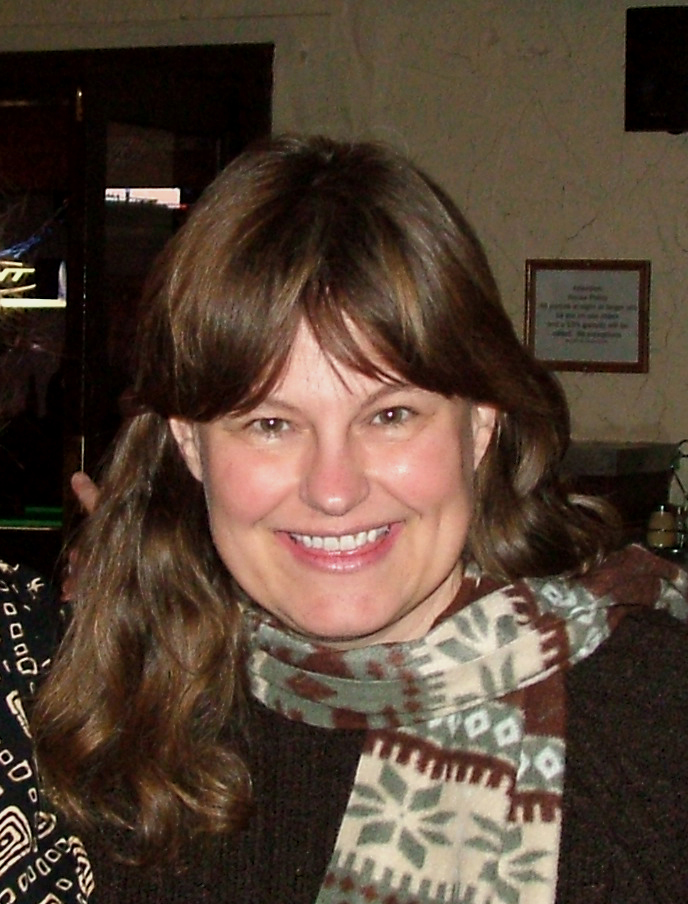 Dr. De Smet an d the staff at Villa Centro Passi are every bit as fantastic as everyone says. This was my first time in the hospital and first surgery, and it was rough. The anesthesia had me violently vomiting for what felt like 20 hours. Nobody, including myself, knew that I would have that kind of reaction. I hope there will never be a? next time?, but now I know for the future. There are medicines to calm the stomach, they say.

All of my fellow patients who were rehabbing at the Villa seemed to be doing better than I was, yet I was the youngest. The physical therapist reminded me that we all heal at different rates. Getting in the pool every afternoon was fantastic, truly the best way to rehab. Dr. De Smet told me that my femur was in really bad shape and that I should not have waited so long. The surgery was done just in time.

The staff at the Villa seem to know just when you are ready to get on a plane. My 12 ho ur flight was rough, but I had the aisle seat and stood up a lot, doing leg exercises in the galley when the stewardesses did not need the space.

Here is a suggested packing list if you go to Belgium for hip resurfacing:

-your own soap/towel for the hospital -a Flemish phrase book (not much French spoken in this part of Belgium, but there is always someone who knows English) -skirts for the women (so much easier with the daily wound care) -your own laptop (internet TV in the Villa has many problems) -bathing suit and waterproof sandals -shoes you can slip in and out of -umbrella (it rains a lot) -snacks (for the hospital) -your own corkscrew if you are having vino in your room -a companion to look after you, a very patient one!

Though the surgery was covered because I was Dr. De Smet? s DAST candidate for 2008, I still spent $9,000 on the Villa, flight, food, transportation, e tc. I stayed two weeks. Our US dollar is very weak, but if you have no insurance, are willing to travel and want one of the best doctors in the world, go to Gent, Belgium. Go a few days early so you can enjoy being a tourist before the surgery. The architecture is beautiful and it is easy to get around on trolley cars.

I met people from Holland, France, and the USA. Several from the USA had health insurance, but came to Belgium because of Dr. De Smet? s reputation and because their USA doctors did not offer a resurfacing option, only a total hip replacement.

It has been only three weeks since my April 15 surgery. I am still on crutches of course, and following all of the instructions given to me in Belgium. I cannot afford a physical therapist here in Denver, so I will have to be my own. I will start visiting a therapy pool next week. Nothing like the water!

I still have some swelling and pai n ar ound the incision, but made my first short walk around the park today and no pain anymore! It brings tears of joy to now be on the other side of this. Do not wait too long like I did! Just get the job done! Thank you Dr. De Smet, Vicky Marlow and DAST International. I will be forever grateful.

Colleen Hennessy Denver, CO