2013 11th Hippy Gathering with Dr. Edwin Su
Date Saturday, March 9, 2013
for the SF Bay Area 11th Annual Hippy Gathering, Special Guest of Honor will be Dr. Edwin Su from NYC. He will start patient consults at 10 am and would be happy to write anyone a prescription for metal ions testing. Don't miss this incredible opportunity to meet one of the world's best hip resurfacing surgeons. He has now done over 2,500 hip resurfacings, he is truly amazing. We should have a huge turn out. Email me if you would like to be added to the evite list. Mingle with fellow hippies from all over that have gone to all different surgeons. Hope to see you there! Don't miss this great opportunity, many patients fly out from all over the world.

Saturday 4th February 2012

10th Annual Surface Hippy Gathering

On Saturday, Mr McMinn and his team attended the 10th Annual Surface Hippy Gathering in Santa Clara, California. The event, organised by hip resurfacing advocate Vicky Marlow, gives patients an opportunity to speak face-to-face with leading orthopaedic surgeons.

Mr McMinn and his team presented their ongoing research work, specifically addressing the recent negative press surrounding Metal-on-Metal hip implants and debunking some of the many media myths. Mr McMinn's presentation culminated in showcasing his new hip implant technology.

The gathering was a massive success and the 80 plus attendees enjoyed the day immensely. The meeting was followed by dinner and drinks at Birk's restaurant. We would like to take this opportunity to say a huge thank you to Vicky for arranging and overseeing the day.

Next on his agenda, Mr McMinn travels to San Francisco ahead of the AAOS (Academy of Orthopaedic Surgeons) Annual Meeting.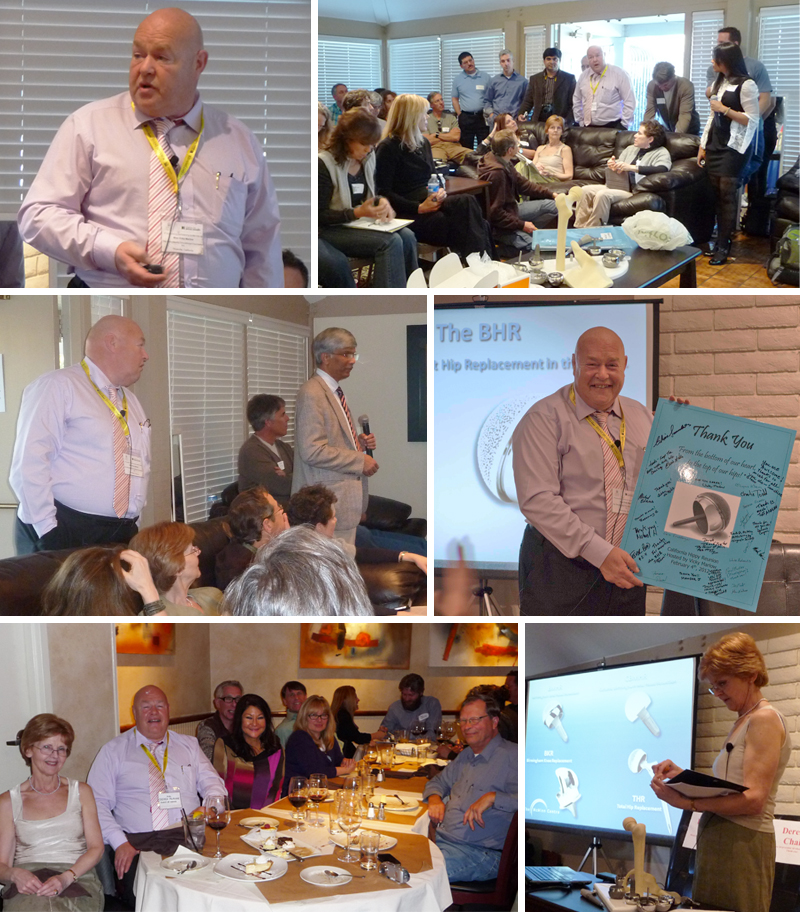 ---