Brian Gilbert - RBHR March 28, 2007, Dr. Dungy
A Runner Looks Back at 50 and a BHR

Approaching 50 was really no big deal for me, at least not until a routine physical exam and x-ray screening in the summer of 2007 revealed I had degenerative arthritis in my right hip. After staring at my chart for some time my physician asked how much I was running. I explained I'd competed in two ultras and a marathon in the past three months. "Maybe at your age its time you learn how to ride a bike," he dead-paned. I failed to see the humor. I had two bikes but riding was something I did when I needed a break from running.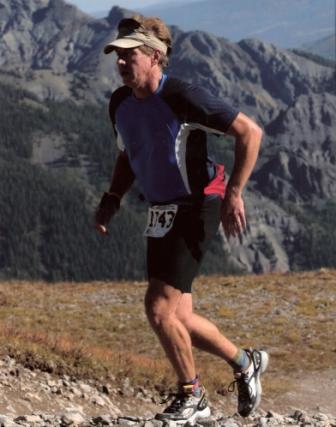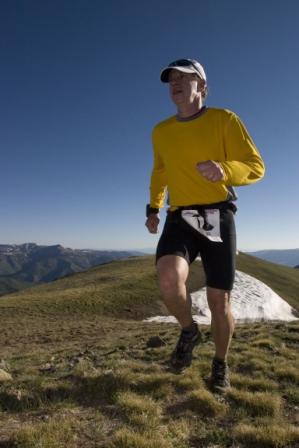 A deteriorating hip for a middle-age runner is perhaps the worst news possible. True I'd been nursing a tender right hip for more than a year since injuring myself running a fast downhill section of a marathon but I was not prepared to accept the end of my racing career and probably as my main form of exercise. My long term condition was unclear although one thing was for certain, running high mileage was not in the doctor's orders. My condition was complicated to say the least. I naturally had a shorter right leg and slightly tilted pelvis that threw my stride off and undoubtedly increased stress on my right hip. How much my condition was due to that minor birth defect versus pounding out ultra-marathons in my late forties was unknown however. A bigger problem than my health was my vanity. I had lived and trained for over twelve years in the northern mountains of Arizona at an ideal altitude of 7,000. In the previous year I'd set a personal best in a Colorado 50 mile mountain race, set an age group record at a Prescott, Arizona mountain marathon, and won the masters division in a Tucson road half-marathon. After struggling to compete in the sub-masters category for years I was looking forward to kicking butt in the 50 year-old masters category or so I thought. Unfortunately, common sense didn't prevail and against doctor's recommendations I ran the Imogene Pass mountain race in Ouray, Colorado the following September. I actually finished respectively but at considerable cost cursing the pain at every step in the final 5 miles. Running through pain is one thing but this seemed sadistic so I was ready to concede.

I returned home and promptly canceled any upcoming race plans and running magazine subscriptions. In October, I underwent an MRI with a local orthopedic surgeon who confirmed the next depressing chapter for me; I not only was suffering from arthritis but advanced vascular necrosis (AVN) on my right femur. The internal bleeding explained the rapid deterioration of my hip and shrinking range of motion as I was now starting to mash bone on bone. The most depressing aspect for me was that suspending running offered little escape. I had pain walking, lowering myself into a chair, and even sleeping. A steady diet of anti-inflammatory medication and aspirin provided only minor relief.

Over the next few months my exercise regiment without running became steadily more dull. I was able to do some recreational skiing with my son if I limited my range of motion although it became increasingly more difficult to bend at the waist to buckle my boots. As a matter of fact, just putting on shoes in the morning was something I dreaded. A particularly low point came one day while attending a seminar in downtown Phoenix when I found I could barely walk three blocks, stopping to rest on a bus bench. I didn't feel 49, I felt 89. As the fall worn on I found it difficult to crawl into my SUV or truck and I found myself eyeing handicap spaces at the mall. By Christmas time I was reduced to swimming and stationary cycling although climbing out of the pool was difficult and lifting my leg over the bike stand was a slow agonizing act.

Being a non-runner was not something I ultimately ha d the patience for so my New Year's resolution became researching what other aging jocks with blown hips were resorting to. In late January after reading a number of blogs on sports injuries I stumbled upon the Birmingham Replacement website and read about a successful BHR performed on Floyd Landis and his hopes for returning to competitive cycling. I also read about some individuals that were able to run after a successful procedure. This seemed to offer promise I thought although I didn't want to get my hopes up yet, still it was hope. There were only two surgeons in Arizona certified in the BHR technique at the time, so I booked the first one available, Dr. Danton Dungy. I was ready to be fixed.

At my initial screening Dr. Dungy was encouraging but not overly enthusiastic. Much like the advice of my primary physician and orthopedic, he stressed that the procedure was not without risks. My conditioning made me a good candidate but he had concerns about my AVN so it was quite a surprise when he called me in a couple of days and said he thought it was a good option. A risk of doing nothing was that the AVN would advance and eventually soften the head of the femur until a BHR was no longer possible. He also explained that a BHR was a complicated surgery and success can depend upon a surgeon's judgement and skill during the operation. In other words, once the hip joint is separated and connective cartilage removed from the socket the only outcome is to finish a BHR or break out the saw and do a traditional THP! He didn't actually say saw but I had watched enough YouTube videos on the subject to have a pretty good mental picture. Dr. Dungy didn't strike me as a great risk taker though and projected confidence so I felt I was literally in good hands.

Not wanting to give myself too much time to think I rushed to have my surgery date set for March 30, 2007. The day I left for the hospital I found myself lingering in the garage looking over my ski and mountain gear, wondering if I would use it again. It was too late to turn back now so I tried to not dwell on the worst and focus on success. I didn't really fear my first major surgery so much as I feared the potential of waking up with a THR, so as soon as I regained consciousness in recovery my first words to the attending nurses were "did it work?!" It was only after my wife walked into the recovery room that I relaxed and believed it. Throughout my hospital stay I was surprised to learn that most PT and nursing staff were unfamiliar with the BHR and I was only too anxious to explain the benefits ad nauseam to anyone that would listen.

I attacked physical therapy with a vengeance and recovery became my new sports conquest. In two weeks I was off crutches and walking with a cane; in six weeks I was walking normally, and at 12 weeks, doing light jogging. Over the next six months the progress came in spurts and with several setbacks that would cause me to slow down or even take time off. My right leg was lengthened slightly from the surgery and I found myself running at an angle on the treadmill now that I was more properly aligned. In many respects, I needed to learn to run again and I suffered from phantom pain and a reluctance to stride evenly and trust my new hip. At other times I found everything was sore except my new hip. My front flexor muscles would ache after only about 15 minutes and I found myself suffering from a sore back and tight hamstring muscles. I constantly had to work against the tight internal scar tissue and inflammation that would flair up then subside. Nonetheless, I was progressing to become a relatively pain-free runner again albeit a very slow one. I even ran a 2-mile fun run at six months post-op and at thirteen months post-op competed in a 10-K, one of my slowest times but it was one of the most satisfying finishes in years.

Today, at over 18 months post-op I can't say I'm the runner I was ten or even five years ago and probably never will be. I spend ample time stretching each day and average 30 to 40 miles per week in addition to some weight lifting, cycling, and lap swimming. I even take the time to go walking or hiking on occasion with family and friends. I don't indulge in anti-inflammatory medication of any type, even aspirin but I take extra calcium and omega-3. My recovery is such now that I tend to dwell more on my aerobic conditioning rather than my new hip and I even forget about it altogether at times unless my co-workers or kids chide me as the bionic man. I'm even working up to a half-marathon later this year and even though I'm not sure if an ultra-marathon is anywhere in my future I wouldn't rule it out.

My philosophical outlook on my BHR is quite simple: I was blessed to have great family support, good health coverage, an understanding employer, and a great surgeon. I now have the benefit of the most technologically advanced prosthetic that has extended my active life and returned me to a normal routine although there are no guarantees that I won't have other problems down the road, which might alter my plans to continue running and competing. As a friend of mine says, "life itself is a risk activity." I say the greatest gift you can receive is hope.