J & J Depuy ASR Adept
Depuy/ASR
LATEST NEWS ON RECALL OF THE ASR DEVICE
June 2011
BMJ Video interview with Tony Nargol, Tom Joyce and David Langton on results of the ASR that their Centre experienced
also see this section on info from Mr. Tony Nargol, M.D, just click here.
And to download Tony Nargols British Orthopaedic Presentation 2011 October (with his permission) click here
BOA Accelerated Failure of the ASR XL at North.pptx
---
RESPONSE TO ABC's 4 Corners Program in the UK Click here
Or Download PDF Here
---
For info from some top hip resurfacing surgeons on the ASR device and recall
---
For more Articles related to this
Blood metal ion concentrations after hip resurfacing arthroplasty
And click here for these other realted articles from JBJS
Accelerating failure rate of the ASR total hip replacement
Adverse reaction to metal debris following hip resurfacing: THE INFLUENCE OF COMPONENT TYPE, ORIENTATION AND VOLUMETRIC WEAR
Early failure of the Ultima metal-on-metal total hip replacement in the presence of normal plain radiographs
Optimal acetabular orientation for hip resurfacing
Early failure of metal-on-metal bearings in hip resurfacing and large-diameter total hip replacement: A CONSEQUENCE OF EXCESS WEAR
FROM DEPUY
August 28, 2010
(To read responses from some of the top Hip Surgeons that used the ASR )
DePuy ASR™ XL Acetabular System and DePuy ASR™ Hip Resurfacing System Recalled
DePuy has provided me with this information to share on my web site, for more detailed information go to their website, www.depuy.com.
Recall Background
DePuy makes patient safety and health a top priority and is continually evaluating data about its products. Most ASR hip replacement surgeries have been successful. However, data recently received by the company shows that more people than expected who received the ASR hip experienced pain and other symptoms that lead to a second hip replacement surgery, called a revision surgery.

For this reason, DePuy Orthopaedics is recalling its ASR™ XL Acetabular Head System and DePuy ASR™ Hip Resurfacing System. This recall means additional testing and monitoring may be necessary in hip replacement patients. In some cases, patients may need additional surgery.

DePuy is working closely with health care professionals worldwide to contact patients with ASR hip implants. Most people with ASR Hip System implants do not experience problems, but it is important that patients with ASR Hip System implants be evaluated with by a surgeon. Patients with problems reported different symptoms with their ASR hip implant, including pain, swelling, and problems walking.
DePuy intends to cover reasonable and customary costs of monitoring and treatment for services, including revision surgeries, associated with the recall of ASR.
Click here for the press release
Click here for the patient information page on our web site
Click here for an image of the ASR Hip System
Patients with an ASR Hip are asked to the form and bring it with them to the appointment to give their surgeons permission to share information directly with DePuy.
Click here for the recall notice
This notice was shared with hospitals and surgeons regarding the ASR recall.
Additional resources concerning the DePuy ASR can also be found at DrugWatch.com, which offers extensive information regarding medical devices used by both medical professionals and the public. To visit their site click on this link which will take you directly to info on the DePuy Hip Recall for more information.
ASRTM
Updated February 24, 2010
**Last fall (2009), Depuy decided to discontinue ASR® XL Acetabular Head System and DePuy ASR® Hip Resurfacing Platform (not available in the U.S.) worldwide. As a result of declining demand for the ASR platform and other market factors, they are in the process of phasing out this platform to focus on the development of next generation hip replacement and resurfacing technologies that best meet the needs of surgeons and patients.**
From Depuy:
"We want to assure patientswho have been treated with a device from the ASR platform that there will be options available to them in the future should they need a revision:
If a patient who had received the DePuy ASR® XL

Acetabular

Head System for total hip replacement requires a revision surgery, the

acetabular

component could be revised with the Pinnacle Hip Solutions platform, which would be compatible with an existing well-fixed femoral stem.
As with any hemi-resurfacing prosthesis, including the DePuy ASR® hemi

arthroplasty

, a patient requiring a revision procedure would generally be treated with a total hip replacement.
·
---
Advancing a clinically proven procedure(1, 2)
Introducing high performance bearing technology
Bone preserving implant profile
Optimised bearing clearance and deflection for fluid film lubrication and lower wear
Precise tissue sparing surgery
Cementing technique, a critical success factor

The concept of surface replacement in hip surgery goes back over 70 years. Through three generations of design and materials technology, surgeons and manufacturers have attempted to develop systems that combined conservative bone preparation with acceptable long-term survivorship. Until recently, the results have not matched those for total hip replacement (THR). However, the ground breaking work done by Mcminn, Treacy, Lin and Pynsent has confirmed this approach as a reliable alternative to THR.(1, 2) The DEPUY ASR System advances current design, bearing technology and instrumentation to produce a more reliable and precise approach for early surgical intervention. It also introduces sophisticated instruments and a surgical technique that minimises trauma to the patient.


---
Depuy Orthopedics, Inc., a Johnson & Johnson company, Acquires Finsbury Orthopaedics LimitedWARSAW, IN – Dec. 11, 2009 – DePuyOrthopaedics, Inc. has announcedthe acquisition of Finsbury Orthopaedics Limited, a privately held UK-based manufacturer and global distributor of orthopaedic implants.
ADEPT®
Finsbury Orthopaedics has set the standards in metal-on-metal design and manufacturing technology since the early 1990s. The ADEPT® Hip System is the accumulation of our experience and includes both resurfacing and total hip options.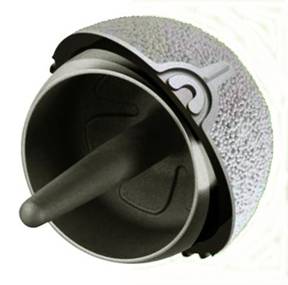 Uniqueflexibility of sizing is provided with 2mm incrementson the head which allows for two cup sizes for every head and two head sizes for every cup. Not only is this feature bone conserving, it also assists with optimising the range of motion.

The critical features of the ADEPT® system and technical rationale are based entirely on clinical history rather than short-term mechanical studies. The ADEPT®metal-on-metal resurfacing system follows well-established clinical history and has evolved from the Ring hip and Birmingham Hip Replacement.

The parallel stem inside the resurfacing head prevents cement migration into the femoral neck during impaction. The tapered section outside the head avoids intimate bone contact within the neck which reduces the riskof load transfer and stress shielding.

ADEPT® Cup
The cup has an as-cast beaded structure for bone ingrowth which is encouraged by a coating of hydroxyapatite.

The beaded surface extends from the edge of the cup right over the pole providing the maximum opportunity for bone ingrowth and secure fixation.

The range of motion before neck infringement has been optimised and found to be superior to other competitive systems.


ADEPT® metal-on-metal bearing
The articular surface is a precision bearing, controlled using proprietary techniques developed specifically for metal-on-metal arthroplasty. The all-important block carbide structure present at the bearing surface of the clinically proven Ring prosthesis has been accurately reduced.

Simulator testing on competitive devices has concluded that the life of ametal-on-metal implant is bi-phasic (bedding-in followed by steady-state wear). Retrieval analyses however show that metal-on-metal implants do fail and therefore there is a third phase to the life of theimplant. All three stages of life are predictable and a function of theinitial design.

Simulator studies stop during the steady-state wear phase and often onlyextend to five million cycles which, depending on the patient's activity levels, only represents a lifespan of one to five years. The ADEPT® technical rationale is entirely based on clinical history dating back over 25 years.
Differences between coverage of the BHR and the ASR devices