Jo DiTommaso Racquetball April 18, 2008 Dr. Greidanus
All my life I have been an athlete of sorts. I swam and dove on swim teams throughout childhood to university, played basketball until my shoes wore out and then discovered racquetball in my early 20's. Although I was a late sitter and walker in childhood (may well have been an undiagnosed, borderline hip dysplasia leading to my eventual osteoarthritis), I quickly made up for lost time by competing in any sport I could get my hands on. In my early 20's, I sustained a difficult and painful head-on car collision that made me quit all athletic endeavors for a number of years. After quitting racquetball only 2 years after picking up the sport due to the accident, I began playing again only to find that I had some hip discomfort.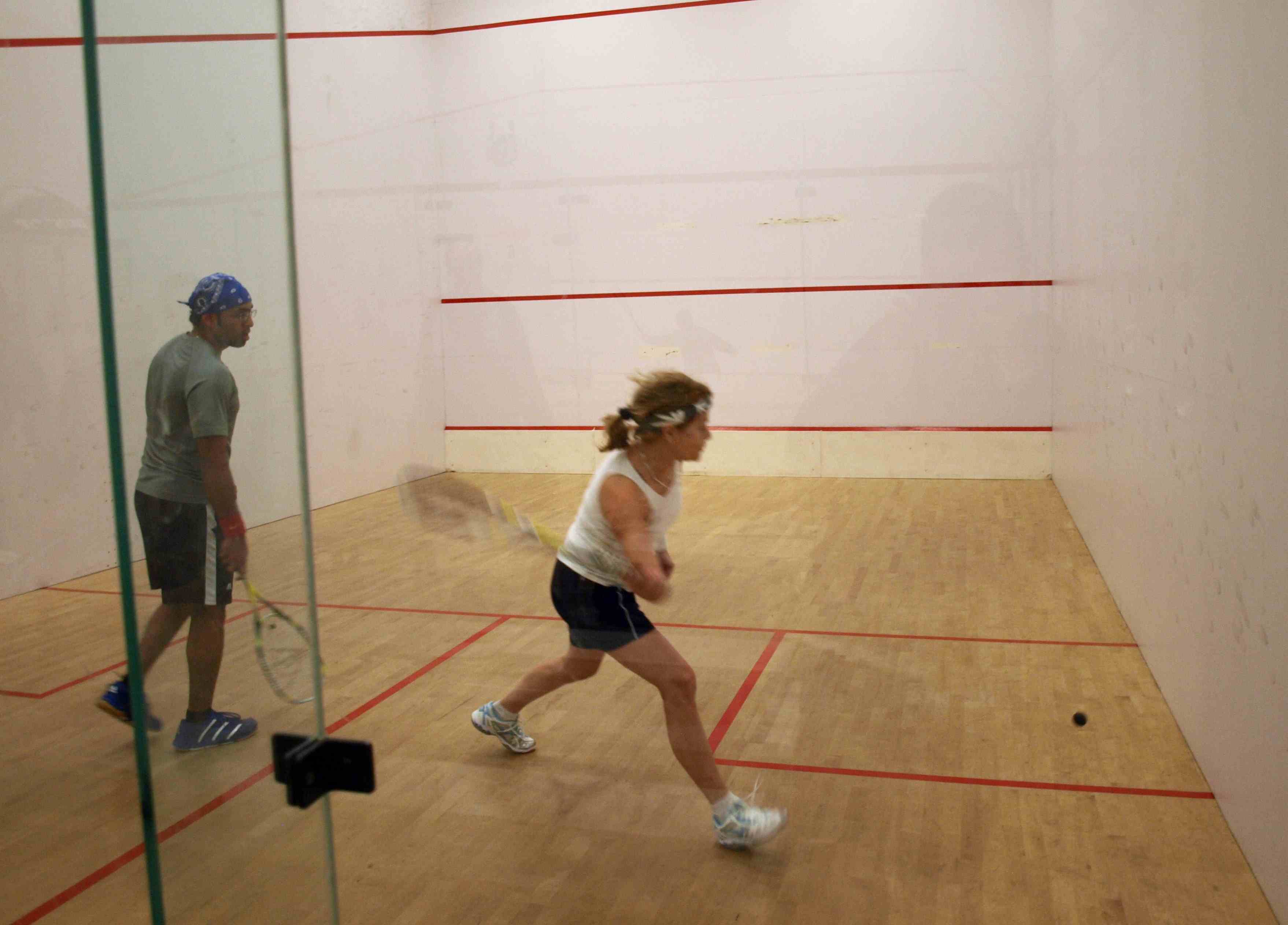 Photo: Jo playing Squash
Thinking that this was a hip pointer, I continued to pursue the sport and endured occasional pain in my right hip which would seem to occur sporadically and periodically and then disappear, but started to occur more and more frequently until I finally went in for evaluation and was told that I had "moderate to severe" osteoarthritis in my right hip and would need a hip replacement. I was in my mid-30's. The OS that I saw thought I was being ridiculous when I looked at him in shock and was "kind enough" to assure me that I could still "lawn bowl" after surgery. I thought I was going to vomit and pass out. I left and tossed the THR pamphlet in the trash. At this point, I became depressed and started looking on-line to see what I could possibly do instead. At around that time, I discovered the surface hippy site and started to really look into hip resurfacing.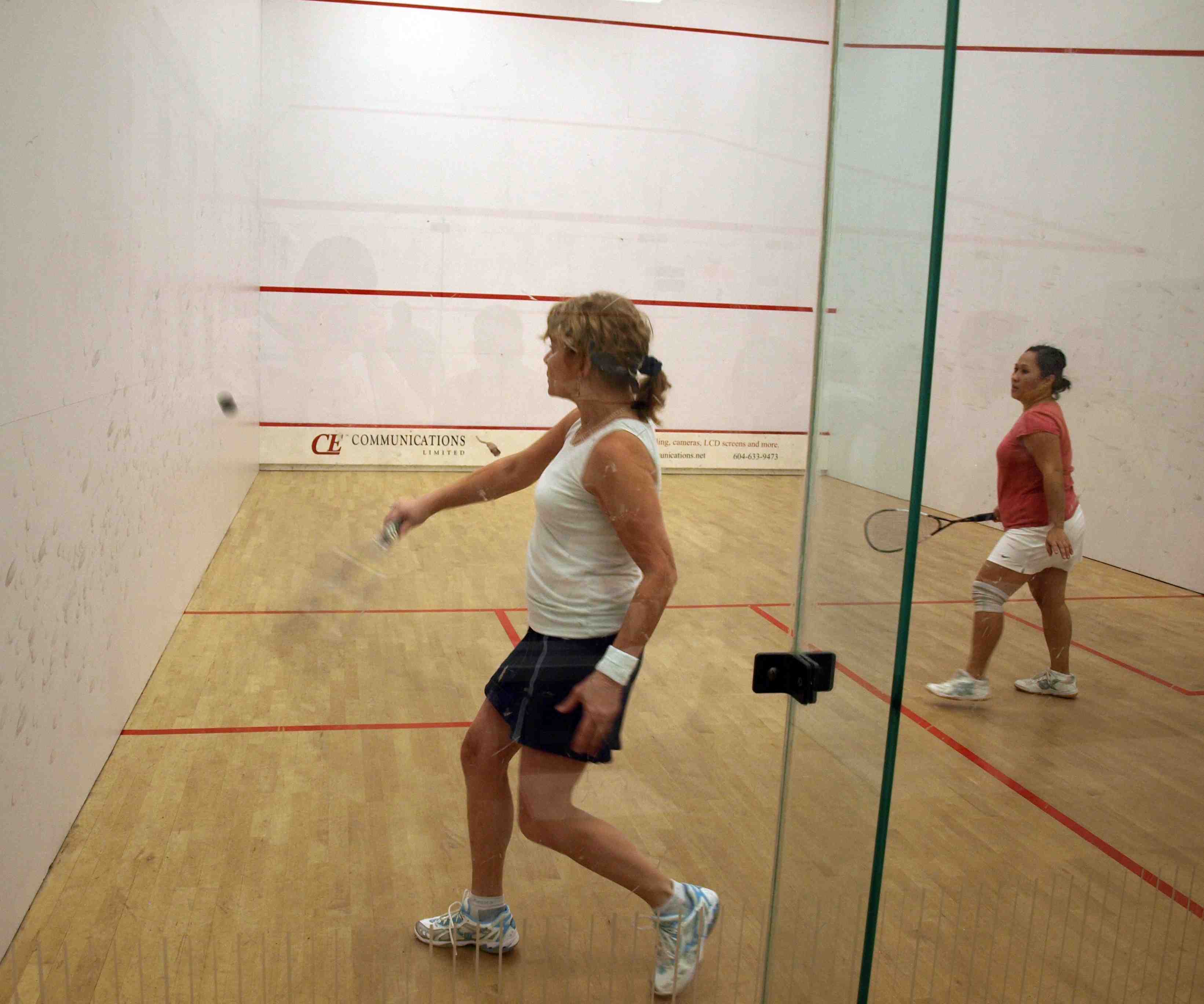 As far as I was concerned, the THR was absolutely not an option for me and I would have done anything to delay this option for as long as possible. In Vancouver, at this time, there was no coverage for this surgery and while I looked (unrealistically, financially) at going out of the country for hip resurfacing, I decided to wait and see if I could get it done in Vancouver. I went through 2 skeptical and miserable OS's ( and about 8 years of pain) until I found Dr. Greidanus who believed that hip resurfacing would be an option for me and then I waited again until BC medical agreed, temporarily, to cover this option for some patients. Finally, when I was taking serious barbituates for pain control daily as soon as my work day was done, and I could not get around the block without stopping, I was scheduled for resurfacing. Due to the gradual debilitation of my left hip at this time, and having gone through such pain and fear while making this decision, I appealed to Dr. Greidanus to have both hips done at the same time. On April 18, 2008, I became the proud owner of twin titanium hips.

Well, the rest is history. I can go on about the surgery, the immediate recover period and ongoing niggling discomforts that persisted for the first weeks, months and to a small degree up to 2 years. But, as soon as I got clearance to play sports again, I was back on a racquetball court (at 4 months post bilateral) and at 2 years post, won the mixed A and the women's open division doubles in the Canadian Racquetball Nationals. I don't run ironman marathon's like some resurfacers but I am blissfully thankful for having my life returned to me with the help of my surgeon, Dr. Greidanus, my family and friends for putting up with me for all those miserable years of pain and suffering, and the surface hippy group (particularly Vicky and a few others) for helping resume such a rewarding lifestyle.
All the best to all of you in your pursuit of the right intervention for your needs and desires and keep on keeping on,

Jo DiTommaso (Bilateral, Dr. Greidanus, April 18/08)