Linda Pugliese – Martial Arts, 2/16/06 & 8/15/06, Dr. Vijay Bose
I started taking karate in 1976 under George Annarino of Newark Ohio. The style I train is a mixture of Japanese and Okinawan styles. I hold a 6th degree Black Belt under the Ko-Sutemi Seiei Kan Dojo, and have won 5 NBL World Championships between 1993-1997 while competing on a National Team called "Full Contact". I also won a gold medal competing on the USA team in Mexico City at the "Mexican Olympic Festival" in 1993. My last competition before my surgery was in 2002, but the pain was too intolerable for me to compete any more. Now I currently teach Karate and Cardio Kickboxing at the Barstow Community College, and the Community Center. Since the surgery I am able to do all that I did before the osteoarthritis and am elated to have my life back.
Photo: Linda at the 2007 American Karate Alliance Nationals held in Albuquerque N.M. Linda placed first in creative weapons... and two seconds in other divisions.
Sun Oct 1, 2006 12:48 pm
Re: Calling all martial art hippies

I am back from my second hip resurfacing done by Dr.Bose/Chennai India 7 weeks ago. I had my first done in Feb, 16th of this year. Currently, I am back to the Dojo, no sparring only kata with low medium speed kicks. My Karate training started back in 1976 on top of running, biking and other sports. It can take a toll on the joints. I didn't realize that they wore out!!! Last week I started going to the gym and walking the tread mill. Everything is strengthening well. I am taking my time recovering also, for I don't want to injure anything. Next March, I plan on competing again in Kata. Hopefully my flexibility will be back to normal. Swimming is the best therapy, it's difficult for me to find a pool. Let me know if there is anything that I can inform you of that may help. It's good to hear that more martial artists are finding out about the hip resurfacing.

Update April 2, 2009
..a message from Linda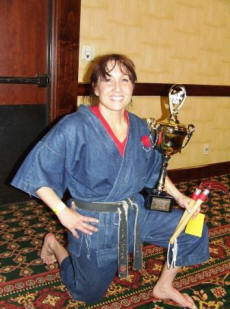 Dear Fellow Martial Artists,

I have been training in Karate for 32 years and teaching for 20. Even when both of my hips failed me, I continued teaching karate by using my best students as examples, until after my surgery. Since my surgery, my school continues to operate and I have even competed in forms and sparring. My cresent kicks seem to
have slowed down a bit, but I think it is more from fear than anything else. Other than that I am back to my normal karate self. You will be able to teach again... without pain....no worries..
I understand how fast osteoarthritis deteriates the cartlidge and effects your capabilities. I ended up walking with a cane for an entire year. My students called me Yoda! LOL. My doubts were so severe, I even thought I was going to end up in a wheel chair. I love spinning hook kicks and can say they are quite safe, same with the axe and jump kicks. Dr. Bose informed me that the only activity that I can not do, is skydive. But as far as falls and throws and all other martial art techniques, it should be fine. Just be sure to tap out on the jujitsu holds. You just have to listen to your body. My body tells me to be careful on crescent kicks. It took me a while to kick to the head again and I thought I would never do it.. but I am able to now.

:) Happy Kicking!
Linda Pugliese