Alex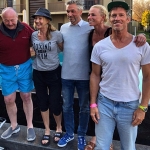 I suppose my journey into the world of hip surgery started the same as most everyone else's. I was doing an activity I loved and started feeling noticeable pain in my leg. I was in Baja, where we spend our winters, and the activity was kiteboarding. It was early 2019. I had also been recently introduced to pickleball (the senior citizens' religion), and as a former tennis player became addicted. Soon the pain in my right leg was keeping me awake at night. I wasn't willing to give up my recreation, but it became clear the activities were destroying a specific joint in my body. Either way I was becoming miserable. For years I had used exercise to cope with the banality of the day-to-day, but that coping mechanism was now precluding me from being a charitable person. I wasn't sleeping well and was in chronic (although not incapacitating) pain. I confessed my symptoms to a friend, who without hesitation said, "you need a hip replacement." He then went through a list of mutual friends in our age group who had had the same symptoms. They had all had hip surgery and had wished they had succumbed earlier to the knife. But a little voice inside me hesitated: hip surgery was for other, older people! I was super fit, super strong, and had the legs of a thirty year old (I am 58). There had to be a better way for someone as spiritually and physically attuned as I was! (Basically, I concluded internally, people like me don't "do" surgery, unless absolutely necessary.)
Considering myself special, I decided I would solve my problem with a custom prescription of strength and flexibility training. Being a somewhat accomplished athlete (Division I wrestler), I developed my own program. A lot of my pain was localized in my right groin, so I focused on single leg exercises that attacked my perceived weakness. I even worked with my wife on an anti-inflammatory diet that specified no nightshades, peanuts, dairy, wheat, spicy food, rice, alcohol, chocolate, blah, blah, blah...essentially I ate BBQ every night. And kombucha. I drank lots of kombucha. I bought a Hypervolt massage gun that we jokingly referred to in front of friends as the "not a sex toy". I bought a PowerDot portable electric muscle stimulator (that works great, but not on bone-on-bone arthritic conditions). I foam rolled...a lot. I surfed, I swam, I lunged, I yoga'd, I SUP'ed, kited, foiled, pickled, lifted weights...you name it. Many of these things would temporarily relieve the pain, as would NSAIDS and topical analgesics like arnica. But like the swallows to San Juan Capistrano, the pain always returned.
As you might guess, the discomfort got worse—despite my unflinching commitments. Although there were temporary reprieves, I finally capitulated and admitted things weren't getting better. I returned to the Gorge and succumbed to the x-ray machine. The images were read by a Hood River orthopod who diagnosed moderate to severe osteoarthritis in my right hip and moderate osteoarthritic conditions in left. It was merely a confirmation of the pain. I have similar arthritic conditions in other joints, but no major discomfort so I easily ignore them. Pain is the symptom that requires treatment.
But how to find an efficacious solution that would allow me to return to my cherished lifestyle? Soon? And not need a revision in 20 years? I was vaguely familiar with the resurfacing device problems with metal-on-metal prosthesis and allergic reactions to same. So I was leaning against hip resurfacing and towards a total hip replacement. A source told me that hip surgery was the number two most common non-cosmetic surgery behind cataracts, and that in both instances the outcomes were by-and-large excellent. Supposedly over one million are performed every year. Bill Walton says that "the only minor surgery is surgery on someone else," but the total hip replacement seemed pretty well road-tested. I was ready for a strategy that would rid me of the pain and still allow mobility. For the rest of my life.
At first I was just going to Cabo, find a respected orthopod, and get the joint replaced (a THR). Kinda like getting my oil changed at Jiffy Lube. It would be cheap, covered by insurance, and I like Mexico. I mean, one million hip surgeries per year, with over 90% success rates...how hard can it be? But a friend who was a few years ahead of me in the process disabused me of that notion. He turned me on to hipresurfacingsite.com, and I started doing my research. I searched the web and read about accomplished, younger athletes, like Andy Murray, choosing resurfacing over THR due to better range of motion and longevity. I saw that Bob Bryan was winning tennis tournaments less than two years after his hip resurfacing. I figured top athletes had teams of people doing a ton of research on the best surgical strategies, so I should be paying attention to their decisions. I saw that Laird Hamilton had hip surgery, and that's a dude whose brand is all about holistic. I concluded that over time, certain people just need surgery...there is no other palatable option for us.
Now, resurfacing (HR) vs. THR. When I saw that the doctors who needed hip surgery chose resurfacing over THR, that was another powerful data point. Also, the aforementioned pro athletes. I started believing the evidence that I had read implied the only recent resurfacing problems resulted from inexperienced docs or anomalies in patient behavior or anatomy. OK, QED, I decided—find a doc who has performed at least 1,000 hip surgeries, with few negative outcomes, and get a HR.
I settled on a handful of docs and started circling. My friend mentioned a Belgian surgeon with over 10k surgeries! Holy feces! And he was about my age (which, to me, meant at the peak of his physical and mental capabilities🤭). My friend told me to email the Belgian dude and he will respond. I was incredulous. USA docs don't do that. Too much liability risk. We can't even get PAs to respond. I emailed Dr. Koen de Smoet directly. He responded within 48 hours. His writing style was simple and straightforward. For example, after looking at my emailed images, he replied: "YES!!!YOU NEED A HIP REPLACEMENT!!!!" or, something very similar. I was so flummoxed by his direct style, I suspected a fraud. I redoubled my research to try and find a naysayer patient. I figured with 10k surgeries someone must be disappointed and airing their grievances on the web. Nada.
I wanted to get back to the lifestyle I loved. I had an Indo surf trip scheduled for September. Dr. KdS was going to be performing HR surgeries in South Africa at the end of June with a new ceramic on ceramic device. He could fit me in. He had been helping develop this CoC device for over 10 years and it was used in a variety of other surgeries in various iterations. Dr. Dr. DeSmet believed this device would last for my lifetime, would have no allergy complications, and would have me surfing in September on my scheduled trip. It was only approved for this surgery in Australia and S. Africa. More research followed. Everything looked positive. Finally, I bit.
It's a long flight to SA from the west coast of N. America. Next time I will go early and enjoy a safari. Really explore this amazing country. But, alas, I arrived the day before my surgery. The hospital was similar to an average USA hospital (in my experience). Not brand new, but not Third World. The nurses and doctors that participated in the operating theater were excellent. The orthopedic surgeon that teaches other SA orthopedic surgeons (in JBurg medical school) actually assists Dr.DeSmet during the surgery (Dr. Frey). They use propofol for the general (which I love and is the global standard). I was walking with crutches (briefly and painfully) the next day.
The rumors are right. This surgery is painful. But, they made available to us so much medication, NSAIDS and oxycontin equivalent (morphine drip after surgery), that you must only tolerate the degree of pain you choose. The anesthesiologist even gave us a small spinal at the end of surgery to keep the pain down for a day or so post surgery. I mean, when you consider that they intentionally and mechanically dislocate your hip, after cutting a ten inch incision in the side of your leg (did I mention grinding down your acetabulum and sawing off your femur head?), it only makes sense that some stuff in there is gonna hurt...and take awhile to return to its previous norm. Finally, I would add that the surgery I chose involves no bone graft to the device in the femur. The ball is glued to the femur head, and rock solid from day one, which allows a little less caution during recovery. Also, the CoC device more closely matches the size of your actual hip joint, so the chances for dislocation are dramatically reduced. And, of course, the HR allows for a greater preservation of femur bone than does a THR.
OK, let's talk post surgery/recovery. The staff at the hospital is mostly warm and friendly. As I mentioned, the surgical team is top notch: A+. That's what I really cared about. Dr. DeSmet was great. I would give the hospital non surgical team a C+/B- on thoughtfulness and responsiveness. Essentially they're just doing a routine job, and you're just a rotating hunk of meat. Several of our patient foursome couldn't get staff to attend on a timely basis. I've been in US hospitals (mostly in busy urban centers) with the same problem. I always had two patients in my room (including me) and sometimes four. I spent two nights in the hospital, then moved back to the spa/hotel. The spa/hotel staff and facilities (including restaurant) deserve a B+. The rooms were large, clean, and pleasant. I had a single room and a king size bed. The phones rarely worked, and the internet was spotty. I couldn't find any real "spa" (work-out, massage, steam, whirlpool, sauna, all in absentia). I am a California fruit cake, so I like fresh, non processed food. That wasn't much available outside of fruit. I ended up ordering a lot of my meals from a health food store nearby (using UberEats). The stuff I ordered online was all very reasonable in price, delivered to my room, and good. The restaurant onsite was fine, I'm just picky. JBurg violence: never a problem, I always felt safe. We were mostly in hospital or hotel, but we went out to eat a few times. All good, just like a USA city.
More recovery: The first few days are tough to walk, sit (on the toilet especially!), and I couldn't pee for two days (spinal). Like the OCD idiot I am, I was doing push-ups and leg lifts 48 hours after surgery, but the PT said (TOO SOON!!), so I moved back to the shallow end with very limited PT exercises. Within 3 days I was briefly walking unaided, but it was painful. Everyone else was progressing at their own pace. The PT only visited us twice, not daily. A funny observation: In the US, post surgery, docs are extremely conservative with their recommended movement. Don't get incision wet, don't put any weight on joint, etc. Basically they treat everyone like the least healthy patient, because they are extremely sensitive to negative outcomes, and the liability. They don't care if you are anxious to get back to moving, they just don't want a problem. Dr. DeSmet was refreshingly the opposite. He encouraged us to walk, do movement, and let pain be your governor. It worked for me!
I flew home a week after surgery and started riding my bike and swimming with a buoy soon thereafter. I am now two months out, and I can nearly do everything. I have provided some video and pics to give visual examples of me doing yoga poses, jumping rope, lifting weights, etc. I've done pickle ball, yoga, 8 mile intense downwind SUP with wind gusting well over thirty MPH, mountain bike riding, lunges touching my knee, weight lifting, etc, all with limited pain. I still get stiff, and I don't have complete range of motion or strength in right leg, but I'm very close. If I get some good surf photos over next few weeks I will share with Debbie as more evidence. I stopped all pain meds more than a month ago (maybe six weeks ago?), and I sleep through the night, no problem. The groin pain is totally gone. I would call the whole journey a wonderful success, including device feeling like a tight healthy hip, Dr. KdS' expertise and responsiveness, and the recovery period. At least...a wonderful success...so far. 😀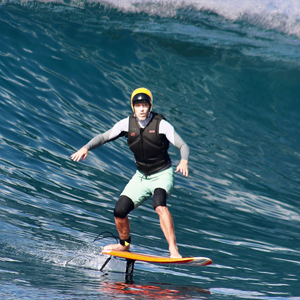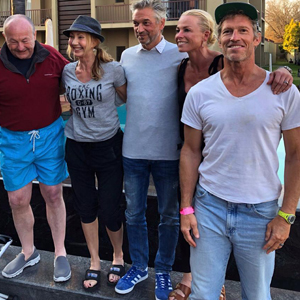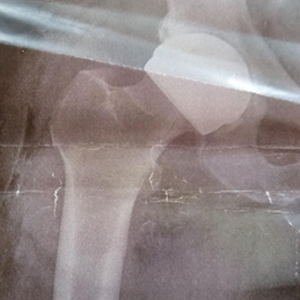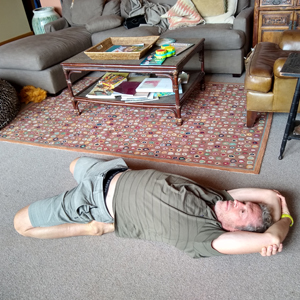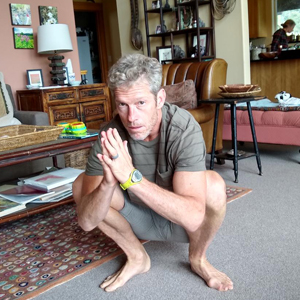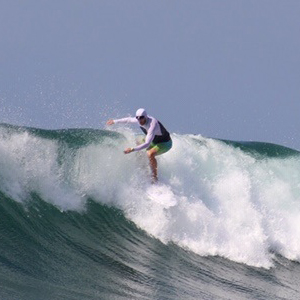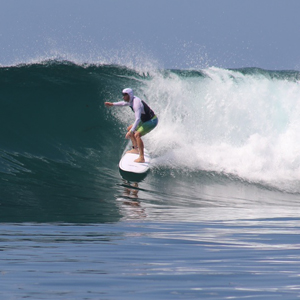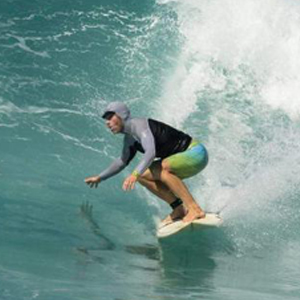 Alex M. Cook