Nancy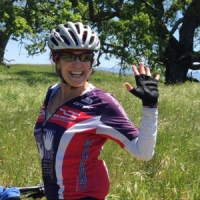 I'm a retired firefighter, athlete, world champion mountain bike racer, etc. I had my left hip resurfaced in 2008 by Dr. Ure. It hasn't been the best outcome because the cup was placed too steep at 60 degrees. I've been fortunate that it hasn't failed and my metal ions are low. I do deal with chronic groin pain in extreme flexion positions and I can no longer run long distance. I've been involved in the hippy community and became friends with Vicky Marlow, the patient advocate for hip resurfacing. She hosted annual hippy gatherings that were very informational, inspiring and often had quest speakers, including several of the most experienced resurfacing surgeons. This is how I had the opportunity to meet several resurfacing surgeons including Mr. McMinn. Sadly, when Vicky suddenly passed, there was no venue for the next gathering. So Debbie McCreight, Lori Ezell and I decided to have the next 2 gatherings in Vicky's honor at my house. This is how I met the great Dr.'s Su and Gross. Dr. Su presented at the gathering in 2013 and Dr. Gross 2 years later. Both gatherings were exceptional both in information and education with doctor's presentations and turn out.
Fast forward to today and a lot has happened. I now needed my right hip resurfaced and hip resurfacing continues to be amazing and getting better but device companies have made changes in sizes, the BHR removed smaller sizes. Knowing that I needed the smaller size and Dr. Gross has his Biomet component in smaller sizes I decided to go with Dr. Gross. Debbie (who has stepped in and stepped up as patient advocate and is President of the Hip resurfacing Educational Foundation helped me get in touch with Dr. Gross, Lee Web and his nurse Nancy Smith. They were amazing and extremely communicative throughout the process. I had my surgery October 30, 2017. I'd say it has been an amazing process. Surgery is not easy but they do all what they can to help you through the process. Like Lee told me, they have pain management down. The same day as surgery they wanted me to walk but that wasn't going to happen because my right leg had no feeling because the long lasting spinal block had not worn off. That evening I spent the night in the hospital. They actually brought me vegan and gluten free food. I had plenty to eat and it wasn't bad. The night crew was less than desirable. What little I saw of them was just short and unfriendly. I was nervous about asking for help but thankfully I only had to once and that was to remove my ice machine pad that was bunched up under my back. Weird since everyone else was amazing and friendly. The next day the nurse and crew were upbeat, friendly and really caring. They had me walking, showered and trained (hip class) in a matter of a few hours. I spent 2 nights across the street at the Marriott Residence Inn where everyone was very accommodating and friendly as well. The employees love that people come from all over for Dr. Gross. It was no problem flying home even with a layover. It was easy getting a wheel chair and transportation to get to our connecting flight. My husband traveled with me and helped with the luggage and getting me boarded, also with the driving since we rented a car. We were there the week before for the pre-surgery appointment so we had the opportunity to drive 1 1/2 hour to Charlotte. Beautiful drive and city. We also went hiking in the National park Congaree Swamp. Dr. Gross recommend it and we loved it. That was only a 45 minute drive from Columbia.
It has been 3 weeks since the surgery and recovery has been much smoother than the left hip. The only problems I have are severe headaches from surgery and it is something that happens to me. I called Lee and she recommend I take the oxycodon they prescribed, caffeine for vasodilatation, use an abdominal wrap (you can get at any drugstore), and lie completely flat. She believed I reacted to the spinal block. Well it helped and the headaches have gradually been getting better. Lee called me the very next day (Sunday) to see how I was doing. She is just the best!
I was also pleased to learn that Dr. Gross's success with women 9 years out from surgery is 98.5% and 99% for men.