Patricia Dukes - Horseback Rider, Resurfacing 6/19/06, Dr. Gross
I began having some groin pain in the summer of 2004. An avid gardener and horseback rider, aches or pains weren't uncommon and I didn't pay too much attention to it. In the fall, I went on a two week trip and thought it would be a good rest for whatever muscle was bothering me.

On the way home on the plane, it seemed that the groin pain/burning was actually worse. It bothered me more and more over the fall and into the holidays. In January I made an appointment with my PCP to discuss why the pulled groin muscle wasn't getting better.
He asked me a few questions and moved my leg around a bit, judging range of motion. He suggested an x-ray and sent me off to the x-ray tech. About 30 minutes later he walked into the patient room and said "You need a total hip replacement; you are bone on bone in your right hip with significant arthritis."

Well, either he had the wrong room or was pulling some kind of little joke as at 54 needing a THR was the farthest thing from my mind. He showed me the film and pointed out the lack of cartilage and rough surfaces. His advice "wait as long as you can until you can't stand the pain and then I'll refer you to an OS for a THR consult".

I went home in denial and stayed there for several weeks. No one in my family had ever had a hip replacement and I couldn't come to grips with the fact that at 55 I was going to need one. I wandered about on the internet researching total hip replacements and everything I saw confirmed that I didn't' want one – anytime soon, if at all!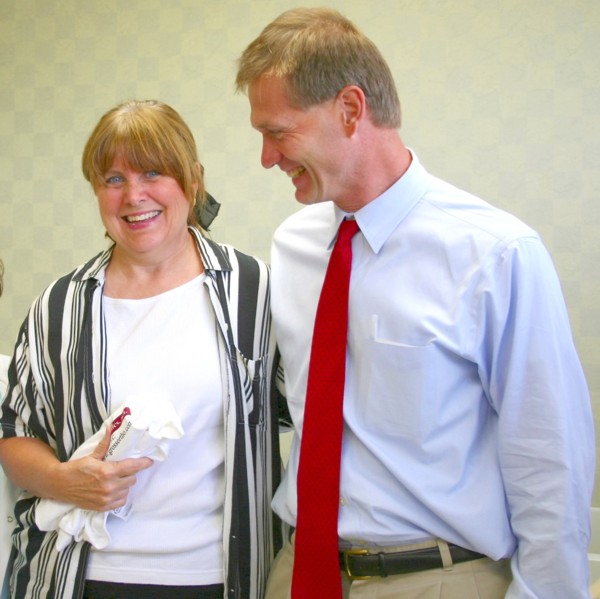 The spring of 2005 I found it becoming more difficult to work in the garden. Getting up and down was hard and painful. I began carrying something with me to help with standing up. My ROM began shrinking and I found it increasingly hard to swing my leg high enough to clear the back of my horse. Sitting on either of my two, big broad horses became increasingly uncomfortable and I began finding excuses why I didn't need to ride.

By summer I had run out of excuses and had developed a pronounced limp with every step. The pain was constant and sometimes significant. I reluctantly returned to my PCP for the OS referral. I had the name of an OS that I had been told by several friends in the medical community was the best in the area. My PCP looked at the name and said "He's excellent, but it will take you a while to get in with him." I figured if I was going to have to have a THR, I'd better seek out a good doctor and it was worth waiting for an appointment.

I got in to see him in November 2005. I'd been having hip pain now for over a year. I filled out all the forms and waited, hoping that he'd have an alternative that might work for a "younger" patient like me. He walked in the room, stood with his hand on the doorknob and said "You need a THR, I'll have my girl put you on the calendar". I wasn't thrilled with either – the "my girl" reference or the hand on the doorknob. I started to ask him questions from the list I had brought. He answered a few and then said that "his girl" would give me a booklet that would answer all my questions.

"Is there anything else for younger people"? "No".
"Is there a new procedure coming that offers promise"? "No".
"Is there anything else I could do to put this off for awhile"? No".
"Will I be able to ride my horses with a THR"? "We'll have to see".
And, he left.

His assistant brought in calendar, but I wasn't quite ready (couldn't walk, but still not ready) to sign on the dotted line. She talked with me and I actually got more info from her than I had from him. It would be a metal THR with a poly cup. It would be uncemented. I would have to use a walker for "a time" and then progress to crutches. I wouldn't be able to sit in a normal height chair (they had tall chairs for sale) and I would need to sleep with a special orthopedic "abduction pillow" strapped between my legs for the first 6 weeks.

For some reason the strapped on pillow thing seemed the worst to me. I'm fairly claustrophobic and the idea of being strapped to a pillow at night spooked the beejeebers out of me. I told her that I couldn't make a date at that time, but would call them. She told me that he was very busy and that if I wanted him to do the surgery I needed to "get on the list" right away.

I went home and talked to my husband about it and we had another in a long string of arguments about whether I needed to have the surgery or not. He was watching my world shrink as I became more and more reluctant to do anything that involved any amount of walking or physical activity. He wanted me to do whatever I had to do to get back to enjoying my life. I had run out of excuses and knew he was right. Regardless of the concerns I had about how a THR would change my life, I could no longer put it off.

I called the OS office and told them that I wanted to schedule surgery. They said that someone would call me back. I waited almost 2 weeks and then called them again. They said they were very busy and someone would call me. A few days later the scheduler finally called.

She asked me what hospital I preferred and offered me a choice between two huge county hospitals – neither of which appealed to me. I asked if the doctor had a preference and she said that he did not. I found that surprising as I felt thought that he'd prefer one or the other. I told the scheduler that I preferred a Tuesday or Wednesday surgery date and she told me that I would be offered the next available date. If I didn't want that date, it might be quite some time before I could have surgery. It sounded like a thinly veiled threat to me. She said that she'd check the schedule and call me back. Another week went by before she called back.

I was scheduled to have surgery on a Friday, Good Friday in March – 4 months away. I told her I wasn't keen on having surgery on a Friday and especially not on a holiday weekend. She said that was the appointment available and that if I didn't want it, it might be some time before I could have surgery (sound familiar?). I asked if the doctor would be in town that weekend (Easter weekend) and she said they had no way to know what his schedule would be like 4 months from then and it didn't matter because he might not come to the hospital on the weekend anyway. Feeling more and more that I was being forced into a corner, I reluctantly agreed. I was told that I'd get a packet in the mail with all of the information and appointments that needed to be scheduled with my PCP for pre-op tests and the Red Cross for 2 autologous blood donations.

I waited for another 2 weeks and nothing arrived. It was almost Christmas and I was anxious to see the material so that I knew what I'd need to schedule. I called the office and was told that material was sent out when they had time. It arrived shortly after the 1st of January.

Reading through the booklet " Total Hip Replacement, A Guide for Patients" didn't make me feel any better. The illustrations were all elderly people, stooped over canes and walkers. I wasn't thrilled to read the 12 week precautions " Don't sit in chairs without arms, don't sit on sofas, don't sit for long periods, don't cross midline, don't sit in a bathtub".

Next came the Avoids "Avoid skiing, basketball, contact sports, running, jumping". Not that I wanted to do those, but at 56, I didn't want to know that I no longer could.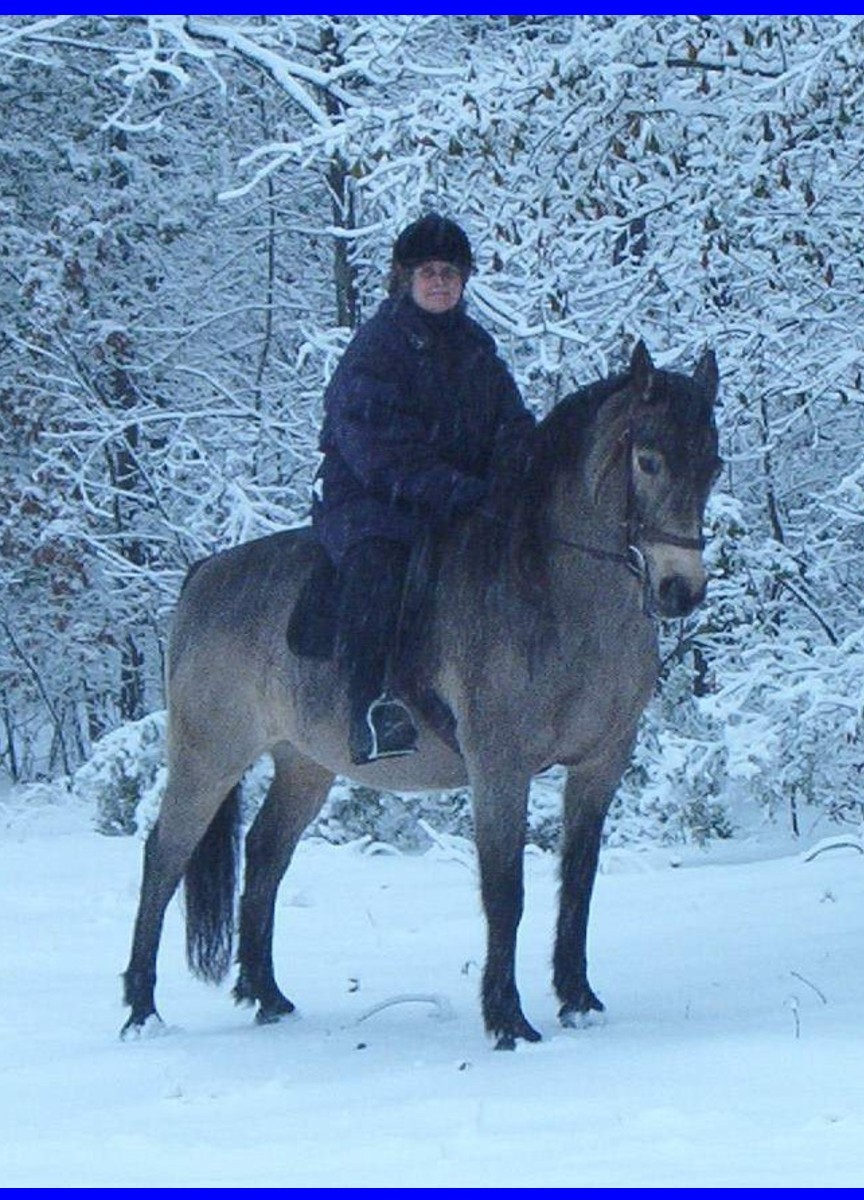 I made all the very time sensitive appointments (blood must be given 2 weeks ahead of surgery) all pre-op tests must be within two weeks of surgery, but no more than 2 weeks before surgery, pre-registered with hospital, and made the myriad of arrangements necessary to leave my animals (dogs, cats, horses) for the week I would be in the hospital. Every time I thought about the surgery it made me feel sick inside – sick with fear and dread of the surgery itself and of the way my life would be changing.

About 6 weeks before the surgery I had a call from the OS office regarding an insurance issue that needed my input. When I called about it I was told that if there was any "glitch" with my insurance I'd have to reschedule surgery and there was no telling when I could get back on the schedule. The "glitch" which they could have easily handled was simply a mailing address problem.

A month before my surgery the doctor's office called to tell me that they needed to reschedule the appointment that I had with the doctor for the Wednesday before my surgery. Apparently they had made the appointment incorrectly as a doctor visit instead of as a pre-surgical visit. They needed to move the appointment to the previous week instead and gave me a new appointment time. That appointment time conflicted with one of my blood donation appointments, but I was told that was the only time I could come into the office and I would just have to reschedule my 2nd blood donation appointment. I mentioned having some questions for the doctor and was told that I would not be seeing the doctor at my pre-surgical appointment "he didn't have time for that". I had met this doctor for a grand total of <5-10 minutes and felt the need to at least meet him a second time before surgery to ask a few additional questions. "If you need to see the doctor again, we will just have to cancel your surgery and there's no telling when we can get you back on the schedule" – the same old "threatening" song and dance routine.

Well, that was it for me. I said "I'll have to think about all this" and hung up. The next morning I called and told them that I was uncomfortable with everything – the surgery (holiday) date, the hospital and how I was being treated by the staff. Again I was given the standard "no telling when we can reschedule you" line and passed around among staff members until I said simply, I am cancelling the surgery and hung up. The office manager called back later and left a message that it was important that I call her. I did, got her voice mail and left an "I'm cancelling" message for her.

I felt better that night than I had in months. The huge dread that I was making a mistake was finally lifted from my shoulders and I knew I'd made the right choice. If I couldn't trust the people that the doctor surrounded himself with, how could I trust him?

My husband was not happy. He hadn't liked the interaction with the doctor's staff either, but his big question was "What do you plan to do now; it won't be long before you can't walk at all." He had a point…

A few days later I decided to try giving Midlands Orthopedics a call and set up an appt for a second opinion with whoever did hips. They were not on my insurance but I had had a knee injury repaired by one of their docs with good success.

I called their office and asked who did hips. The receptionist said "Dr Gross". I asked to make an appointment with him. She said "You'll need to bring your films by to determine if you are a candidate". "Candidate for what I asked? "Resurfacing" she replied. "What is resurfacing" I asked. It was the first time I had heard the term. She suggested I go to Dr Gross' website and take a look. If it interested me, I would need to drop my films by for a consultation.

That night when my husband came in from work I had the solution for his "What are you going to do now" question. I was going to have resurfacing; IF Dr Gross felt it was right for me. I just knew it had to be.

Dr Gross' office called the following week saying that I was indeed a good candidate and offering me an appointment! About 3 weeks later I sat in his office with my list of questions and a big lump in my throat. What if it wouldn't work for me?

The big day arrived and after a bit of wait, Dr Gross came in the door, walked across the room, sat down and picked up the paper. "Are these your questions" he asked? He went through them one by one and then told me a number of things I hadn't thought to ask. He showed me my x-ray and discussed why I would be a good resurfacing patient. He spent about 30 minutes in the room without once looking at his watch or at the door. He made me feel that nothing was more important than answering all my questions and giving me however much time I needed to learn about the surgery and what it would mean for me. I couldn't sign up for surgery soon enough! Shame on that "well respected OS", who couldn't be bothered to tell me about a new procedure being offered for younger, active folks AND the world class doctor offering it less than 10 minutes away.

My surgery was scheduled for June 2006. When I thought about this surgery I felt excited and at peace – how different from the anxiety, fear and dread I had felt about the THR. I still didn't want to have any surgery (does anyone?) but I'd come to terms with the fact that I had no choice if I wanted to walk and continue on with my life.

I found dealing with Dr Gross' staff the polar opposite of my first OS. Each person that I talked to was kind and considerate. While I was sure they had been asked and answered each and every question a multitude of times, they were always kind and considerate. I found dealing with Lee Webb to be an epiphany in a time when just getting someone alive on the phone was a challenge at most doctor's offices. When I emailed Lee (what a joy to be able to email a medical question) I usually had the answer back in hours, often in minutes! If I sent a message at 10PM, I often had an answer by 11PM. Along with the answer to my question came obvious caring and concern.

I began walking (hobbling) with a cane and found it to be of great help. I could no longer walk more than short periods without stopping. I used to be able to walk long distances without worry, now I was resigned to limping from seat to seat. I got and used a handicapped parking sticker and it was a Godsend for those final weeks. I used to worry that people would see me pull in and park and think I was misusing the privilege. My husband said "Just get out and start to walk and no one will ever think you are". The week before my surgery I went to a book store to stock up on some reading material. It was difficult to hold my cane, stand up and look at a book. By the time I had been there about 15 minutes I was exhausted with the effort of standing. When I checked out the clerk took one look at me and said "Are you OK?" That's how bad it was. The pain made everything hard and I was weary with the simple act of living.

I found great peace in the words of a wise resurfacing patient who had gone before me. He said that I had done everything I could do, researched the procedure, found a highly qualified doctor that I trusted and made the best preparations I could. Now it was time to let the doctor do his job. I thought of that often in the last weeks before surgery and found it to be very comforting.

The last 2 weeks when I had to quit taking anti-inflammatories was terrible. There was simply no moment in time when I wasn't in pain. I couldn't walk, sit, stand or lie down without pain. The only time the pain lessened was when I was in our hot Jacuzzi with a glass of wine in my hand. I spent an hour every evening in that last week soaking in the tub and looking forward to the end of this chapter of my life.

The day I limped into the hospital I was ready. I had thought I would be afraid, but surprisingly I wasn't. I had somehow come to terms with the prospect of the surgery and rehab and knew that whatever it entailed, it brought with it the chance to return to a normal life.

I took my iPod Shuffle with me into pre-op, loaded with music that made me feel calm. A quick trip to the restroom to change into a gown and lovely hat and then into the bed. A handful of pills arrived including meds for nerve pain, general pain and nausea. An IV was started (after they numbed my hand). Some blood was drawn for the platelet rich gel that Dr Gross uses in the new joint and surrounding tissue. My husband got to write NO on the "wrong" hip to make sure that they would resurface the bad one. An anesthesiologist came in and discussed the spinal anesthesia and asked how "deep" I wanted to be. I told him that I didn't want to know a thing about it and he smiled and said OK. I was asked if I wanted something to calm my nerves, but I didn't feel that anxious and listened to music for the short time until I was taken to the operating room.

The OR was HUGE – much bigger than I expected. And it was freezing cold. There was music playing and a bunch of people doing various tasks. Within a few minutes of entering, the anesthesiologist asked me to sit up and lean forward over a pillow. He said I might feel some cold on my back and possibly a slight sting. The next thing I remember is waking up in my hospital room with my smiling husband by my side – the very best medicine one can hope for!

My surgery was at 3:30 and it was around 7:30 before I got into a room. I don't remember recovery at all, although I'm told I talked coherently to the nurses and my husband while there. I don't remember the ride up in the elevator to the room either. I suspect that having asked to be rather deeply "under" - it took me longer to climb back out into the world.

I dozed comfortably that night. I had no pain what-so-ever. When I moved around in the bed I could feel some discomfort in my skin but there was no pain in the hip. Nurses came and went, usually with a smile and comforting pat. The next morning I woke up to a spinning room. My BP was low (not uncommon) and I was very nauseous. So much so in fact that I couldn't even sit up. The urinary catheter (put in while I was under anesthetic – what a kind and considerate action) was removed without excessive discomfort. I was encouraged to drink fluids to bring my blood pressure up.

The PT came in and suggested that I try walking. It didn't seem like a good plan to me, but hey, what do I know. I had on the ubiquitous open-up-the-back hospital gown and the nurse helped to put on a second gown, opening to the front like a robe for my first walk. I stood up with a walker (which is used for your first time up to be sure you are steady on your feet) and got about 4 steps before collapsing into a chair. No pain in the hip, but the room was flying about and I had the good sense to tell the PT that I didn't want to try walking at that time. It is important to remember that we are all different and what works well for one person, doesn't work for another. We need to listen to our own bodies and respect what they are telling us. A few minutes after reaching the chair I started vomiting and vomited for about the next 10 or 15 minutes. As quickly as it had started, the room stopped spinning and I felt better. I headed back to the bed and drank some Coke in an effort to bring my blood sugar up. About 2 hours later I was ready to try walking again.

What an amazing feeling to stand up and take a step without the deep, grinding hip pain that had been my constant companion for so long. The groin pain was gone. Absolutely GONE. My leg felt heavy and kind of "dead" (we laughingly call it "log leg") and it was work to move it – but when I put my weight on it there was no hip pain. The first actual "pain" I had was when I went to get back in the bed and had to "lift" my leg into bed. That hurt! The motion of lifting it was very painful, but the pain stopped as soon as the leg was back in the bed. It was painful to lift my leg into bed for the first week or so after surgery.

By afternoon I had walked the hallways a couple of times on two crutches. Each step I took felt steadier than the one before it and I was greeted by smiles from other resurfacing patients making their way up and down the hallway.

The hospital food wasn't especially appealing so I had a Wendy's hamburger and Frostie for dinner. It hit the spot. That night I had to get up and down several times during the night to use the restroom (all that water I'd been drinking) and that was uncomfortable and difficult to manage. I regretted not having the urinary cath the second night. I should have called the nurses, but hated to and struggled to get in and out of bed by myself. I wish I had had someone stay with me the second night to help with getting the equipment on and off for my frequent bathroom trips.

The second day a nurse showed us how to remove and reapply the dressing and discussed the discharge orders. Around 1:30 we set off for home and it was a wonderful feeling to get back into my own home and bed again. I did miss the triangle which hangs above the hospital beds as that was quite helpful in getting in and out of bed. I can see where having a hospital bed with a triangle above it would be very helpful for anyone having bilateral surgery as they won't have one good leg to push with.

All in all I was very pleased with the hospital. Everyone I dealt with was kind and considerate. If I had to complain, it would be that I wasn't offered something more significant for nausea control and that getting up and down by yourself the second night (after the cath is removed) is difficult and worrisome. No doubt I should have called a nurse to help each time, but didn't. That's my fault, not theirs. Next time I most certainly will. I had been told that if I wanted to I could have gone home the first day after surgery. For me that would have been a big mistake as the nausea and dizziness would have been worrisome and more difficult to handle at home. Although people from the greater Columbia area and those who live within a few hours are often told that they may be discharged after only 1 day – I strongly recommend that everyone stay at least 2 days. Orthopedically you are probably fine to go after 1 day, but just the general recovery from surgery takes a little longer. If a problem were to develop, I think you are better off in the hospital than 2 or 3 hours down the road on your way home. 2 days in the hospital for resurfacing is a minor imposition and worth the extra time for the additional care and PT.

I really enjoyed my first few weeks. Apparently a lot of people are bored and restless but I lead a fairly active life and the opportunity to just sit back and worry about me for a few weeks was quite a pleasure. I had lots of videos and books. I slept when I felt like it, read when I felt like it and watched mindless entertainment whenever I didn't want to do anything else. Each day it got a little easier to get around.

The only real problem I had was early morning (4-5 AM) thigh cramps in my op leg. I'd wake up with the upper/front thigh muscle knotted up and hard. It REALLY hurt. I'd get up and hobble around on my crutches for a few minutes and it would stop. I tried all sorts of different things, heat, ice, elevation and nothing seemed to stop it but walking. It bothered me most mornings for the first 10 days or so and then simply stopped. I didn't need much in the way of pain meds, took Vicodin for a few nights and then switched over to ES Tylenol. I took a Darvocet now and then if my hip/leg ached a lot but it was no where near as bad as the pre-op pain had been. I did have trouble sleeping, most people apparently do. I started taking Halcion and took them for about 10 days and then took Benadryl for another week or so (it puts me right to sleep) and by that time the issue had resolved. I never had problems with constipation that many people have. In fact, strangely enough I had some fairly severe diarrhea for about a week. I had decided to check in with Lee Webb to see if I might have picked up an intestinal bacterial infection and by the day I planned to call her it spontaneously resolved without intervention other than OTC diarrhea meds. I suspect it was a systemic "upset" and once my system settled down after surgery it resolved.

For the first few weeks there were lots of unusual and different feelings and sensations in my new hip. It had been defined by pain for such a long time, that some of the new feelings were surprising and worrisome. I don't tend to over react about myself (husband, horses, dogs, cats - different story). I decided that unless I had PAIN or felt something was WRONG I wasn't going to get excited and contact the doctor's office. The two major concerns post resurfacing are dislocation and femoral neck fracture. Both are catastrophic events that won't be mistaken for much else. That attitude served me well and I went through the entire first 6 weeks post-op without needing to contact the doctor's office for anything. I spent a lot of time in my zero-gravity recliner, my favorite after surgery spot. I used ice on the hip off and on during the first 10 days. I never had any significant swelling.

I used two crutches for a week. I like the old, traditional underarm crutches. Apparently many people prefer the forearm type now, but I've had other orthopedic issues that have required crutches and am comfortable with the under arm style. If they are not adjusted properly they can cause problems. I used 1 crutch for another week. I could probably have gone to a cane, but I liked the support and stability of the crutch. After that I went to a cane for about 10 more days and was quite comfortable with it.

I began to drive at 2 ½ weeks. I tried in a parking lot first, to make sure I felt that my leg was responsive enough to be safe. I began driving myself to a local mall to walk. It was very enjoyable. I'd walk awhile, sit and people watch a while, walk some more and then have some coffee and read the paper. I could walk more comfortably than I had been able to for months prior to surgery. At about 3 weeks I began walking at a local leisure center on a indoor walking track. I was almost ready to give up the cane but still hung on to it in public. The walking track was oval and I would walk the short ends without the cane and the long sides with the cane trying to match my strides with and without the cane. After just a few days I was carrying the cane more of the time than using it and when I began forgetting it around the house I knew it was time to give it up.

I had not been able to tie my shoe or put on a sock in nearly a year. It took me about 9 months before I could comfortably do it after surgery. If I had gone to the gym or pushed I'm sure it would have come back sooner. I was satisfied to allow it to return in good time and it did. Each person has a different recovery and much determines how quickly it will go. Your pre-op condition, age, physical fitness and "drive" all go into deciding how quickly you'll come back. If you expect to follow a certain pattern, you may be disappointed to find that your recovery isn't what you expected. The best plan is to trust your body and allow it to heal in its own time.

My only regret is having waited so long and given up way too much of my enjoyable life to pain and disability. If I had found resurfacing sooner, I'd have done it sooner. My other hip is headed down that road and when the time comes to do it, I'll do it and get on with my life.

I've become somewhat of a local "hippie helper" for Dr Gross' patients offering local information and assistance with the logistics of traveling for surgery. As a 30 year resident of Columbia, I can provide info that makes the trip easier for others and I love doing it. If you are contemplating surgery or would just like to talk to someone who has had surgery with Dr Gross, I'm happy to help you anyway that I can.

Patricia Dukes
Columbia, SC