Rick Rubio – Ironman, 7/23/08, Dr. Mori
Hi my name is Rick Rubio. July 23rd, 2008 was my one year anniversary of having a hip resurfacing and I ran my second Marathon since the surgery.

I am 55 and have always been active and involved in sports. In the early 80's I started running marathons, and then in the late 80's I started doing triathlons. I also played tournament racquetball for many years, played some tennis and for quite a few years played softball. Needless to say participating in sports has been an important part of my life.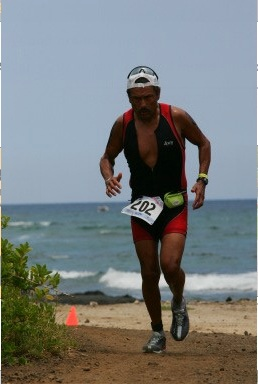 While training for my first Ironman triathlon in 2003 I was getting a routine physical and mentioned to my doc that I had some pain and range of motion issues in my right hip. The doc sent me to physical therapy which seemed to exacerbate my soreness and pain. After a month or so with no progress I was sent to an orthopedic for some x-rays and evaluation. The results were osteoarthritis in both hips, moderate in my left and moderate to severe in my right. This was not good news. I was told that the arthritis would continue to progress and my docs advice was to do what I could physically tolerate, and eventually I would probably need a hip replacement. I was determined to participate in the Ironman event, so I began what was to be my routine for a several years, get a cortisone shot and continue to do what was possible. I did (4) ironman events and numerous smaller events before I could not take it anymore. I also tried Synvisc injections and this did not work. Cortisone shots provided some relief for a few months at a time and allowed me to beat my hip up some more. My thinking was "Oh well I might as well live, go for it and when it gets to the point where I can't, I will stop."

During a trip to Kona Hawaii, I was introduced to a fellow patient and triathlete (name deleted) who was about a year into his newly resurfaced hip and he was doing some incredible stuff. I did a few training rides with this patient and he shared his remarkable knowledge and experience. Here is a guy running, doing ultra distance triathlons Wow ! I later found that this patient traveled to India to get this procedure done. At this time resurfacing was experimental in the USA. I was blown away and convinced my sports life was not over. The patient introduced me to this hip resurfacing and I began to search into this potential new lease on continuing an active life. It was around this time I found Surface Hippys. This has proven to be a very informative web site with lots of knowledge, experiences and various opinions one needs to sift through. A life altering web site for many.

After receiving very negative opinions from my docs, in addition to a couple 2nd opinions and my doctor friends were also negative about going to India and getting a resurfacing procedure done. They were negative about going out of the country and also against this procedure. Even though this was against popular opinion my consideration for going to India for a new hip was quickly becoming a real option. I continued to pursue this and planned to travel there for a resurfacing by Dr. Bose in India. Then in 2006 the FDA approved the resurfacing procedure, after months of red tape, I was able to have my insurance pay for this. I was scheduled to have resurfacing done in Spokane and was planning to take a new job in Kona, HI. the following month. The day prior to surgery the procedure was cancelled due to the hospital not having an agreement with Smith and Nephew for the resurfacing prosthetic, and it would be a month before the hospital board would have its next meeting with no guarantee of an agreement being reached. Needless to say I was devastated. I am not exaggerating when I say at that point the pain had become very difficult to endure. Narcotics were just not an option for me. After taking the job in Hawaii, I ended up making contact with Dr. Mori in Honolulu , although he was newly trained, and I would be number 10 for him, he was well respected and confident surgeon. On July 23rd, 2007 I had my hip resurfaced in Honolulu Hawaii. I left the hospital two days later under the assistance of a cane and began a very aggressive rehab, under the assistance of my Physical Therapist, (name deleted) and Dr. Mori. At one month I ran 5 miles. (Dr. Mori did not agree with my early running). I ran the 2007 Honolulu Marathon at 4 1/2 months and did the Volcano Marathon at my one year anniversary. I have become an advocate of the "I don't think you can wreck your new resurfaced joint by running". Some docs will not agree. This has not been painless, but is nothing like the pain before the surgery thankfully that is GONE! I have spent some time talking to (name deleted) about pain while running and after running. If I go slowly I have very little problem while and after a run. When I push without warm up I inflame the tendons, which leaves me sore. I, like (name deleted) need a very slow warm up before I push. When I have pushed early, I am gimpy for a day or two, but it's getting better and I hope I am getting smarter. I also believe selective stretching and motion control exercises help. My doc really helped in my P.T. regimen and my P. T. pushed me early on as did (name deleted). This was new for my P.T. to be so aggressive, and was not her standard protocol. Dr. Mori like other docs are pretty cautious about letting us run. They have to take this approach, what if something goes wrong? In addition, my first year post op, I have participated in Honu ½ Ironman, multiple smaller triathlons, a few ½ marathons, as well as endless Kona mini races. I am now training again for the Honolulu marathon this December, which I hope to take substantial time off from last year. I am hopeful that in the not too distant future I will be able to qualify for the Boston Marathon. I am also hoping to qualify for the Ironman World Championship next year. Wish me luck!

Most importantly I have to thank all the folks that have helped me, put up with me and encouraged me, especially my awesome, beautiful, encouraging, wonderful wife, who has endured all this craziness, as well as my two sons who are the highlight of my life. My belief is that because hip resurfacing is able to provide relief and allow us to do any and all the things we would normally be able to do with our God given hip, we have an opportunity to be as active as we desire. I am grateful for the Doctors, Scientists and an industry that provides so many great medical advances. I am fortunate to be the recipient of one of these.

Much is possible.