Robyn Benincasa *Firefighter & Adventure Racer* 8/29/07 RBHR Dr. Kimball & 7/30/09 Dr. Su
Robyn Benincasa is a full time firefighter by profession and she has a full time passion. She is a World Champion Adventure racer that has completed 10 Ironman competitions and 36 "expedition length" adventure races. She has been in Sports Illustrated, Vogue, The New York Times, Hooked on the Outdoors, Adventure Sports and Inside Triathlon magazines, to name a few.

Robyn had her right hip resurfaced on August 29, 2007 by Dr. Kimball in San Diego. She was back to full duty fire fighting and was actively involved with battling the blazes in the Rancho Bernardo fires, at only 5 weeks post op! Then she had her left hip resurfacing by Dr. Su on July 30, 2009 and was back to full duty at only 4 weeks post op!! A personal interview with Robyn is below. Here is a video of Robyn , her bio and an update below: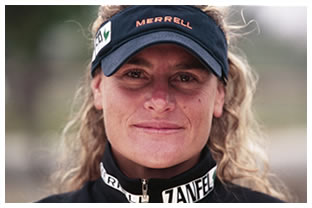 Robyn was born in Long Island, NY, but spent most of her youth in Tempe, AZ, where she competed at the state and national level in gymnastics, diving, and cross country. After graduating from Arizona State University with a B.S. in Marketing, Benincasa accepted a pharmaceutical sales job in the San Diego Territory and earned honors as "Rookie of the Year" in 1990.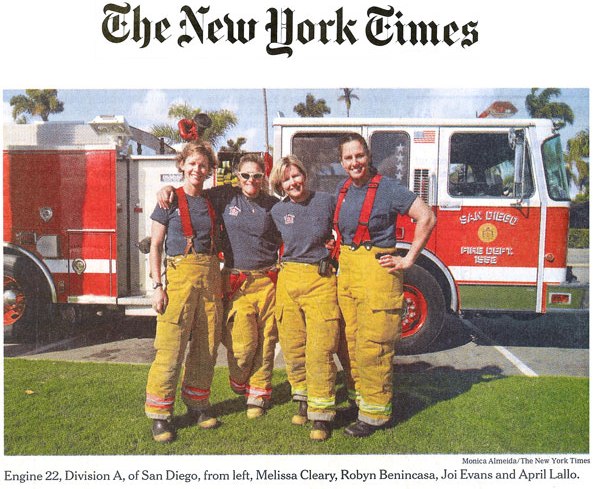 Benincasa was shortly thereafter caught by the triathlon bug , and ultimately went on to complete ten Ironman triathlons (2.4 miles swim, 112 mile bike, 26.2 mile run), with two podium finishes in her age group in Kona, Hawaii. By 1995, however, she was really really tired of triathlon AND wearing panty hose to work, so she embarked on a mission to live her dreams of becoming an adventure racer and firefighter.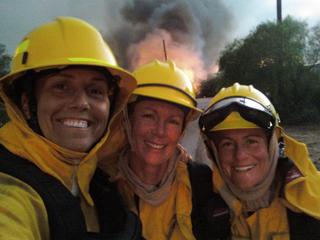 In the past 14 years, she has completed thirty-six "expedition length" adventure races (7-10 days, non stop), and has earned World Champion honors in both the Eco-Challenge (Borneo, 2000) and the Raid Gauloises (1998).
Ever in search of a way to "spread the luuuuuuv", Benincasa launched World Class Teams in 2000, with the hopes of bringing her unique and inspiring perspective on teamwork to the corporate world.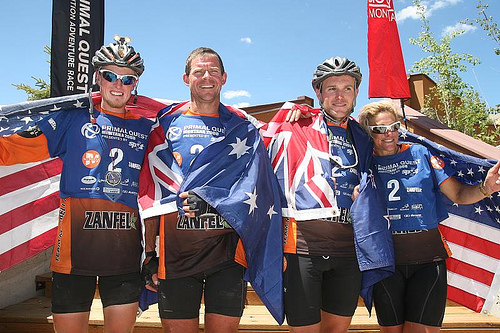 In the past 9 years, her "8 Essential Elements of Human Synergy" keynotes, training seminars, and Outdoor AdventureTeambuilding challenges have been embraced by companies such as Nestle, AT&T, Walmart, Siemens Medical, Starbucks, Tony Robbins, Boeing, Lockheed Martin, Aramark, Hewlett Packard, Honda/Acura, Timberland, Earthlink, and Fast Company Magazine.
She also accepts full blame for inspiring some of her corporate clients to do insane things like climb mount kilimanjaro, run their first triathlon, or (gasp!) start their own adventure racing teams. "It's a tough job", Benincasa says, "But someone's gotta do it".
In 2007, Robyn and an inspirational team of female outdoor athletes took their desire to "give back" to a new level by starting the non-profit Project Athena Foundation, which helps Survivors of Breast Cancer or other medical setbacks live an adventurous dream. "To me, the most important thing in life is creating that human synergy that makes each of us better, more hopeful, and stronger than we'd ever be alone". Benicasa says. "That's the greatest gift we can give someone -- to be their true teammate".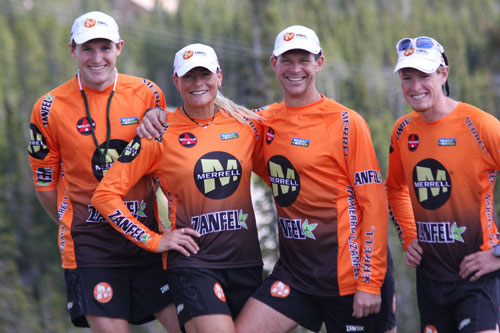 The non-profit organization encourages women to not just survive--but go on to STRIVE after enduring life altering yet life affirming medical conditions. Her non-profit organization Project Athena provides coaching, equipment, travel expenses, entry fees, and, most importantly, encouragement and inspiration for women who desire to unleash the athlete within and strive for the goal of a lifetime--whether that be to climb Mount Kilimanjaro, cross the finish line of an Ironman Triathlon, or fall into the arms of a proud family at the end of a local 5K. Her goal is to keep the dream alive.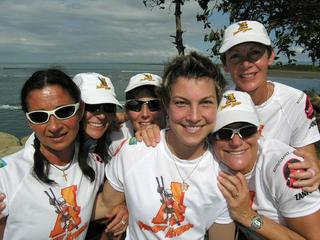 Team project athena racing in the jungles of Costa Rica in the 2009 Coastal Challenge this past Feb. We raced 155 miles of singletrak through the rainforest with our 2x breast cancer survivor pal, Sara Jones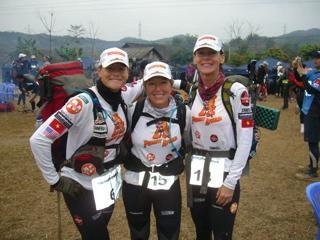 Team Project Athena at Racing the Planet: Vietnam. 150 mile mud slog through North Vietnam over 5 days at only 5 months post op.
The 15 Ways to Tell You've Become a True Adventure Racer
You consider Ironman a sprint race
Your medical records are on file with the Centers for Disease Control in Atlanta
Your parasites are complaining that they have parasites
You've begun to name your scars after their country of origin
You own at least three pairs of your favorite racing shoes—large, extra large, and waterski
Your race diet consists mainly of foods from the "O's" food group (cheetos, doritos, oreos, rolos, tostitos)
You start reading all rules and instructions in your daily life with an eye toward finding the loopholes
The entry forms for your races include boxes to check off for typhoid, yellow fever, rabies, hepatitis and tetanus shots
You love the prospect of sharing a sawed-off toothbrush with three of your closest friends
You think an MRE is a gourmet meal
You cut the zippers off of your backpack, the drawstrings out of your pants, and the liners out of your shorts because they're just too heavy
You laugh when the sales person at the outdoor store tries to show you "waterproof" shoes
You feel very alone when you don't have at least 3 people within 100 feet of you
You've lost at least part of one toe to frostbite and one lunch to a tropical disease—all in one race
You have a shrine to the inventor of Duct Tape in your gear room
You enjoy having a sparkling conversation with Abe Lincoln, Martha Stewart, and the Von Trapp Family Singers whilst strolling on a glacier at 3am (you saw them too, didn't you?)
By Robyn Benincasa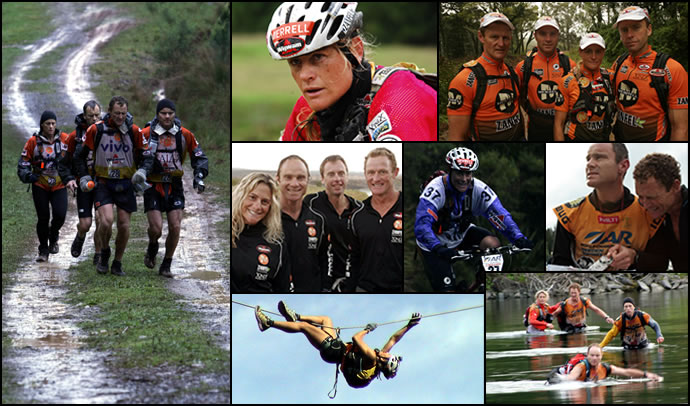 Robyn's Race Highlights include: (Bolded are ones done AFTER Hip Resurfacing)
2nd Place The Coastal Challenge Ultramarathon 2009 (Team Project Athena)
1st Place, Racing the Planet Vietnam Ultramarathon 2008 (Team Project Athena)
2nd Place, Primal Quest, Montana 2008
3rd Place, Furnace Creek 508 mi road bike race, Death Valley, CA 2008

3rd Place, Primal Quest, Moab 2006

2nd Place, Ecomotion Brazil, 2005-2006

1st Place, Bull of Aftica 2005

3rd Place, Adventure Racing World Championship Newfoundlan 2005

1st Place, Patagonia Expedition Race 2004

1st Place, Cal Eco-Series, CA 2003

1st Place, BalanceBar Series, Los Angeles, CA ~2002

1st Place, Cal Eco-Series, Californina ~2002

5th Place, Eco-Challenge, Fiji ~2002

4th Place, NBC Gorge Games, Oregon ~2002

4th Place, Eco-Challenge, New Zealand ~2001

1st place, Raid the North Extreme, Canada ~2001

2nd place, Gorge Games Outdoor World Championship ~2001

3rd place, Discovery Channel Adventure Race World Championship ~2001

3rd place, Southern Traverse, New Zealand ~2000

1st place, Eco-Challenge, Borneo ~2000

2nd place, Salomon X-Mountain Series, Aspen ~2000
4th place (top US team), Team Salomon/Eco-Internet, Raid

Gauloises, Tibet/Nepal ~2000

4th place, Team Atlas Snowshoes/Rubicon (3 woman/1 man) Patagonia ~1999

1st place, Raid the North Extreme, August ~1998

1st place, HiTec Adventure Race, NY, August ~1998

1st place, Raid Gauloises, Ecuador ~1998

Gold Medalist, U.S. National Judo Championships ~1998

Silver Medalist, U.S. National Judo Championships ~1997

2nd place, Eco-Challenge, Utah ~1995

Finisher, Raid Gauloises, Borneo ~1994 (all female team)

Allergan Pharmaceuticals "Rookie of the Year", Field Sales
Interview with Robyn Benincasa, May 5, 2009
1. Can you tell us when and how you found out about your hip problem? What was your diagnosis?
I discovered I had a problem about a year and a half before the surgery, when it felt like I had a pulled hip flexor, or that my hip just wasn't quite "in place". I kept trying to run through it, but the longer I ran, the more my leg would just drag behind me. :). Finally, my right leg stopped working completely in the middle of the Adventure Racing World Championships in Scotland. So I bit the bullet and went to an orthopedic surgeon in San Diego, Michael Kimball, who looked at my x ray and told me that my racing career was probably over without some kind of intervention. I had stage 4 osteoarthritis in my right hip (and stage 3 in my left). Aaagghhhhh. I told him I'd tough it out for a few more races, and he told me I'd be back in a few weeks. He was right. :). But I was indeed lucky that he had some experience with the BHR and was a true believer, versus telling me I needed a total replacement. I did a bunch of research on line and then took the BHR leap of faith a few weeks later.
2. Your surgery date was August 29, 2007, did you continue doing activities all the way up until your surgery? If not, when did you stop and how bad was your hip pain?
I was literally still racing until a couple of months before the surgery. So I never really got too out of shape. After the World Championship in Scotland (May 07) where my leg ceased to function in a running capacity, I rode my bicycle, did the stairclimber, or paddled by kayak just about every day leading up to the surgery. The pain was only really bad when I ran longer than an hour, or on the days when it just felt out of place and weak, which were becoming more and more frequent.
3. How soon following surgery did you return to full active duty firefighting?
I was back at work in 5 weeks. I can't say that it was pretty or that I was 100 percent, but our biggest fires on record in San Diego occurred 3 or 4 days after I came back to work (the October Fires that burned down much of Rancho Bernardo) and I held my own, fighting fire from house to house for hours on my four person crew. I think it was such an adrenaline rush to be surrounded by that much fire, that my leg was the last thing on my mind. It was really good to know that the BHR could perform so well in the heat of battle that soon after surgery.
4. I have spoken to many firefighters that go through Worker's Comp for their hips and usually are not allowed to or cleared to return to work for months following surgery, sometimes over 6 months. How did you manage to get cleared to return to active duty so quickly?
I didn't go through workers comp. Just my regular health insurance. I went back as soon as I knew I could do the job and pass all of our fitness requirements.
5. Any tips you can give to fellow firefighters on how to return quickly to active duty?
I guess it's no different than getting back to anything you love quickly? :). Make sure your physical therapist understands what you do and doesn't wimp out on you. Plus lotsa sleep, pool running, getting in the gym right away, etc. It was a fun game for me to see how quickly I could be back in the game.
6. So tell me about Adventure racing, what exactly is it?
An adventure race, which for my team means the Expedition length races like the Eco-Challenge, is a ridiculous multisport endurance race in which you have teams of 4 people (with at least one woman on each team) who race 600-800 miles non stop doing whatever it takes to get to the finish line, including running, mountain biking, orienteering, mountaineering, kayaking, whitewater rafting and swimming, caving, ropework/climbing--you name it, we've done it, as long as its non-motorized. Teams choose their own route along the way using a map and compass to find up to 40 or so checkpoints, and team members must remain together (within 50 yards of one another) from start to finish. There are no set sleep times, its all part of the strategy--to sleep or not to sleep. Generally we're racing 22 hours per day for 6 to 10 days, depending on the course. Its pretty much the most physically demanding team sport on earth, which is why we all love it. We've raced in the most beautiful places on earth over the past 14 years, including the most remote parts of Ecuador, Fiji, Argentina, Namibia, Newfoundland, Borneo, Brazil, Chile, Scotland, Morrocco, etc. Our biggest wins were at the Eco-challenge in Borneo and the Raid Gauloises in Ecuador. Still trying to keep it all together long enough to do a few more big races before I have to have a bionic hip installed on the other side!
7. When were you able to get back into the sport you love and when was your first competitive race following surgery?
My first race after the surgery was the sedona marathon, at 4 months post op. I ran most of it pretty slowly and walked the bits I needed to. I cried when I saw my Mom at the end because I just wasn't so sure I was ever going to be able to run long again. It was the first glimmer of hope I had that I was going to be "back". Two weeks after that, my Team Project Athena pals and I won the team division in Racing the Planet: Vietnam, a 155 mile/5 day stage race through the mud and rice paddies along the Chinese border. Gooood cold muddy times! At 10 months, I did my first big adventure race, the Primal Quest, in the mountains of Montana. It was a 7 day non-stop Adventure Race with over 120 miles on foot, 300 miles on the mountain bike, and plenty of climbing, swimming and ropework. I wasn't perfect, but we as a team did awesome. I got by with a little help from my friends to a 2nd place finish (Team Merrell/Zanfel). At 13 months post op, I did a 508 mile solo road bike race (The Furnace Creek 508)through Death Valley.. 33 hours of non stop biking joy with 30,000 feet of elevation gain. wheee! The bionic hip kicked butt, though.
8. How many of these have you competed in since your surgery?
Since the surgery, I've done all of the races mentioned above, plus the World Adventure Racing Championships in Brazil and more recently, the Coastal Challenge, a 150 mile stage ultrarun through the rain forest. Next month, one of my Project Athena teammates and I will do the Race Across the West, a 1038 mile road bike race from oceanside, Ca to Taos, NM, followed by the Texas Water Safari (a 256 mi paddling race in Texas) and then back to the Primal Quest Adventure Race Team Merrell/Zanfel, which will be a 1000 kilometer multisport race in the Badlands of South Dakota this August.
9. What did you do for rehab to be able to return to Adventure racing so quickly?
I don't think I did anything too special, aside from just getting on my bike as soon as Ii could (I was on the bike at the gym about a week post op and outdoors at 2 weeks. Of course my leg wasn't really working, just going around :)), running in the pool, and just keeping the faith. So much of the game is just continuing to try every single day until you can do the things you want to do. Seems like it takes forEVER for things to seem right again, but they will. Gets better all the time.

10. I understand you started a non-profit organization for women, can you tell us a little about that?
I have several great pals that have suffered some kind of medical setback like Breast Cancer, Rheumatoid Arthritis, cervical cancer, traumatic injuries, etc, so after I had my bionic hip installed, we all got together to see what we could do to help other women like us live an athletic/adventurous dream as part of their own recovery from similar life altering medical conditions. Having hope that there's a light at the end of the tunnel is sometimes the most important aspect of recovery... and that's what Project Athena is all about---helping women make that transition from Survivor to Athlete/Adventurer. This past year, we have taken Survivors to hike in the Grand Canyon, run through the jungles of Costa Rica, and next month to run a marathon on the Great Wall of China. We also have Fundraising Goddess/God Adventures for people who want to come and do something amazing for the Project Athena cause. This July we're taking a group of fundraisers to climb Mount Whitney, and in early October, we're taking a team of fundraisers to do a rim to rim to rim (50 mile) trek across the Grand Canyon. Anyone can come play at these fundraising events, and all proceeds go to our future Athenaship/grant recipients to help them live their dreams! www.projectathena.org
Update September 16, 2009
Hello Friends of Project Athena and Team Merrell/Zanfel Adventure!
It's been a pretty crazy but wonderful Summer, with lots of exciting things happening for Project Athena and Team Merrell/Zanfel! Just wanted to share with you some updates and recent photos of the gang in action:
Team Project Athena
We just received 100% confirmation that Project Athena is going to be featured in Runner's World among the Running Heroes of 2009 in the December issue! They're coming down to San Diego to do a photo shoot with us on Sept 28th!
Team Project Athena will be featured in a double page ad in Triathlete Magazine's October (Kona) issue, thanks to our friend and sponsor, GR at Sportquest! Ad attached.
Team Project Athena's Louise Cooper and Melissa Cleary completed the Gore-Tex Trans Rockies 5 day, 150 mile Ultramarathon Aug 23rd-28th, finishing in the top third of the pack. Our Founders Team 'Athenas' (a Breast Cancer Survivor and a Firechick with Rheumatoid Arthritis, respectively) once again proved that the tortoise often kicks butt on the hares. :). Two photos attached.
Team Project Athena's Danelle Ballengee WON the solo division in the Moab Extreme Adventure Race in July and she and her teammates took 3rd place in the Wild Oyster Urban AR last month. Not bad for a new mom with hips held together with plates and screws after her near death 60 foot fall in the Moab desert just over 2 years ago.
Team Project Athena's Florence Debout (a two time cancer survivor) and I (now the proud owner of two chrome Birmingham Hips) set the 2 person women's division record (and placed third overall among all teams) in the Race Across the West, a 1038 mile non-stop road bike race from Oceanside California to Taos, NM June 17-19th. Ouch.
Starting in 2010, we're launching the Project Athena Racing Series, which will include a 15k God/Goddess Road Race, The AthenaGirlz Adventure Challenge (team trailrunning adventure) and the Mini Athena/Mini Zeus Kids Challenge! We'll have 3 events in 2010 and 5 events in 2011 and 2012. Stay tuned to

www.projectathena.org

for the schedule. Proceeds will go to the Project Athena Foundation, which helps Survivors live their athletic dreams. We're psyched!
Our first Project Athena Fundraising God/Goddess Adventure trip is almost here! Starting at 5am on the morning of October 1, we will be hiking Rim to Rim to Rim (a total of 44 miles in 2 days) across the Grand Canyon and back with 20 Fundraisers, all of whom are drawn to doing something life affirming and life changing for others. We're so proud of the effort they have all put in to raise money and to train for this once-in-a-lifetime experience. The demand for this event has been so popular that we're going to do it all again June 2-4 2010 (including a day of pampering in Sedona afterwards), so let me know if any of you wants a spot!
Team Merrell/Zanfel
Team Merrell/Zanfel took 3rd place in the 2009 Primal Quest Expedition Race in Rapid City, South Dakota August 14-21st! That's the third podium finish at Primal Quest for Team Merrell/Zanfel in as many years. Attached is the gang (Neil Jones, Greg McHale, Denise Mchale, and Rob Preston) crossing the finish line. I had to sit this one out to have my new baby hip installed during the race, but now that I'm fully bionic, I'll be back with the team in 2010! Attached is a pic of me back at work at my fire station 4 weeks post op. Thx, Dr. Su!
Hating the sidelines, I had a wild hair and decided to do the Colorado River 100 mile kayak race in Texas Sept 5th, 5 weeks post op. Believe it or not, I paddled pain-free (well, at least my new hip didnt hurt, just other stuff) for 15 hrs and 18 minutes, and took 2nd place in the chick division! It was my first solo marathon kayaking race, and there will definitely be more to come in 2010.
Carter Johnson, the newest member of the Merrell/Zanfel Adventure Team for 2010-2011 won 1st Place overall in the Missouri River 340 mile marathon kayaking race in St Louis August 4-7th. The kid can paddle. I guess that's why he's in the Guinness Book for the Longest Distance Paddled in 24 hours (Flatwater). :)
Thanks to each of you , as always, for your good vibes, love and support. None of this incredible journey would be possible without teammates like you! Looking forward to granting more Athenaships, sharing the journey with the groundswell of supporters for Project Athena, and doing our best to make you proud out on the race course as we move into the 2010 season!
Adventure Always,
Robyn
October 2012
Update, I believe there is some news to update for her story but I have not heard back from Robyn to confirm. I have emailed her several times and will post an update as soon as I recieve it.