Steve Lee - LBHR 9-29-08 - Dr. Su **VIDEO**
Steve Lee's Left Hip Resurfacing Story

I am 55 years old and reside in Douglas, Alaska. I recently had a Left Birmingham Hip Resurfacing Device (LBHR) installed by Dr. Su at the Hospital for Special Surgery (HSS) in New York City on 9/29/08.
At ten weeks post-op, I am doing great. I ride the exercise bicycle and eliptical machine for 20 minutes each daily for a total of 40 minutes aerobic training. I do stretches twice daily and leg strengthening exercises with cybex and nautilus machines every other day. I walk outdoors for about 1 ½ miles daily during the work week. My leg length discrepancy is returning to normal and I have been doing gait training. I expect to resume impact activities such as downhill skiing, racketball and hunting over rough, mountainous terrain after 6 months post-op.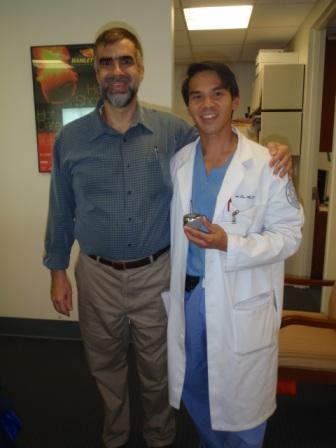 The history of my left hip began with an injury from a motor vehicle accident in January, 1988. X-rays did not detect any distress in the hip and the injury was diagnosed as a left hip abductor strain by my local orthopedic surgeon (OS).

In January, 1995, I strained my left hip playing racketball. The injury was painful and I limped about afterwards. I recovered after a few weeks rest. In October, 1995 an evaluation by my local OS indicated recurrent left hip strain, probable rectus femoris.

I stopped playing racketball in April, 1996 but continued hunting in mountainous terrain.

In October, 2002, a pelvic x-ray showed bone on bone contact at the outer edge of my left hip. My local family practice physician advised to limit impact activities such a jogging but otherwise the condition was not disabling.

I resumed downhill skiing after several years of doing other sports and continued hunting in mountainous terrain.

In August, 2007, a left hip x-ray showed severe osteoarthritis with bone on bone contact and numerous bone spurs. I did not experience much pain or loss of function. My local internal medicine doctor advised a total hip replacement(THR). He referred me to a local OS who also advised a THR comprised of an oxinium femoral head and shaft, metal socket and a polyethlene liner. He said I could still ski with the THR, although I was concerned about dislocation. He said I wasn't a candidate for hip resurfacing since I had bone spurs in the hip socket which also extended down to the femoral neck.

I hunted moose in September, 2007. I shot a 42 inch bull but I needed assistance by two other hunters to pack out the moose for a distance of 1 mile. I cleaned, skinned and quartered the entire moose by myself. Needless to say, my left hip throbbed for two consecutive nights and I didn't sleep much.

I downhill skied the entire 2007-2008 season with no problems.

On May 15, 2008, I hunted blue grouse on a ridge in the snow and bagged two male grouse (hooters). Afterwards, I limped across the meadow at the base of the ridge and used my 0.22 rifle as a cane. My left hip noticeably deteriorated after this hunt. I used a cane throughout the Summer and cancelled field work for my job. After mowing my lawn, my left hip was fatigued and I limped about the house, although I never experienced severe pain. At most I had moderate pain.

Meanwhile, I researched hip resurfacing and hip replacement on several web sites, including activejoints.com, surfacehippy.info, aaos.org and several hip resurfacing doctors websites.

In July, 2008 a left hip x-ray showed about the same extent of severe osteoarthritis as the previous year. My local OS said he didn't do hip resurfacing and that I was on my own to pursue this option.

I sent my x-rays to several prominent hip resurfacing surgeons such as Dr. Bose, Dr. DeSmet, Dr. Mont and Dr. Su. They all said I was a candidate for hip resurfacing.

I participated in three chats with Dr. Mont and one chat with Dr. Bose on the surfacehippy.info website. They answered many of my questions. I also received a lot of information from Vicky Marlow.

I decided to have my hip resurfaced by Dr. Su at the Hospital for Special Surgery in New York. The hospital was ranked no. 1 for Orthopedics in 2008 by the US World & News Report for the second consecutive year. Dr. Su had done more than 700 hip resurfacing surgeries and had trained with the best in the world e.g. Dr. McMinn, Dr. DeSmet , Dr. Amstutz and Dr. Gross. My local doctor (Internal Medicine) referred me to Dr. Su and I had pre-op tests (blood chemistry, urine sample, chest x-ray, EKG) done locally. My insurance would pay for nearly the entire amount of the surgery.

So I had my left hip resurfaced on 9/29/08. Dr. Su initialed my left hip with a marker in the pre-surgery waiting room (to ensure this was the correct hip to be operated on). I was wheeled to operating room no. 2. The room was cold – it seemed about 55 F. I saw several assistants preparing for the surgery. They lifted me onto the operating table. Dr. Greg Liguori administered the spinal/epidural anesthesia at about 12:45 PM. I never did see Dr. Su. I woke up in the post anesthesia care unit (PACU) two hours later at about 3 PM. I spent about 5 hours in the PACU until my feet were no longer numb. I spent 4 days in the hospital and 3 days in the Belaire Guest Facilities, which is next door to the hospital. The service was great at HSS. Numerous visits by nurses, nurse's aides, physical therapists, physician assistants and physicians insured I received great care. On many occasions I was asked what my date of birth was (to ensure I was the correct patient). I had an epidural catheter connected for pain relief for a couple of days. I could administer a booster dose as needed. The dose was regulated so I could not over medicate. The physical therapist helped me use a walker to the door of my room the morning after surgery. In the afternoon, I used the walker around the nurse's station. The following days, I used crutches to walk around the hallways, twice daily. I also practiced with crutches climbing a short prop stairway in a training room.

Dr. Martin Nydick (Internal Medicine) visited daily in the AM. An anesthesiologist visited one day. Dr. Su visited one day and his physican's assistant Blaire Biase visited a couple of days. I promised I would mention nurse Jane in my story. She asked if I had a bowel movement a couple of days after surgery. I replied I had a most satisfying movement that AM. It was the first movement after surgery. It was about 12 inches long, firm, split in two and averaged about 1 ½ inches in diameter. Dr. Su and the team at the HSS were great as my recovery has been rapid with no complications.

My two sisters stayed for a week two days before my surgery and one day after my discharge from the hospital. They visited twice daily when I was in the hospital. They shared a room as I reserved a two bedroom suite at the Belaire Guest Facilities. They were great company. They were tourists in New York City and had a great time.

I saw Dr. Su on 10/6/08 for a one week post-op, prior to flying home on 10/7/08. I sat in first class on Alaska Airlines. The leg room was great and a flight attendant even put on my TED stockings. The trip from Newark, NJ to Seattle is about 5 ½ hours non-stop. I had a 1 hour layover in Seattle prior to returning to Juneau on a 2 ½ hour non-stop flight.

I began outpatient physical therapy on 10/10/08. I sent my 4 week post-op x-rays to Dr. Su and they look great. I returned to work at 5 weeks post-op on 11/3/08. I work as a Bridge Engineer for Alaska Dept. of Transportation/Public Facilities. At 10 weeks post-op, I'm nearly back to normal. I still have a bit of swelling near the incision after an aerobic workout. My gait is returning to normal. I'm continuing physical therapy for four more weeks, twice weekly. I do not notice the implant. My left hip feels as normal as my right hip. I have had no squeaking or clunking. I'm looking forward to next Spring and Summer when I can resume my active lifestyle. Ski season will be nearly over but I will hike and climb the trails into the mountains and I won't suffer from left hip joint pain afterwards!
Update March 9, 2009
I am attaching three photos of my hike yesterday. I hiked about a mile along the groomed ski run, climbing about 500 ft elevation before climbing another 750 ft elevation. I snowshoed from the groomed ski run across a meadow, before climbing the hill. The first photo shows the hill I climbed in the foreground. My hip did fine. My hamstrings in my left leg tweaked a bit, halfway up the ridge, but I continued on to the top. No aches or pains this AM.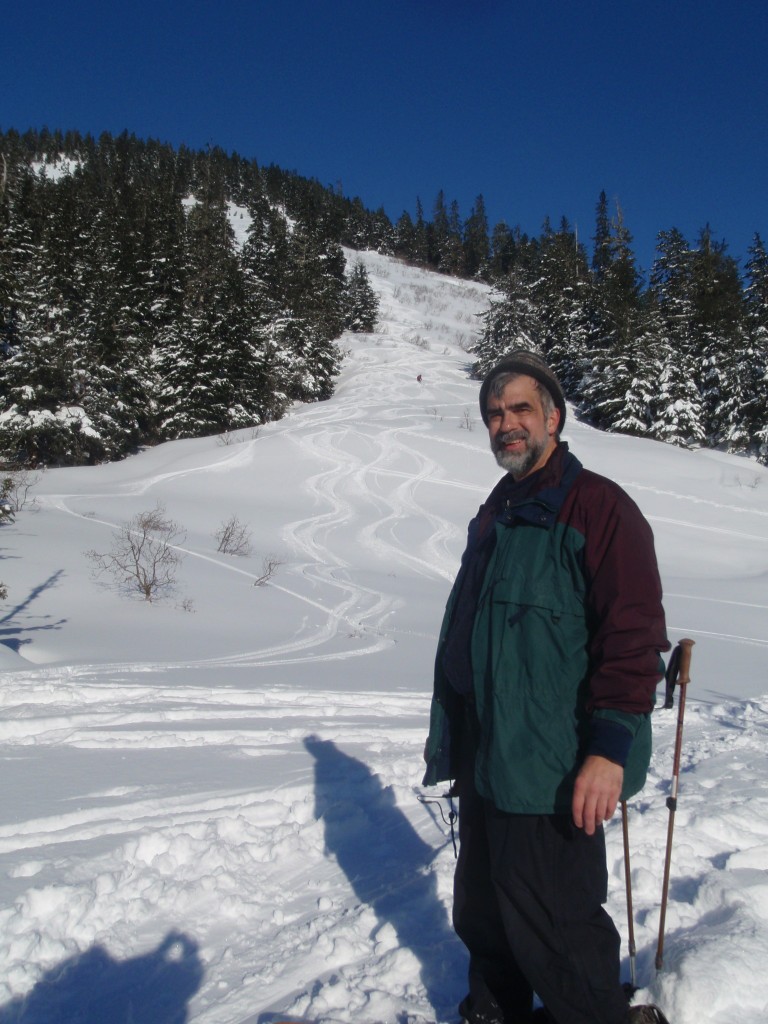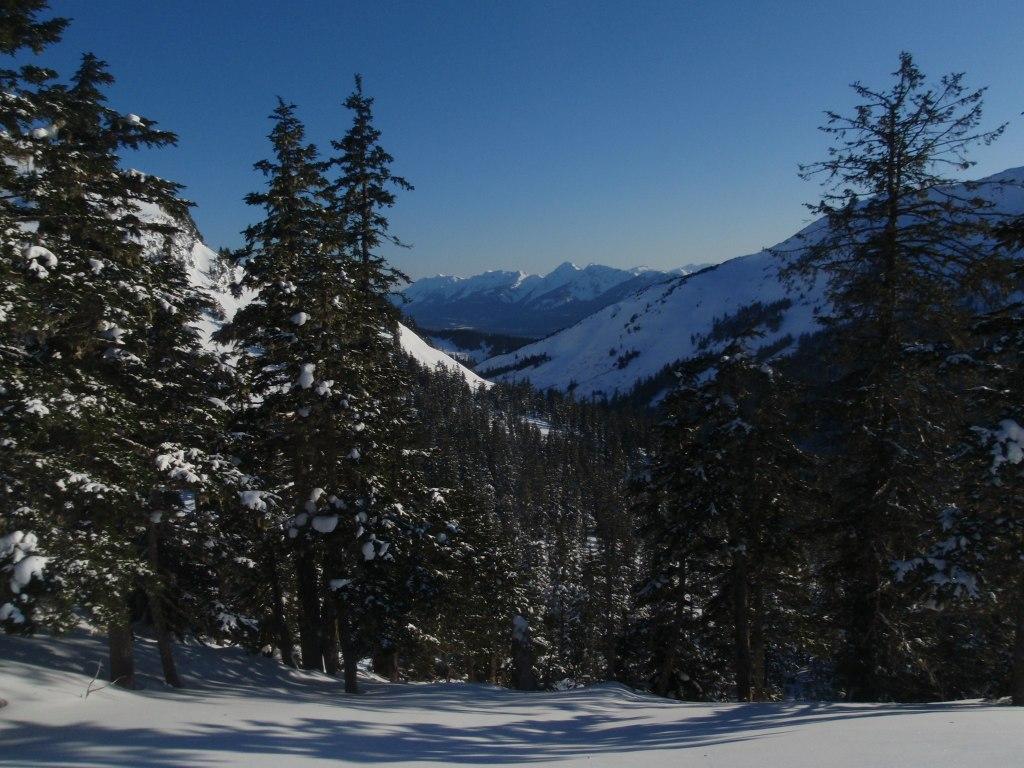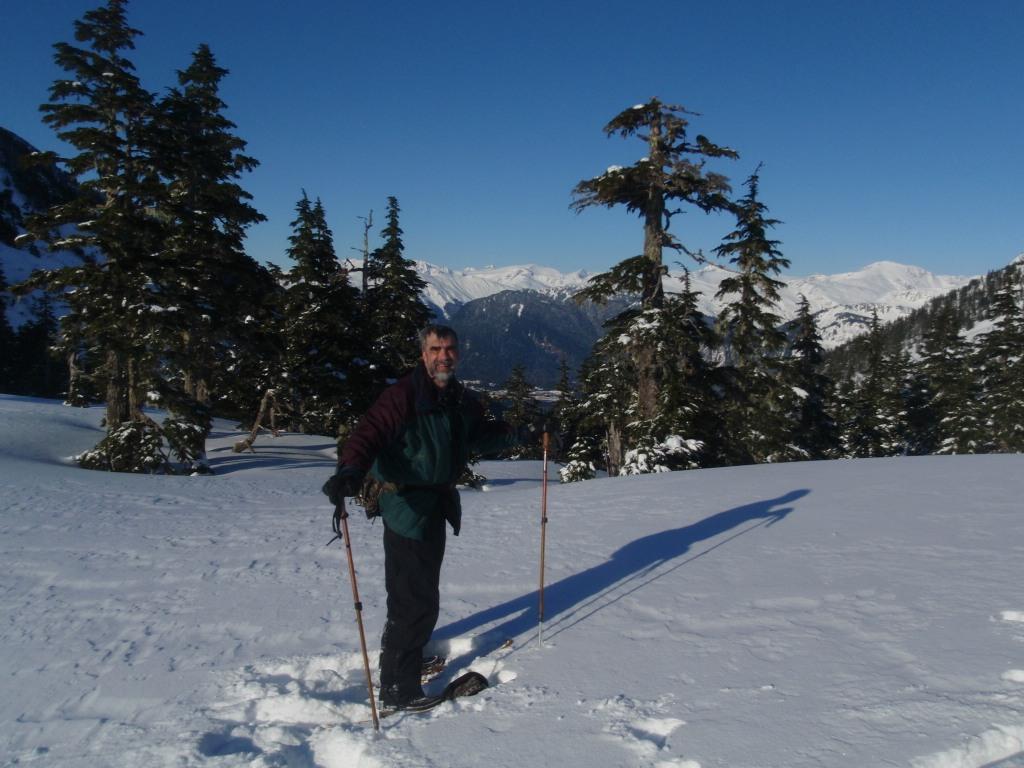 I'm delaying downhill skiing until 6 months post-op, according to your protocol.

I'm delighted with the results of my new hip implant. Last May, after I climbed a nearby ridge to hunt grouse, my left hip was very distressed as I hobbled across the meadow to my truck. Yesterday, after my climb, I traversed to the ski lodge without any discomfort.
Update March 29, 2009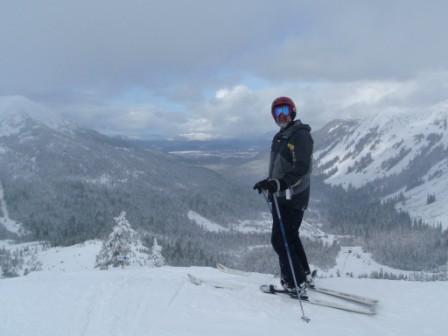 Yesterday, I downhill skiied at Eaglecrest for 5 hours. I started on two green (beginner) runs and moved over to two blue (intermediate) runs on the lower mountain. I moved to the upper mountain chair lift and skied a couple of green runs. I moved over to blue runs and finally a black (expert run). I traversed and skied down the West Bowl (advanced). I then hiked to Pittman's ridge and skied down the West Bowl. I finished the day with another run down a blue run. It was a nice partly sunny day with about six inches of fresh powder. My ski tips crossed a couple of times doing turns and I fell, but I wasn't going very fast and I had no problems afterwards. My physical conditioning and physical therapy has paid off. My left hip feels completely normal. I didn't notice any difference than my right hip. My agility and timing is almost back to normal. I will do more skiing today and tomorrow.