Stryker Cormet/Corin
In the late 1980's, another British Surgeon suggested combining two earlier concepts of metal-on-metal bearings and Hip Resurfacing, to create metal-on-metal Resurfacing of the hip joint. Corin pioneered the development of this technology and introduced the first metal-on-metal Resurfacing Hip system in 1991. This has a number of major differences from a conventional THR:
In Hip Resurfacing, both components are made from metal. By eliminating the plastic socket in a conventional THR, and making both parts of the bearing surface of metal, the new Resurfacing Hip system is intended to last much longer, and therefore be more suitable for higher demand patients.
The bearing is also a much larger diameter than is used in a conventional Total Hip Replacement – it is almost identical to the size of the head of the natural femur. This is much less likely to dislocate than the smaller diameter bearing of a THR, and this means that patients can return to higher levels of activity without worrying about dislocating their implant.
Finally, the procedure is very bone conserving, since the head of the femur is simply reshaped and resurfaced, rather then being removed. Should the device need replacing at some time in the future, this may provide better options for the Surgeon at that time, as a conventional THR may then be used.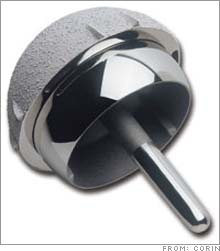 Resurfacing of the Hip is a relatively new procedure and does not have the long-term clinical follow-up results that are available for some other types of conventional THR. Not all Surgeons are experienced in Resurfacing of the Hip. The procedure is intended for use in a specific group of younger (usually patients under the age of 65), high demand patients. Your Orthopaedic Surgeon is the only person who can advise you whether you are suitable for such an operation.

In recent years the use of "minimally invasive" techniques has become more widespread and surgeons are using smaller incisions, with less disruption to the soft tissues around the hip. The instruments used in the Cormet Hip Resurfacing system are designed to allow the surgeon to implant the resurfacing using these minimally invasive techniques.

If you are suitable, it is likely that you will be able to return to relatively normal levels of activity, and many Resurfacing patients have been able to partake in modest recreational sporting activities with their new hip. The Resurfacing device should last for many years, and should not require revising as early as a conventional THR, but as it is still a relatively new device it will take some years before the long-term results can be confirmed.