Dan Schulte Surfer 1/21/02 Dr. Schmalzried
Dan uses a "goofy foot." That's surfer jargon for a right-foot-forward stance.

Surfing is the essence of life for Dan, 47. The Hawaii resident, native of California and retired biology teacher has been at it for more than 35 years, and is a longtime member of Hawaii's north shore surfing community.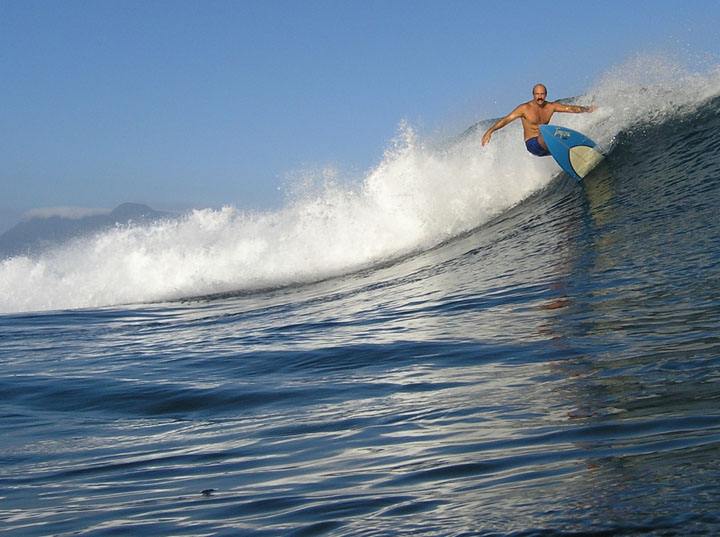 In 2001, the progressive onset of degenerative osteoarthritis in Dan's right hip threatened to wipe out his surfer lifestyle. The "goofy foot" had never been a problem; the "bum hip" definitely was. "I had been living with some pain for a while, but I was getting by," Dan said. Then after an annual two-week backpacking trip in the Ansel Adams Wilderness Area (Sierra Nevada, Calif.), he was suddenly struck with chronic pain, a stiff leg, and walked with a limp. "It seemed like it came on very fast," he said. "I ate a million Ibuprofens, but I knew this was very serious when I had a surf session a few months later at Hookipa (Maui) during the beginning of the winter surfing season.

It was a "sizeable day," he said referring to the waves, and the regular surfing crowd was on hand. Dan took his turn on the swells, but he was unable to execute the "pop up," which is a quick, athletic move to go from the belly position to placing the feet on the board as the wave comes under you "I couldn't get my right leg up. I got pitched. And it happened three times in a row," he said. "Not only did I get thoroughly pounded in the breaks, but it was totally humiliating to get trounced like that in front of the regular morning surf crew." Soon he couldn't walk more than a few hundred yards before the pain became more than he could take.



He felt like all the things he loved to do - surfing, hiking, backpacking, climbing - would evaporate from his life, and he became depressed. "I was very bummed out." So, with the encouragement of his wife and friends he began researching the pros and cons of various hip surgeries. In particular, through information gained from the Joint Replacement Institute in Los Angeles, he was drawn toward a clinical trial for hip resurfacing using the Wright Medical CONSERVE® PLUS Implant.

He had surgery in January 2002, and began working a rigorous recovery and rehabilitation program. He spent six weeks on crutches, but within two weeks of surgery he was walking two to four miles a day on the crutches, very gradually putting more weight on his right leg and revamped hip "I made rehab my full-time job, and I did everything they told me to do," Dan said. "I was determined." He transitioned to using a cane and continued walking up to four miles per day, did physical therapy three or four times per week, worked out his upper body at a local gym, and swam freestyle and with a kickboard at a pool. At about 60 days he started training specifically for surfing, doing "pop ups" on a rubber mat, and other exercises.

At exactly 12 weeks after surgery, his 44th birthday, his board shaper called and said "let's go," and they took their boards to Maui's south shore where there were some modest swells rolling in. "I took a longboard out, and there was a spot with a soft wave. I made it upon the first try and it was easy after that," he said. "Man, what a feeling. I can't describe how much it meant to me." A few months later, Dan and his wife commenced a 14-month around-the-world surf adventure that started in Santa Cruz, Calif., took them to Mexico, Costa Rica, Panama, Peru, France, South Africa, Australia, New Zealand, Maldives, Fiji and back to California. "The hip was incredible, I am so stoked," Dan said. "I have taken my CONSERVE® Plus implant and surfed the great surf spots all over the world. I also did quite a bit of hiking on that trip (to 17,000 feet elevation), and I had zero problems." Dan says he is confident he will surf for another 20 to 25 years, and he credits his surgeon, Dr. Tom Schmalzried of Los Angeles, and Wright Medical. "Oh, I hope to surf lots of challenging days until I'm at least 65 or 70," he said. "I am immensely grateful, because surfing will keep me alive and vibrant."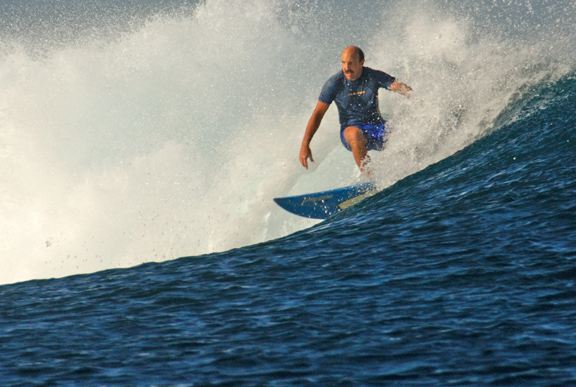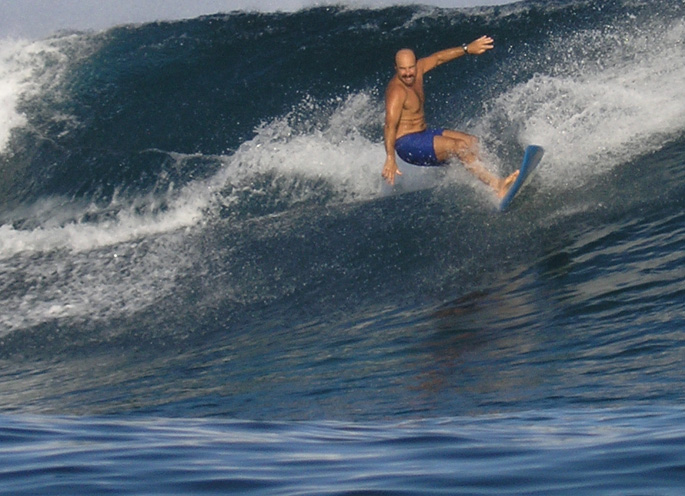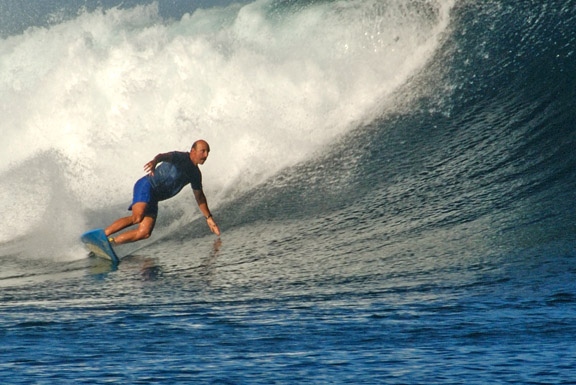 January 20, 2008
Hi Hippies...

Haven't visited in a while but wishing all the best. I maintain an interest in keeping the data flow for those w/ an interest in resurfacing so...Tomorrow will mark six years post op for me and all is well. I maintain my primary passion for surfing and cannot blame a bad session on the hip! Sometimes I wish I could, which might have kept me from being beaten in large surf yesterday! I still walk/hike regularly though the principle activity of interest for me is surfing, and the hip is still stellar. I know we've got a few more resurfs here on Maui now, having one of our local MD's & another regular at Hookipa here on our N. Shore being amongst the new. Any surfers concerned about the outcome of resurfacing and it's impact on their ability to stay active in the surf, please email. Otherwise, thumbs still up!

Aloha,
Dan
C+ (R) 1/21/02 Schmalzried/JRI

May 18, 2008
Aloha Steve,

I don't visit this site all that much these days but periodically check in. Indeed I'm a surfing surfer, just past about 5.5 years and doing well. Feel free to email, or even potentially phone & chat sometime. I'm stoked to meet other surfers w/ our hip, even our local skin doc has been done recently. Anyhow, just a quick touch base as I saw you request for contact. Vicky had me identified, but here I am seeking you as well. Also, I quickly scrolled on a 'surfing' search and noticed someone is headed to Hawaii inSept....I'll be here and if any traveling surfers make their way to Maui,lets get a session. You can check my pics under surfpupmaui (all are post op pics). I'm hoping to add a few new Fiji pics as I go to Tavarua every spring w/ a Maui group and while I'm using shooting the pics, this year someone got a few of me. Now I just need to get copies Hope to hear from you. BTW, while the winds have been pushing vog up to Maui , it is ideal conditions for Hookipa and we've been graced a very late season pulse on our north shores. It's been pumping and very good the past three days with another round of light winds & new swell slated for later in the week. Hope some of the energy is passing your way.

Also, if any of you resurfs are in California...I'm visiting a friend for ten days starting next week. I'll be based in Carmel and will be on the huntfor waves while in town even if it is a shoulder time of year for surf.Anyone in the area wishing to hook and and chase a session or two (or manyif there's any swell). Bottom line for me...hip works very well, non-issue w/ my surfing!!!

Regards,
Dan
C+ Dr. Schmalzried/JRI 1/21/02